WaterField iPad Wallet, Hard Candy Stylus and Pen, Griffin Technology iPad Tablet Stand, and Griffin Technology Elan Passport Graphite iPad Folio Case
Guest iPad gear review by Jackie Richards – Part Four. Many of the items reviewed below will make great stocking stuffers any time of year.
iPad Wallet
Company: WaterField Design
Price: $79 U.S. (plus optional straps and D-rings)
WaterField's iPad Wallet has an clever design for storing and carrying an iPad plus an Apple Wireless Keyboard and several accessories. It is a premium all-weather product. The construction and design are stylish, attractive, and suitable for men and women. This tote can be ordered with or without two kinds of strap and/or D-rings, as customized from the company's web site. Six outer colors are available.
The Wallet's rectangular shape is enhanced by genuine leather edging, in addition to rugged outer material. Interior padded pockets "keep your iPad and Keyboard separate and safe," according to WaterField, and that claim is accurate. A loose premium nylon mesh rear pocket is deep enough for a small purse, several cables, or a book.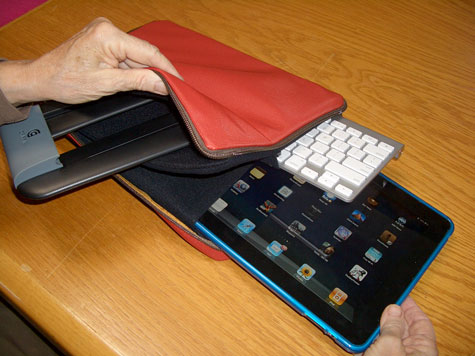 An iPod tucks very snugly into its interior pocket. The keyboard pocket area is not as tight, but it is safe and secure. Guest reviewer Jackie Richards particularly likes that she can carry her Griffin Tablet iPad stand (reviewed below) in a separate interior zone. A rugged, smooth zipper is on two of iPad Wallet's four sides. When the case is loaded and zipped shut, the closed Wallet is substantial yet compact.
Unless you prefer holding this sleeve like a large book, Jackie recommends you pay an extra $19 for WaterField's Suspension Strap Mini. Our evaluation iPad Wallet didn't arrive with one, but this strap will come in very handy.
At nearly $100 for the case plus strap, this iPad sleeve is a little expensive. WaterField gear is top quality for top prices. Your iPad, keyboard, and accessories will be happy as pearls within a tight, padded oyster shell.
MyMac Review Rating: 9 out of 10
Candy Stylus and Pen
Company: Hard Candy
Price: $35 with free ground shipping to USA, UK, and EU
See picture of stylus in second photo below
It's an iPad, iPhone, and iPod touch stylus with a surprise split-personality gimmick: one end contains a refillable ball point pen. In her comments while testing this product, Jackie was pleased with Candy's "beautiful design and presentation, suitable for a gift or present. The chrome steel case is slick."
"It feels good," she continues, "and it's a real nice fit to my hand, although it is a bit top heavy, and the balance is somewhat less than ideal. The stylus tip and capacitive action are identical to Griffin Technology's stylus, meaning they are perfect. The main difference between Hard Candy's stylus and Griffin is the extra weight here, but I'm not being critical of it."
The hidden pen is "a bonus," says Jackie, "turning this iPad stylus into a high-end desk accessory." She wants Hard Candy to add a pocket clip, or loop tip end, or a slightly flat side, to keep this stylus + pen from rolling off a table and disappearing forever under the furniture or in a floor heating vent. "A nice addition to the package would be a small pen stand like the Wacom Tablet includes for their stylus protection," says our reviewer.
"It's best for users to keep this stylus in a pants pocket or purse," she adds. "I'm not sure how quickly the shiny surface will scratch. Maybe this company can produce a brushed surface model."
How is the ballpoint pen, I asked. "With a generic shaft and tip, it will be easy to refill and replace. The pen is a nice bonus, and it writes well, but at first users will think, as I said earlier, that this product is a bit top heavy. Eventually they will get used to it."
Jackie concludes: "This Candy Stylus and Pen will be a lovely gift for a digital executive who keeps track of it and doesn't roll it into the trash can. It will be hard to keep track of in a house or office, so place it on a piece of fabric so it will be where you want it when you need it."
MyMac Review Rating: 8 out of 10
Tablet Stand
Company: Griffin Technology
Price: $30
This tablet computer stand's composite materials have a pleasant feel and a hefty design, plus a handsome appearance. It is a solid easel when in upright mode, with "very good weight and balance in the tall mode," according to our guest reviewer. Jackie Richards' favorite feature is that her iPad fits into the stand comfortably even when the iPad is wearing her favorite iFrogz rubber protective Silicone Wrapz, reviewed previously.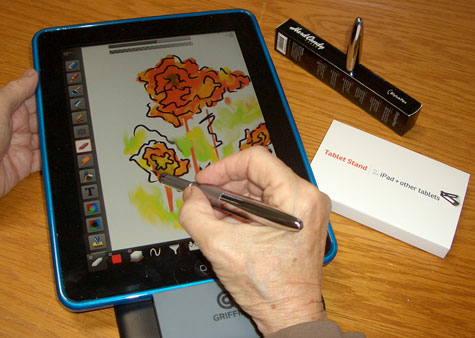 In the lower mode, writing, drawing, and typing on an iPad isn't at a much different angle from being on a flat surface. Tablet Stand's advantage in this low position is its built-in wrist rest on the gray base. "Artist apps are very sensitive," says Jackie, "so a lot of times when I'm trying to work with my hand I make erroneous marks on my iPad's glass display. This wrist support elevates the capacitor position on my stylus so the screen doesn't suffer from those problematic swipes."
She gives Griffin's Tablet Stand a strong recommdation in A-frame easel or presentation mode.  In its lower position, the "soft, rubbery, plastic front section serves as an instant wrist rest. This is a great company, John, for innovative engineering and product design." At first Jackie thought this stand's flat mode was "too low for my use," but now she says "it's really handy. With my writs slightly lifted, no part of my hand interferes with my creative use of a stylus on the iPad's touch screen. Buyers will need to give themselves a little time to determine their best positions for different uses."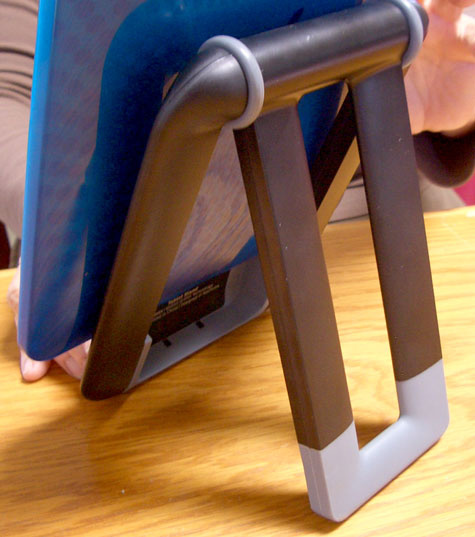 MyMac Review Rating: 9 out of 10
Elan Passport Graphite iPad Folio Case
Company: Griffin Technology
Price: $50
Read Howard's prior review of a similar product first here.
Jackie's thoughts are below. She did not read Howard's evaluation.
The elastic interior corner grip bands fit over her iPad when it is both in and out of her precious iFrogz Silicone Wrapz protective sleeve. "Griffin's design is attractive, easy to carry, protective, and secure," she says.
Elan Passport Graphite's material is "rich looking and handsome, appealing both to women and men. I like the feel of it very much. The overall bulk and weight of this folio case doesn't add much weight to an iPad."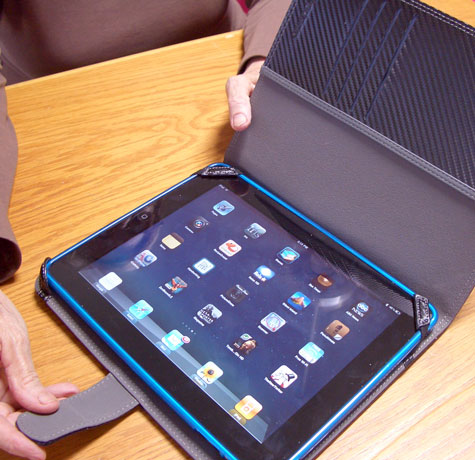 When the folio is open, Jackie "can use my iPad without removing it, and I have access to all its ports. There are slots for a few business cards and a thin note pad."
She approves of this product's "soft suede leather interior finish. It's quite elegant. All sewing and stitching are perfectly done, without any flaws. Griffin strikes again, seeing a need and filling it appropriately, affordably, and with good taste. You can place this Graphite Folio on a conference table, and it will make a positive impression. No criticisms at all."
MyMac Review Rating: perfect 10 out of 10
Part Three is here.
Part Two is here.
Part One is here.