iPad Accessories Roundup — STANDS — simple, elegant, or elaborate?
By Guest Reviewer Jackie Richards, and John "Nemo" Nemerovski
Loop Stand for iPad
Company: Griffin Technology
Price: $30
Product web page
UpStand iPad Stand
Company: Just Mobile
Price: $50
Product web page
ViewStand for iPad
Company: Macally
Price: $60
Product web page
Griffin's Loop iPad stand is reviewer Jackie Richards' "hands down" favorite, as is their iPad stylus, reviewed previously. She likes Loop's weight, mass, versatility, and positions. Loop is easy to use for typing and drawing, because it squats low and ergonomically on a table or desk and "it's not gonna go anywhere, and neither is your iPad," according to Jackie.
After using Loop for three weeks, Jackie has "no objections whatsoever" to it, especially because she can keep her precious iPad's back and edges covered with her favorite iFrogz rubber sleeve while the iPad is placed on Griffin's stand. "My iPad has perfect balance whether inserted into the groove or angled on the subtle base stub. I can't think of anything negative to tell your readers, Nemo."
With a low center of gravity, a "perfect viewing angle, and attractive design and construction, Loop never concerns me about possibly tipping over — this baby is stable! Griffin is to be congratulated for simple, straightforward design that gets the job done."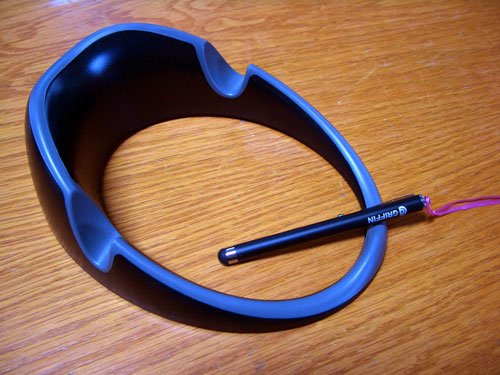 "One more thing — just like the Griffin iPad Stylus, I'm keeping this review Loop stand. If you want it back, Nemo, tough luck. You'll have to buy one yourself. With the loop design, Griffin chose a road less traveled instead of the easel approach, and they have a winner."
Perfect 10 out of 10 MyMac Review Rating.
Jackie is impressed by the stylish manufacturing standards and top quality materials used in Just Mobile's UpStand for iPad. She considers it the best stand she has seen and used for presentation, "but not for extended typing or creative iPad work." As she explained in her prior review of this company's metal AluPen iPad stylus, "this stand is businesslike and not geared toward artists". For presenting photos and slide shows, or for looking at movies and videos, "this brushed metal stand has no equal, and its price is reasonable."
MyMac Review Rating: 7 out of 10.
Macally's ViewStand is a hybrid. It too is poised in the vertical position for presentations of all types. In the down mode "it's great for creativity," says Jackie Richards. "But if you typically keep your iPad in a case, you must remove the case before inserting the iPad into ViewStand's unusual frame. The iPad fit is snug, and not easy to extract."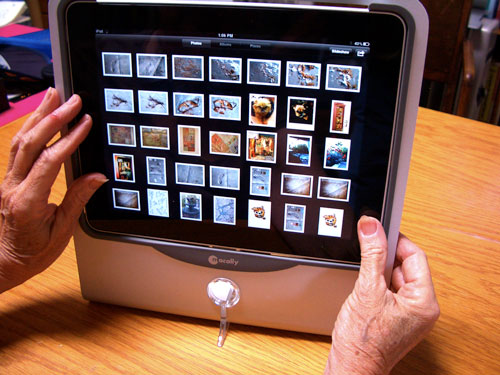 "Balance is a little front-heavy in the vertical position, which can be dangerous to an iPad. I wish it was angled somewhat farther back. You MUST use the included plastic support attachment, but this plastic gizmo is a little wobbly and light weight for the purpose."
Jackie likes the low alternate position of this stand, because "it's great for working on my iPad art projects in landscape mode, and for typing on the iPad's screen keyboard. Table top reading is a delight."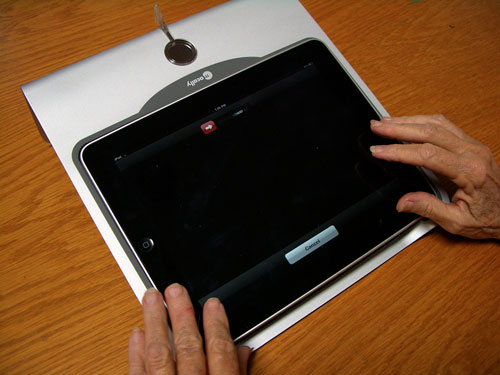 Physical iPad ViewStand security is fine in landscape mode with the stand either in high or low position. Portrait mode is secure when the stand is in high position, but less so in low position. All these variables are more tricky to describe than demonstrate, so let's hope Macally posts an action video of their ViewStand.
Jackie's conclusion is this particular stand's design is perhaps more complicated than it needs to be, given its two competitors reviewed above. Keyboard use in low mode is comfortable, but ViewStand is "somewhat flimsy for its overall purpose. Just the same, John, my rating is equal to the UpStand, but for different reasons."
MyMac Review Rating: 7 out of 10