BookBook for iPad
Company: Twelve South
Price: $69.99 USD
Twelve South

The iPad is such a unique device that manufacturers are only starting to catch up with accessories and cases that match its style. Twelve South, a manufacturer of creative MacBook cases, has released their first iPad product, the BookBook for iPad.
The BookBook for iPad is a handmade, hardback leather case that resembles a vintage tome. Not only does it provide physical protection for your iPad, but adds a level of security because of its uncommon design.
Physical Protection:
The BookBook for iPad has a soft velvety interior that cushions your iPad and prevents scratches. Two leather corners at the bottom and an elastic band along the top hold your iPad in place. Hardback covers and reinforced corners provide impact protection. Impact damage to your iPad is not likely because an object would have to hit the center of the case with extreme force to cause any damage. The hard protective inner frame coupled with the hard spine offer very good crush protection.
Dual zippers keep the case closed and they seal out dust and dirt. You can even slip a headphone wire between the zippers, or the iPad power cord, and pull the zippers snug on both sides.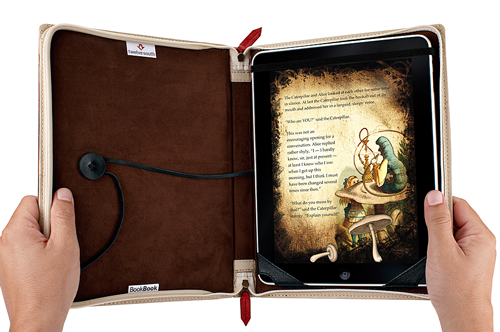 The perfect disguise?
The BookBook resembles a vintage tome. Can it fool anyone? I took the case to work with me and approached several fellow employees. No one took special notice of the BookBook in my hand. However, when I held it up and said, "Take a look at this old book I found," each person attempted to open the BookBook as if it was a real book. Each person laughed and asked me, "What is this?" When I unzipped the case and revealed the iPad each person had a big smile on their face. They were completely fooled.
If you were to leave your BookBook on a coffee table, on a desk, or in a dorm room, I am convinced no one would know your iPad is in there. Since each BookBook is hand distressed, no two will look alike.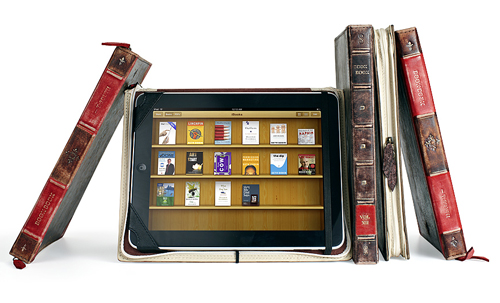 Inside the case is a button and a string. You'll find a button on the inside left cover and a leather tassel connected to the opposite side. Fold the covers backward into a V shape, then stretch the tassel under the case and wrap it around the leather button and you have a stand for viewing a movie. Adjust the angle by adjusting the length of the tassel.
The BookBook for iPad is clever and beautiful all at the same time. Twelve South offers the case in red or black. The only negatives: the zipper on my case has a slight defect at the top right corner. I wish it had a slot for business cards, and a pen keeper. The case provides very good iPad impact protection while its unique design provides the perfect disguise.
MyMac Rating: 8 out of 10