By Guest Reviewer Jackie Richards, and John "Nemo" Nemerovski
BTKeyMini
Company: Macally
Price: $100
Product web site
Keyboard Socket
Company: Waterfield Designs
Price: $15
Product web site
Keyboard Slip
Company: Waterfield Designs
Price: $29
Product web site
Macally's innovative BTKeyMini is a combination Bluetooth iPad keyboard with a stand that doubles as a protective cover shell for the keyboard. Jackie Richards thinks the stand could be less severely upright in its sole position, or somehow variable.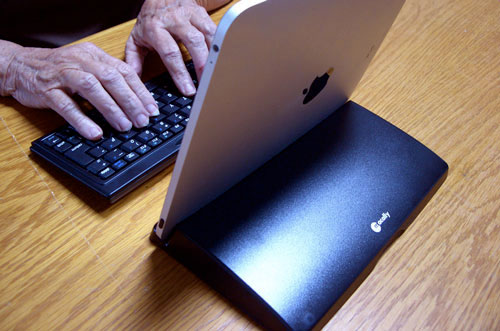 Jackie keeps her iPad in an iFrogz rubber sleeve that needs to be removed for the iPad to rest in Macally's BTKeyMini stand. She doesn't like having to slip this rubber cover off and on. Jackie was "very leery" of this stand, but she likes the way it covers and protects the Macally iPad Bluetooth keyboard.
She calls this Bluetooth keyboard "simplicity itself" in the way it pairs with her iPad for typing. The keys are "not very sensitive to the touch" at first, "requiring a strong typing pressure." They are small, but users will soon learn to live with the physical traits as a trade off for remarkable versatility and convenience.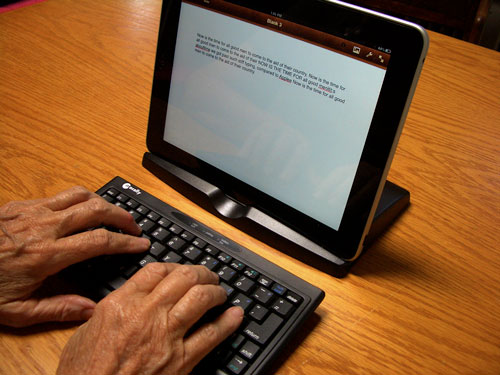 Jackie was less forgiving during her initial test drive of the keyboard, saying "I'm a good typist and this keyboard would drive me out of my mind. Fortunately there is a special button on the Macally keyboard that, when paired with my iPad, allows me to switch back to the iPad keyboard."
If you think "it's hard to type on this sucker," as Jackie did at first, you'll be pleased to know that eventually you'll understand that "typing on this keyboard, or any keyboard, is a whole lot more convenient than iPad screen typing." If you are a touch typist, the small keys will initially "drive you crazy and aren't sensitive enough," but as you proceed through hunt and peck usage, you will value the keyboard's finer points, and clever special keys for enhanced iPad usage.
The $100 list price is a little steep for this product, so shop around and save money on its purchase.
MyMac Review Rating: 7 out of 10
Apple's standard Bluetooth keyboard, for comparison, is "great, and it is NO comparison, Nemo," says guest reviewer Jackie Richards. "When space is tight and you really want to type, travel with your Apple keyboard and protect it in a dedicated sleeve.
Waterfield Designs provided us with two form fitting sleeves for the Apple keyboard. "The velvet one," as Jackie called the Keyboard Socket, "tends to bunch up, and is awkward" for in and out placement and removal of the keyboard. "The rigid one," Waterfield's Slip sleeve, is better "because it is rigid and protective. Your keyboard slides in and out better, due to superior materials and workmanship. Again, no contest here."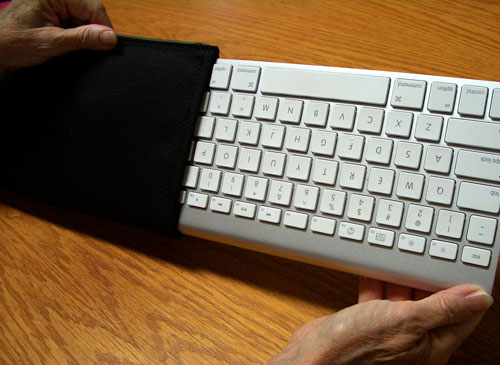 7 out of 10 for Keyboard Socket
Perfect 10 out of 10 for Keyboard Slip