By Guest Reviewer Jackie Richards, and John "Nemo" Nemerovski
Stylus for iPad
Company: Griffin Technology
Price: $20
Product web page
AluPen
Compan: Just Mobile
Price: $25
Product web page
Jackie loves her Griffin iPad Stylus, with its short stub length and round shape. She wouldn't use the pocket clip, but she thinks many men and some women will be glad to have the clip. Jackie threaded a thin pink ribbon through the lanyard loop end, to help her keep track of the stylus.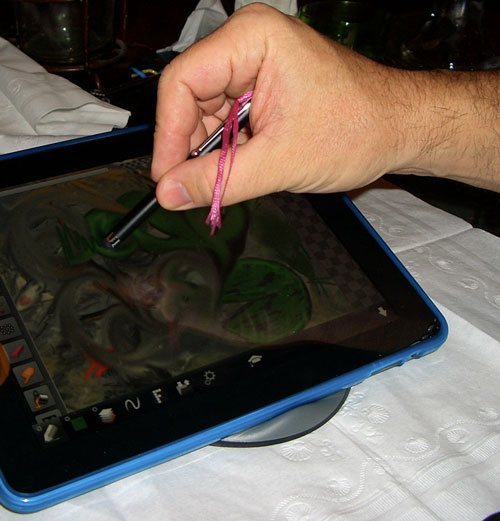 The round capacitive tip is precise and sensitive enough for detailed artistic drawing, and it is handy for pointing and poking an iPad's screen, as appropriate. Holding down the stylus on an iPad with constant, gentle pressure, activates popup windows in her drawing program.
"It's better than a long fingernail, Nemo," for creative work, and the stylus is "like a third hand once you become accustomed to it." Using the ArtStudio iPad app is easy, including sliding for continuous drawing, and delicate contact "for a light, artistic touch when I need it. This stylus is very addictive, and it saved my sanity on my recent trip to Florida because I used it so much when I was stranded indoors for days and hours during the hot summer weather."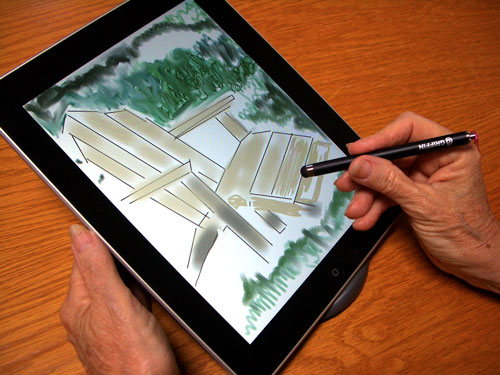 Jackie "got so used to it with the iPad" that she took it from me and refuses to return it, so I'll have to buy another one for myself. "Tell your readers the size and touch of the capacitor tip is excellent for all purposes, John."
She says Just Mobile's AluPen is more businesslike than compatible with artistic use, and she recommends it for men or women who prefer its size and shape. Because of its six flat sides, AluPen writes or draws in one hand position, and isn't as versatile as Griffin's stylus. "It's heavier and it takes more effort to use it, and it's very stabby because of that limited holding angle. AluPen isn't suited to my hand, but it is definitely a product that will appeal to a professional.
"For my woman's hands, Nemo, the Just Mobile stylus is too chubby and not comfortable. A businessman or a techie will probably think it's just fine for desk use because it will be a little heavy in a pocket. One good thing about the hexagonal shape is you can't lose it by rolling away, but there is no way to secure it."
Jackie describes the "strong stroke" from AluPen's wider tip as a terrific white board marker on an iPad app, but this stylus is "heavy in my hand — too weighty for hours of continuous work. For me this weight, combined with its shape and size, throws off the balance, combined with its shape and size. I recommend this device as being best for accessing movies, videos, and slide shows, or doing presentations."
Griffin Stylus for iPad: perfect 10 out of 10, with her highest recommendation
Just Mobile AluPad: 7 out of 10