Capture One Pro 10: $299; $15 per month subscription; $99 upgrade from versions 7, 8, 9
Phase One
In 2015 MyMac looked in depth at Capture One Pro 8Â (1, 2) and 9Â from the Danish company, Phase One.
Now Capture One Pro 10 has been released. An image processing software that offers RAW camera file conversion with extensive functionality for photo editing and organizing image files, this version continues the trend of the robust, easy-to-use and feature-rich software to which many users turned once Aperture's and iPhoto's days were numbered.
Capture One Pro 10 is a worthy successor to those Apple products. As software it has features and functionality that now go far beyond what either Aperture or Photos has to offer. The resources and support that come with Capture One Pro are outstanding, make using it a pleasure and supplementing an evolving product that can be recommended in every way.
You are referred to those earlier reviews for an overview of Capture One Pro. Three main areas in which Capture One Pro 10 has improved can be identified:
image editing
performance
workflow
New commands and many changes to the engine and underlying codebase introduced in version 10 are reflected in an updated workspace; the result is a more intuitive grouping and layout of tools and menus.
Editing
Better ways to sharpen your images is the most important improvement in this version. You can now achieve significantly better results using an intelligent three-step sharpening process where you use only the steps you need. You can work on an image in the Lens Correction tool to correct losses in sharpness due to diffraction; "Output sharpening" works by targeting the sharpening process in accordance with the viewing distance and scaling of the final image; with "Creative sharpening" it's up to the photographer working empirically.
It's also now possible to filter your images according to their orientation/aspect ratio: portrait, landscape or square formats.
Capture One Pro 10 now has support for the Tangent panel system. This USB-based modular system of hardware control emulating software functions using "Knobs", "Buttons", "Trackerball" (and a multifunction) is now integrated into Capture One Pro 10… fine control of color grading with the "Tk" (tracker ball), for instance. In fact, with Tangent you now have access to nearly 500 Capture One Element functions in one analog interface. Element panels can also be combined – individually and incrementally as you need them, or en bloc. This system is widely regarded as ergonomically sound and intuitive without loss of functionality or sophistication.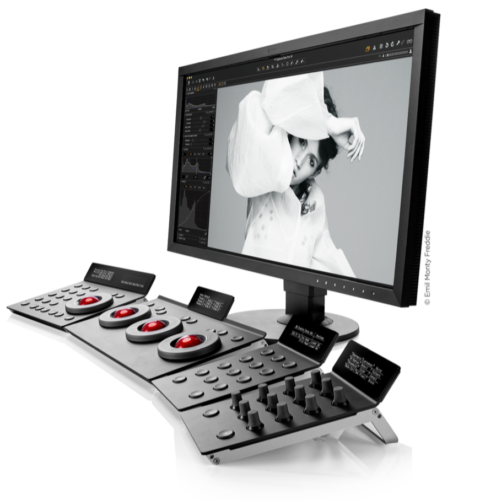 Focussing a tethered camera takes a step forward in this version of Capture One Pro – to reduce time spent in still life and macro work, for instance. All those camera models which are (already) supported by Capture One Pro can be auto-focussed from the software: Sony and Phase One cameras can be focussed manually both in and outside Live View; Canon and Nikon cameras need Live View open to perform manual focussing.
Capture One Pro 10 has extended the concept of the image processing "pipeline": the controls for mRAW and sRAW formats (in both Canon and Nikon camera formats) have been improved, including Lens Corrections such as Chromatic Aberration Analysis and LCC. You can also adjust Auto Masking on additional file formats (Xtrans, Jpeg, Tiff, mRAW and sRAW) locally. LCC correction for 100MP is also possible removing flaws caused by striations introduced by the use of some wide angle lenses.
Performance
Capture One Pro 10 has been made faster. And without sacrificing stability, which is always a risk when revising established code. In addition to an overall increase in speed as you work, you're likely to notice that browsing, zooming, panning and switching between images at 100% view are all faster. With such processor-intensive activity as image-editing, where effects are applied, tested, edited, re-applied in sometimes lengthy iterations many times in a session, the changes in speed in this version will be a big boon to serious users.
Capture One Pro 10 can easily claim to be the fastest and most streamlined software in its field. Like the other new features tested and evaluated for this review, these improvements in performance are likely to impress even the most demanding users.
Workflow
Proofing is now possible on screen so that you have much more control over the output result. Perhaps most importantly it's possible to customize the parameters so that often-performed processes fall under your own control. This includes oversight of every stage of sharpening – including scale and compression artifacts; you can also check ICC Profile and JPEG artifacts.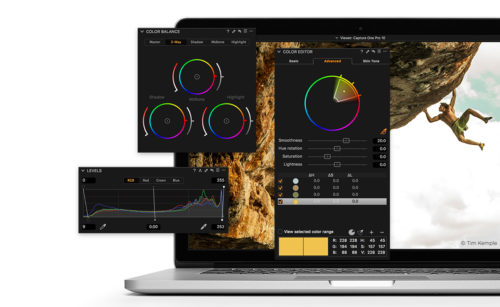 Meta data can now be edited in Applescript. Folders can now be moved and renamed inside the Capture One Pro 10 catalog itself.
Keyboard
In mid-February PhaseOne announced the release of a customized keyboard for (the Mac version of) Capture One Pro. Developed with LogicKeyboard, its design is based on feedback from the Phase One Certified Professional (POCP) program. The hardware is intended to increase productivity by making many of the shortcuts available in Capture One Pro available on a dedicated keyboard. The use of color-coding in logically-grouped regions of the keyboard and ergonomically-sound layout make use of this keyboard likely to streamline those aspects of using Capture One Pro which do not need the mouse. American and British English as well as German localizations are available now with others to follow. The keyboard costs US$139/€129. (This was not tested for this review.)
Phase One has added support for several camera models in Capture One Pro 10: Olympus E-M1 mkll, Sony RX100M5, Sony A6500 and A99M2; and new lens profile support for: Sony FE 70-200 mm F4 G OSS, Sony 70-200 mm F2.8 G, and Sony E 18-200mm F3.5-6.3 OSS
While each of the new features of Capture One Pro 10 evaluated for this review worked well – as expected – Phase One has already released two updates. At the time of writing (the end of February, 2017) the latest version (PDF) is 10.0.2 with support for more cameras and bug fixes.
Conclusion: There's actually more than meets the eye in this release. Whether it justifies the comparatively high price of $99 or not will depend on how wedded you are to the software. If you make your living with photography and have entire digital collections in the system, then you will certainly want to upgrade. If you're likely to find the new sharpening features useful, then they are convincing- and well enough implemented to warrant that price. At the same time, it takes only an hour or two familiarizing yourself with the wealth of features in Capture One Pro 10 to see what it can do for most users from casual, hobby and professionals to realize that this software must now be regarded as the industry standard.
Robust and reliable with a very well-conceived user interface, the software has excellent documentation, resources and support, is competitively priced, and enjoys installation and licensing processes which also put it ahead of Lightroom.
Obviously a very mature product, Capture One Pro 10 is nevertheless still evolving with a (development) team which really knows what it's doing and is completely in tune with what users want.
Pros: version 10 of Capture One Pro is as stable, easy to use and feature rich as always; new sharpening features, better performance, and enhanced interfaces to camera and control hardware could quickly become indispensable to some users; the introduction of even seemingly minor additions – such as filtering by orientation – will significantly speed up workflow for some; support and resources excellent.
Cons: the price may be a little high.
MyMac Review Rating: 9 out of 10
System Requirements:
Mac OSX 10.11.6 or macOS 10.12.x
internet connection for activation
CPU with two cores (four cores recommended)
8 Gb of RAM (16 Gb recommended)
10 Gb of free hard disk space (100 Gb recommended)
calibrated color monitor with 1280 x 800, 24-bit resolution at 96dpi
fast hard disk, ideally Solid State (SSD) recommended
fast Graphics card (NVIDIA or AMD) with minimum 2 Gb RAM (4 Gb for 4k or multiple screens) recommended
Mark Sealey