Hear
Developer: Prosoft Engineering
Version: 1.2.2 (2015)
Price: $19.99
Hear by Prosoft
Hear is a powerful audio equalizer for the Mac (or PC). In my experience, it does more to improve sound output than any other audio product I've used. Hear has been installed on my Macs since its early versions. Whether you have a set of small speakers or a mighty powered system with a subwoofer, the sonic improvements you can make are genuinely impressive.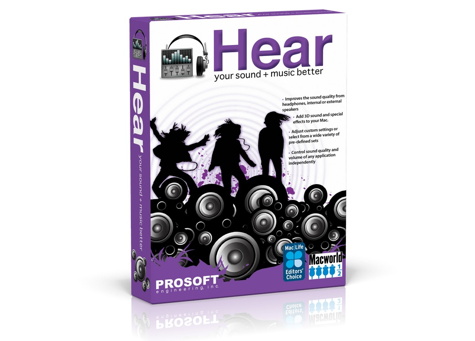 Hear lets you adjust and tweak the audio coming from your Mac to your speakers or your headphones nearly infinitely. There are twelve control panels, each with specific audio adjustments. The Equalizer panel lets you boost or reduce each part of the audio spectrum with slider controls. Initially, there are ten sliders but you can increase this resolution to a dizzying number, at the expense of some increased CPU usage. When you find your sweet-spot, you can create a preset and name it.
In addition, Hear includes 175 presets in its library. You can modify any of them or create as many of your own as you need. Click and hold on the Hear dock icon and all of the presets are selectable without opening the app.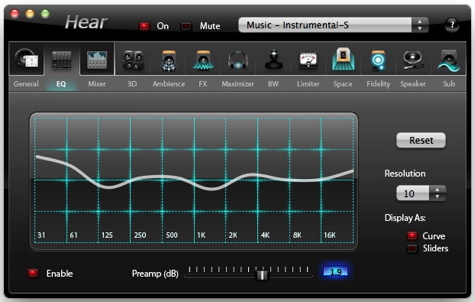 You can assign presets to each of your Mac's apps so that podcasts are set to your preferences for the spoken word, movies can be set to a wide, surround sound effect, and music can be adjusted to suit your moods and tastes. You can even set gaming audio so the scenes are more atmospheric and the explosions more percussive. You may find, as I do, that separate presets for your headphones are worth creating. The control panels offer such depth that you can spend hours experimenting or simply select from the astonishing array of built-in presets that Hear includes.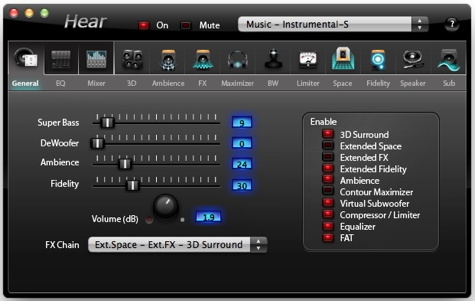 Having the options to adjust any or all of the following can be a creative lesson in sonics. Ambience adds minute amounts of reverb. Fidelity allows adjustment of frequency and coloring. Speaker controls allow bass resonance and mid-range tweaks. 3D, Space, and FX sliders simulate surround sound effectively. The Sub panel allows subwoofer simulation, and the Mixer panel shows you the apps that are currently running on your Mac. There you can enable or disable digital sound processing (DSP) and volume levels for each application. There is one trippy panel called Brainwave Synthesizer that I don't really understand. It purports to aid concentration and relaxation. For me, it adds a little volume but not much else.
This Hear 1.2.2 update includes support for Mac OS X 10.10.x, Yosemite as well as previous versions of the operating system. It also has been made compatible with the latest versions of Firefox. Prosoft has worked to provide basic support for many of Apple's sandboxed applications.
As a longtime user, I highly recommend Hear. Your ears will thank you. It's one of the first applications I install on a new Mac.
MyMac Review rating is 9 out of 10.