iCookbook
Company: Publications International, Ltd.
Version: 3.1
Price: $4.99
Requires: iPhone 3GS and above, iPod touch 3rd generation and above, iPad, iOS 4.3 or later.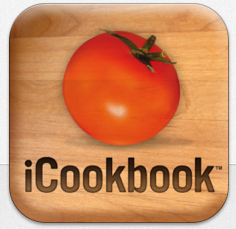 In March 2013 I reviewed the CrockPot Recipes App and was very pleased with the variety of recipes. The developers of the CrockPot Recipes App have another fabulous cooking app that contains recipes for crock pot, oven, and grill, simply named iCookbook.
iCookbook comes with over 2,000 recipes that cover any cooking category you could want, including main dishes, appetizers, cakes, salads, beverages, and soups. Free monthly updates add to the wide variety of recipes.
Like the CrockPot Recipes App, iCookbook recipes are searchable by dish, ingredient, cuisine, occasion, top rated, or theme. Filtering helps narrow down choices for easier searching and viewing. Favorite recipes can be added to the Recipe Box.
Each recipe has a photo of the finished dish, cooking time, difficulty represented by cooking spoons, and user rating. Clicking the PREPARE button at the bottom of the page opens a new page which is divided into three sections. The upper section shows the steps one at a time. The lower left half previews the next step in the recipe and the lower right half keeps the ingredient list accessible without having to scroll back and forth through pages.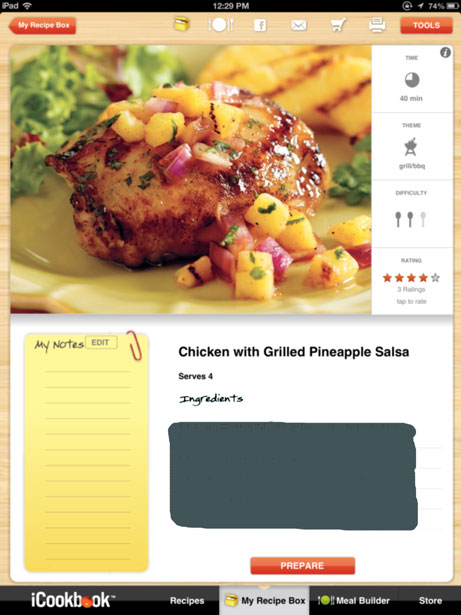 A handy Tools button in the upper right corner of the screen contains all types of cooking conversions, wet and dry volume measurements, food substitutions, shopping list, how-to videos, and articles all within the app.
Inexpensive in-app purchases are available through the iCookbook Store. Each recipe collection has a description and a preview of each recipe. The Ultimate Brownies collection is looking quite tempting!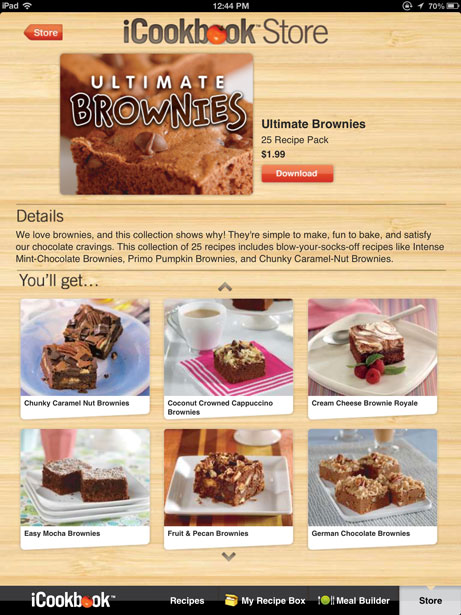 I've made a few of the chicken recipes, and to quote my husband, they were "quite tasty." Directions were easy to follow and the ingredients were everyday pantry staples. I find myself going to iCookbook more and more to change up our usual dinners. Even without the monthly freebies, iCookbook is a great value. If the sounds of "what's for dinner?" ring out in your house, then you should own iCookbook.
MyMac.com Review Rating: 8 out of 10.