Platforma Messenger Bag for iPad
Strotter
Price: $170
Strotter's unusual Platforma Messenger Bag for iPad is basically a high quality carrying case that can be converted to a sort of desktop that dangles from your neck and enables you to use your tablet without holding it in your hands. If you're actually a messenger running around town on a bike or motorcycle, you might use the added functionality of the desktop, but I suspect most people will simply enjoy the Platforma because of its high grade leather, it's quality hardware, its small but useful dimensions, and its attractive appearance.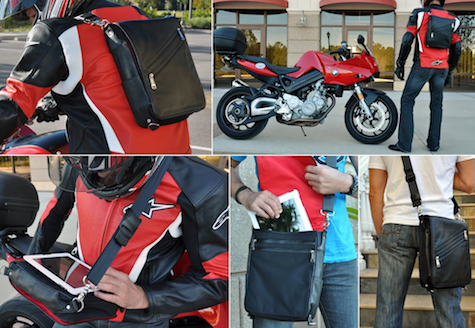 The strap hangs across your chest and the bag rests vertically on your back. Inside, there's a separate compartment with enough soft material to protect your iPad or other devices from scratching. There also are two external zippered compartments suitable for your passport, smart phone, or other odds and ends. There are two small pockets on the sides for pens. After that, you get into the gimmicky mechanics department that includes a hard plastic tray for your iPad and four strong magnets that will keep your iPad sitting securely on the outside of the messenger bag when it's used as a desk.
As I say, if you're not a messenger, this "desktop" feature is much ado about nothing. You have to jump through a few hoops if you want to use it. The first thing you have to do is remove your iPad from whatever protective case you happen to own. Your naked iPad must be placed in the plastic holder with the magnets in order to work. Next you have to swing the messenger bag in front of you, detach one of the straps and rebuckle it in front, flip the bag over so it is oriented in landscape mode, and place the plastic tray on it so that it engages the magnets embedded in the leather case.
This feat is demonstrated in a video you can watch here.
The Platforma itself, setting aside the gimmicks, is made from topnotch materials from its zippers to its full grain leather and heavy duty buckles and strong magnets. Some purchasers may consider as an added attraction the fact that you can mount your iPad in the magnetized plastic tray and place it on your fridge door or any other metal surface.
Strotter did a beautiful and innovative job with Platforma.
MyMac Review Rating is a recommended 8 out of 10.
See Julie's prior review here.