Crock-Pot Recipes App
Company: iCookbook.com
Version: 1.0.1
Price: $3.99
Requires: iPhone 3GS and above, iPod touch 3rd generation and above, iPad, iOS 4.3 or later.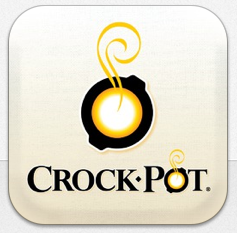 In my house, when the smoke alarm goes off it means Mom cooked and dinner's ready. Translation: I'm a lousy cook. But making dinner is a necessary evil. I can use the crock pot but I only have two recipes. We can't live on beef stew and pulled pork for the rest of our lives, so I needed more crock pot recipes. Crock-Pot Recipes App to the rescue.
Crock-Pot Recipes App comes with 250 recipes covering appetizers to main dishes to desserts to stews and more. Each month the app will remind you to download ten free recipes for that month. Additional recipes based on a theme, such as Party Starters, Diet Collection, Spectacular Sides, Asian Inspired, and Game Day Grub are available as in-app purchases, from 99 cents to $2.99.
There's a lot to discover in Crock-Pot Recipes App, and I'm sure I haven't found everything this app has to offer. Let's start with the Recipes button. Click on Recipes and you're brought to a page of twelve random recipes, complete with photo of the finished product. Swipe up for more recipes. Every recipe you own will be found here.
In the upper right corner is an Info button. The information found here alone is worth the price of the app. You'll find a handy Conversion chart, along with Food Substitutions, Timers, How-to Videos, a Shopping List, and the Crock-Pot Recipes App User Guide. All this information can also be found within an individual recipe.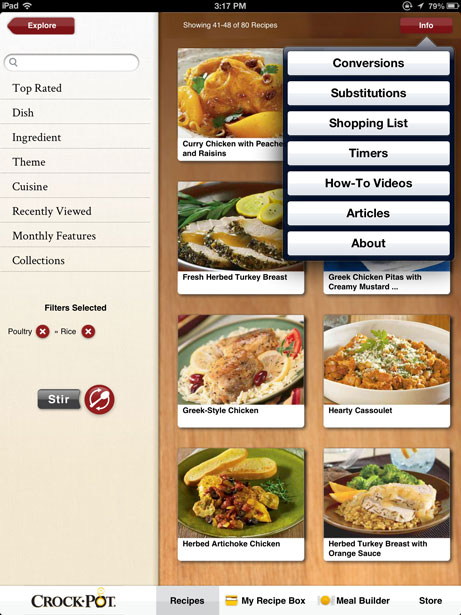 Filtering will help narrow down recipe choices. Once you've chosen, the finished product is shown in full color, along with the ingredients, cook time, difficulty rating, and user rating. A note pad next to the ingredient list is helpful for jotting down substitutions or your own tweaks or thoughts about the recipe. Across the top are buttons to share on Facebook, email or print the recipe, add ingredients to a shopping list, add to your own Recipe Box, or add to a Meal Builder.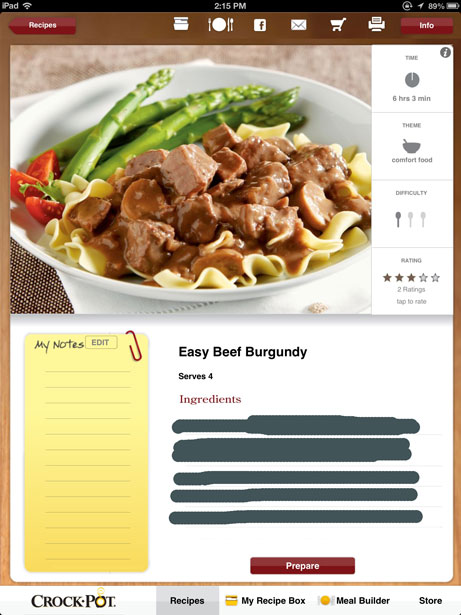 Voice Command is available when preparing the recipe. It doesn't read to you; rather you say what you want the app to do. Saying Next will turn to the next step, My Notes will bring up a note pad. This is a useful feature when your hands are dirty and you don't want to touch the screen; however I found this feature to work only some of the time. Using a stylus is easier and keeps the screen clean.
My Recipe Box allows you to add favorite recipes without having to search for them later. It's also great place to add recipes you really want to try in the future.
Crock-Pot Recipes App was released earlier this year, so I'm sure they'll be adding new features as they get customer feedback. If you have a crock pot gathering dust in the back of a kitchen cabinet, pull it out, download Crock-Pot Recipes App, and try something new for dinner tonight.
MyMac.com Review Rating: 8 out of 10