iPhone 4: The Missing Manual, Fourth Edition — Covers iPhone 4 & All Other Models with iOS 4 Software
By David Pogue
Publisher: O'Reilly Media / Pogue Press
US$ 24.99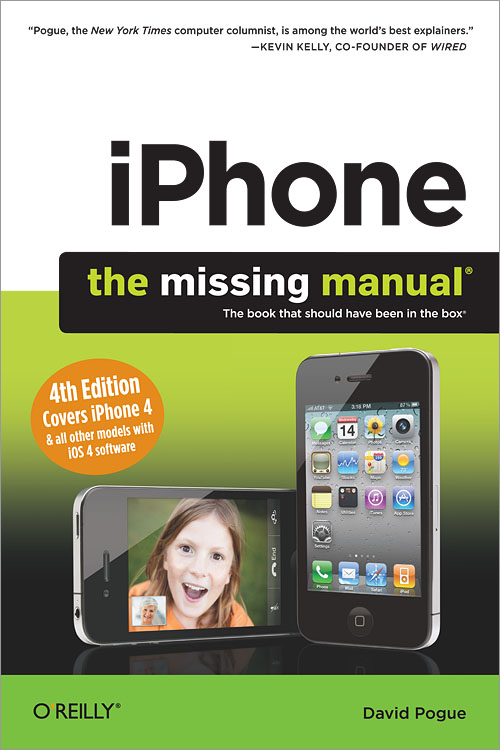 With the recent release of the iPhone 4 for Verizon, it's appropriate to alert Verizon iPhone newbies that one of the best all-round iPhone books was, is, and probably will always be, David Pogue's iPhone The Missing Manual. Oddly, the front cover has "missing manual" in lower case letters, but the frontispiece says "Missing Manual." In any event, this stylistic glitch did not prevent me from enjoying this book.
Apple has succeeded in making the iPhone easy to use, yet still packs it with lots of features. But given the paucity of Apple-supplied documentation, the user is left to his/her devices. You can spend hours searching for and reading Apple's on-line support documents, or cruise the Web to find out just what it is that you don't know about your iPhone. Former Secretary of Defense Donald Rumsfeld's saying about "known unknowns and unknown knowns" is right on target. With iOS version 4.x the naive user may never discover all the iPhone's obvious and hidden powers.
Pogue's iPhone The Missing Manual Fourth edition will answer virtually every question most users will have about the iPhone, thus eliminating both the known unknowns (how do I set up my email) as well as the unknown ones (I didn't even know the iPhone had voice control for dialing and iPod!).
The only area that the Fourth edition does not cover is the Verizon-specific bits about how CMDA handles voice and data, as the book was written in the summer of 2010, when a Verizon version was probably kept under lock and key in a Cupertino research lab-cum-dungeon.
While the book can be used as a reference book, thanks to its comprehensive index, it's small enough for the new iPhone user to read it from cover to cover. Unlike its bigger Missing Manual siblings, this book is small enough to fit conveniently in a laptop bag. Non-corporate types won't miss a beat if they elect to skip the section of configuring VPN (virtual private access) and Microsoft Exchange accounts. I skipped them, and am none the worse for wear.
Even though I've had iPhones since the first one hit the streets, I found the list of tips and advanced techniques impressive. Even after four years of iPhoning, Pogue can still find something new for a veteran user.
Here are a few of my own unknown unknowns:
1) If you accidentally accept an autocorrect suggestion, tap the Backspace key. iOS4 offers a word bubble that you can tap to reinstate what you'd originally typed.
2) A blue five-pointed star next to a listing in Call Details and Contact Info means that number is in your Contacts list.
3) The iPhone can import contacts from the SIM card of any GSM phone. How many of you new iPhone users have your contacts only on your old phone? This will make transferring those contacts quick and easy.
4) Voice Control allows you to spell out numbers, to dial numbers not in your contacts list.
If you've read any of the Missing Manual series, iPhone Missing Manual fourth Edition will read like a familiar book, right down to the layout, and selection of jokes.
Have your iPhone at hand, and after one pass of "read it then do it," you'll know most of what there is to know about your new smartphone.
While this review reads like a lovefest, I do have a few minor quibbles. Who picked the two-tone green color scheme? The color jumps out at you, but not in a good sense, for me at least. Some of the laugh lines are still fresh, but a number of them are verging on the cheesy. Pogue could use a new joke writer. The Canadian price is substantially higher than the United States price. With the Canadian dollar virtually at par with the greenback, I can't figure out why the book costs $7.00 more north of the border. That's 28% more (calculation done courtesy of the Calculator iPhone app). While pricing is a publisher's decision, the exchange rate is no longer a convenient excuse for the big markup.
Quibbles aside, this is THE book for the average (and not-so average) iPhone owner.
MyMac review rating 9 out of 10.