Verbatim MediaShare 1TB MediaShare Home Network Storage Server
Verbatim, Inc.
US $350.00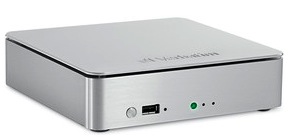 With each passing day, it seems the average household has more computing devices, be they desktops, laptops, smartphones, or tablets. And everyone wants access to his or her data files, music, photos, and movies. What's a person supposed to buy to fill this need? Verbatim has one entry into this increasingly crowded field: the Verbatim MediaShare 1TB MediaShareâ"¢ Home Network Storage Server.
MyMac Labs put a review unit to the test, and here's what we have to report.
Our first impression is that the MediaShare is a sturdy, well-built unit. It's roughly the size of an Apple AirPort Base Station, 6.4″ x 6.4″ x 3.5″ hefty, and it weighs in at 1.2 lbs.
The MediaShare has no shortage of connectivity options: gigabit Ethernet, two USB 2 ports for connecting other hard drives or printers, and an eSATA port to mirror to another hard drive. We connected to our local network via Ethernet cable, but chose to not add any external hard drives or printers for our initial tests.
The MediaShare comes with an installer CD, and you need to run the installer. Verbatim uses a proprietary application called MediaShare Agent to start the process of accessing your shared files. The installer also guides you through establishing an account with Verbatim that will allow access all your shared files via the Internet.
During the installation process, you may choose to sign up for a 30 day trial of an optional $19.95/year package that includes RSS feed capability, secure FTP uploads/downloads, and having an unlimited number of user accounts on the MediaShare.
Once the installation is complete, you now get to experience the (ahem) unusual MediaShare user interface. It's not anything like Apple's Finder-based file sharing interface, or any other interface you've ever seen. Verbatim has opted for a glitzy, confusing, Adobe Flash-based user interface that forces you to adopt its own unique (to put it politely) way of managing files. You can use the standard Finder interface for uploading and downloading files, but that's done after you tell the MediaShare Agent application to "Explore my MediaShare folders."
Count on spending considerable time with the MediaShare User Manual and FAQ files. The MediaShare does a lot. You can even configure the MediaShare to do Time Machine backups. But the documentation does not tell you that you can't configure it to do Time Machine backups and file serving at the same time. You have to pick between the MediaShare as a Time Machine backup device, or a full-featured file server. The various manuals are reasonably well-written, but there's a lot of material the user has to learn. Understanding and operating the MediaShare correctly is not trivial.
The MediaShare UI color scheme is basic black.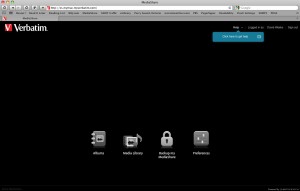 Folders in the MediaShare application have their own look, with small triangles on the bottom that you click to open the folder.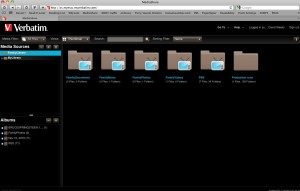 Photos can be downloaded, viewed individually, or as a slideshow. Music files can be downloaded, played individually, or played as an album with other music files in the same folder.
Data files can be only be downloaded to your local computer.
How well does the MediaShare actually work?
In a two words: not well. We tested the MediaShare both locally (on the same local network as the computer we were using) and remotely (accessing the shared files away from home via the Internet). Even at home, performance was very uneven. Certain actions, such as displaying the contents of a folder, would sometimes be very quick, and at other times be sluggish, even at home. Performance over the Internet was equally puzzling, even when allowing for the vagaries of Internet performance. For what it's worth, both home and away locations used for most of our testing have a 6 megabit down/ 1 megabit up Internet connection speed.
I had frequent problems with MediaShare pages stalling with the Verbatim equivalent of the Apple's "spinning pizza wheel of death." If this happens, there's unfortunately no way to gracefully get back to the previous page. Remember, all this is happening via Flash in a web browser window. If you click the Back arrow, you don't go back to the previous MediaShare page you just left, you get bounced back to the main MediaShare login page, and you have to navigate to your desired location all over again.
Most individual music files streamed well, with little delay before actually starting to play on the local computer. Photo display did equally well, and slideshows of folders of photos performed well. But I had repeated problems playing multiple music files when I used the "Autoplay" command; I would generally end up staring at a stalled progress bar, and have to start over again by reloading the main MediaShare web page. After the 10th time, this was one definition of frustration.
Movie streaming was equally problematic. I had uploaded a copy of a 1.5 GB Bruce Springsteen music video. I never once was able to get it to stream properly, either from home or away from home, even after waiting 10 minutes for something good to happen.
It's too bad the MediaShare hardware is crippled by a unintuitive and complex user interface. The hardware itself has so many good features that it's a shame to be held back by the software that controls it.
MyMac review rating 3 out of 10.