While MyMac typically does not publish press releases, I thought the information from one I received today to be important enough to post here, given the crisis in Japan.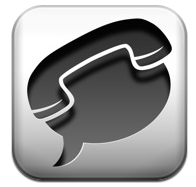 The international calling iPhone app ChatTime today announced that they are making all calls to Japan, from all the countries that they support, free until the end of March in response to the international crisis.
While AT&T and Verizon have announced that they are also allowing free calls, the ChatTime app is not just for  US users, but for users all over the world that have friends and family there that they are worried about.
ChatTime is a unique third party calling app for the iPhone that allows you to call international numbers at drastically reduced rates. ChatTime does not use VoIP, a system plagued with connection problems, but rather uses the carrier networks themselves. This means that the call has the same quality as one placed directly through your carrier, at a fraction of the price. It does this by making a local call instead of an international one, and then passing it through a private high speed network to the country of origin, where it makes another local call. In countries that incoming calls are free, the outbound call can be converted to an incoming one in order to prevent minute usage.