Twelve South Compass Mobile Stand for iPad:  Elegant and Useful – Guest Review by Howard Nemerovski
Compass Mobile Stand for iPad
Twelve South
$40
Last December 7th, I complimented the people at Twelve South for their creativity. The subject then was The Book Arc, a very appealing and well made not-so-portable stand for the iPad. Since then, those folks haven't lost their creativity mojo, as evidenced by The Compass, their new gem of a very portable stand for the iPad.
Think of an elegant easel for a fastidious Lilliputian artist, and you're half-way home to picturing the quality, configuration and size of The Compass: seven inches tall with a five inch lower leg span. Let's be honest: it's fun to play with it! It needs to be held and manipulated to show off  the elegance of its design, construction, and finish.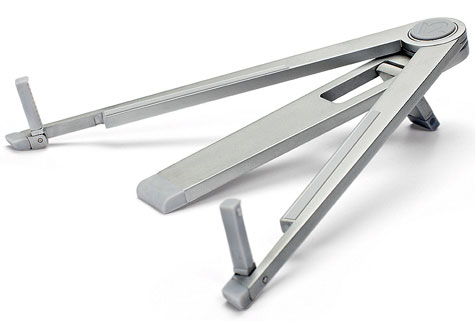 The Compass features a silver-finished foldable steel frame with well-designed hinges. It has five silicon-coated pads, two on the bottom-support fingers and three on the back-support, to cradle the iPad with or without a case. There are four silicon-coated feet. All of these features are intended to protect the iPad exterior and even the most vulnerable table or desk surface from scratching.
Yes, there are four feet, which is novel for a tripod, because The Compass can stand tall on its three main legs to cradle the Pad in an upright position for viewing, and it can recline on its secondary leg to position the iPad for typing and touch-screen activities.
Naturally, the iPad will rest comfortably in landscape mode or portrait mode, and the charger will connect in either mode. This reviewer hasn't tried resting an iPad 2 on The Compass, but the silicon coating on the support members suggests its adaptability.
Everything about The Compass is first-rate. It's very light-weight yet sturdy, and when folded into a 3/8 inch thick, seven inch long tapered shape, it snuggles neatly into its black velvet carrying bag with a red elastic band to secure it, and a flap to keep it clean.
The Compass, priced at $40.00, is a worthy sibling to The Book Arc, which is priced at $30.00. The Compass' display box isn't as exciting as The Book Arc's faux-leather multi-use box, but it's attractive and offers an instructive cardboard sleeve that describes and pictures the two ways to configure the stand.
Twelve South appears to respect its customers and to want them to enjoy its products. It succeeds with both The Book Arc and The Compass.
MyMac Review Rating: 10 out of 10