Speck Cases for iPhone 4
Company: Speck
Price: $24.95 – $29.95
http://www.speck.com
No surprise to anyone by now, your iPhone 4 probably needs a case, if not only to keep it from suffering connection and reception errors, but to protect the finish as well. And you might just want to protect that glass from drops and bumps too. Yes, I know, you can get one for free from Apple (for a short time), but personally, I did not see one in their free collection that I actually liked.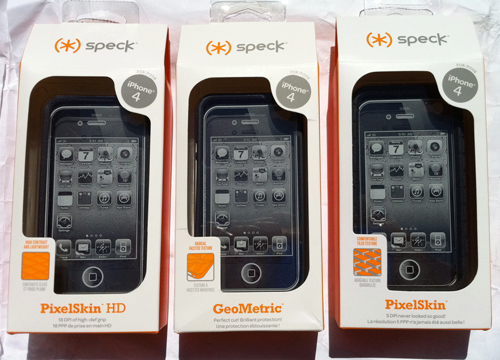 So I went looking for other cases, and the first place I went was Speck! I have one of their cases on my MacBook Pro, and another on my iPod touch, and really like them both, so what better place to start. Speck has a few new designs out for the iPhone 4, and I looked at three different cases.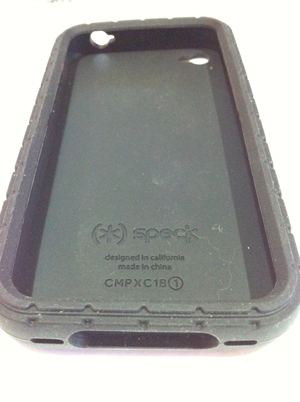 All three of these cases fit the iPhone 4 in the exact same way. The phone easily slips into the case (but will not slip out), and the case wraps around the back and sides, leaving the front mostly open, except for a small "rib" that runs around the front of the phone recessing the glass back from the top edge of the rib. If you drop the phone, the rib takes the shock, not the glass, and in most cases, the glass will be protected. Â The all have small "nubs" for the volume buttons and power button, and cutouts for the ringer switch, headsets and bottom connector, as well as a hole on the back for the camera and flash.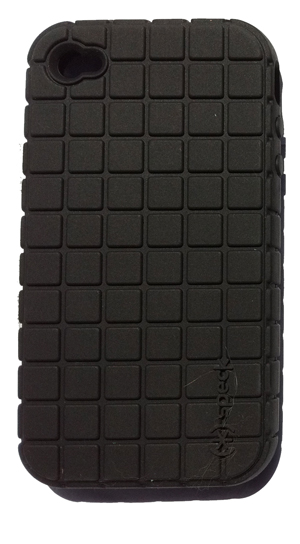 Pixelskin ($24.95): The Pixelskin is a soft, light weight case with a geometric pattern of 5/16″ squares all along the back. Â It has a rubbery matte finish, with a smooth grid texture for a comfortable grip. It comes in black (my favorite color) as well as pink and purple. Insertion and removal of the phone is very easy, but it fits snugly, so it will not fall out on its own.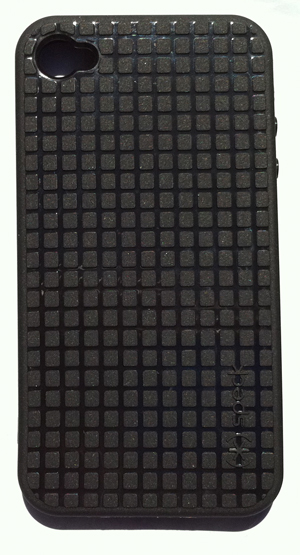 Pixelskin HD ($29.95): I happen to like a hard case so my phone will slide easily in and out of my pocket, where I usually keep it. But hard cases are usually slick, and thus tend to slide off of angled surfaces, like the dashboard of my car for example. Soft cases solve that problem, but then are difficult to get in and out of your pocket. However, the Pixelskin HD seems to live somewhere in between. It is a flexible, but rigid case, so getting it in and out of my pocket was a breeze. However, the back is not shiny and slick, but rather has a geometric pattern of 1/8″ squares (thus the HD moniker, higher resolution squares!) that are kind of soft to the touch. The end result is the best of both worlds. PixelSkin HD has a shiny polished back with matte pixel overlay, creating an eye catching, slim look, while protecting the phone, and making it less slippery. This comes in black, blue, pink and purple (although, so far, only black seems to be available, but that was OK by me!)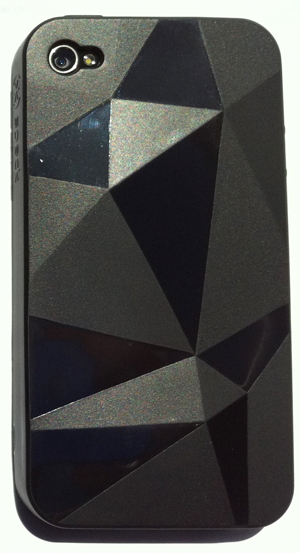 GeoMertic ($29.95): The GeoMetric case is also a semi-rigid case with a very unique style. It has a "grippy" faceted texture on the back made up of multifaceted triangles with contrasting-textured facets. The case is easy to grip, and fits comfortably in the hand, although I am not sure I would trust this one on my dashboard, and it may slide more easily.
This was by far one of the coolest looking cases I have seen in a long time. And it plays tricks on your eyes, making it look like the case has varying thicknesses and weird angles on the back. This case comes in one color, and lucky for me, that color was black! Or more correctly, what Speck calls "DeathRock Black."

One think I like about all these cases is the covers over the buttons, as they make them much easier to feel and press. They also all feel good in the hand, and the slightly raised front edge will protect the glass should the phone fall. However, the ringer switch is now harder to reach because it is slight recessed in the cutout for the switch, so you have to use a fingernail to change the setting of the switch. Also, while I had no trouble docking my iPhone in any of these cases to my Kensington Charging Dock or inserting a sync cable, it no longer easily attached to the Kensington Dock in my car without a bit of coaxing. So far, this has been the same problem with every case I tried, so is not unique to the Speck cases, but if you have a docking accessory, you may have issues with a case in place.
All in all, typical of just about every case I have owned from speck, these are excellent cases for the iPhone, stylish and different from the run-of-the-mill plastic ones, and look good too.