Charging Dock with Mini Battery Pack for iPhone and iPod
Company: Kensington
Price: $69.99
http://us.kensington.com/html/17478.html
I have an iPod touch, and I use it so much, it always seem to be running out of power. Sure, I should just remember to connect it to my computer before I go to bed each night, and it would be all charged in the morning. Why that seems so simple, in reality, I like to listen to music before I go to sleep, so my iPod is usually on the nightstand, and I am not getting up, gong downstairs, just to go plug it in . Or, I simply forget to plug it in because it is not convenient. In either case, the battery runs down and needs charging. What I need is a simple solution that can sit on my nightstand.
One solution, reviewed by Rich Lefko here, another Kensington product, did not quite do it for me. I loved the idea, I just wanted something easier to use, and take up a little less space on my nightstand.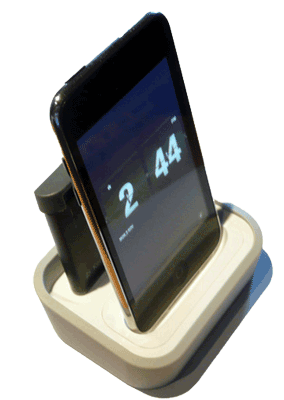 So Kensington sent me their "Charging Dock with Mimi Battery Pack for iPhone and iPod" to try out. This is a rather small, low profile, square docking stand (3.375" Wide x 2.56" Long x 1" High) with a standard iPod connector on it. But, it also holds an extra battery, and both your iPod (or iPhone) and the extra battery charge from a single USB cable attached to either your computer, or to the included AC wall adapter.
But what amazed me was just how versatile this package was. First, the charging dock is simple. On the top is a docking spot for your device (and they include a removable adapter to let you dock with or without a case on your device) and battery charging connector, while on back is a single mini-USB connector. That is it. They include a 48" long standard mini-USB to standard USB cable, one end which attaches to the back of the dock, the other to a power source. You can either charge your device (and the battery) by plugging the standard USB cable end into the included USB wall power adapter, or, you can connect the same USB cable to your computer. And, when connected this way to your computer, not are you charging the iPod/iPhone and extra battery, but the dock is active to the computer, so you can sync and backup as well.
When on the go, the small external battery (approx. 2.375" Wide x 2" Long x 3/8" High) which slips easily into a pocket, backpack, or purse, can be used for extra power on your iPod or iPhone. The battery has 3 small blue LEDs to indicate the charge level while charging, and a green/red LED to indicate the state of the charging and power. The battery has a standard iPhone connector on one end, and a mini-USB plug on the other (which plugs into the doc to charge.) To use as extra power, simply attach it to the iPhone or iPod, and it starts charging. Kensington claims this mini battery extends play time up to 30 hours of music or 6 hours of video on a 3rd generation iPod nano, or 3 hours of talk on a standard iPhone. Your mileage may vary of course, but suffice it to say that I did get a lot more video and music time while traveling with this.
And, should you need to charge the external battery, you do not actually need the doc. Simply connect the same included USB cable to one of the two power sources mentioned above, and the other end directly to the battery WHILE connect to your device, and it will charge both the battery and your iPod/iPhone at the same time.
Additionally, the battery has a plastic cover to protect the iPhone connector, but that same cover doubles as a foot to let the battery act as a stand for your iPhone or iPod touch. Simply put the notch in the battery cover over the end of the battery, and it holds your iPhone in landscape mode at an adjustable angle, perfect when sitting on my desk at work. And, I could leave the USB cable connected, giving me power as well.
Lastly, the small included USB AC power adapter is world ready, and comes with a detachable outlet plug. While only the plug for the US was included in my package, I assume that other connectors are available from Kensington.
Overall, this was a very cool little device, but there are a few small issues I had using this with my iPod touch:
• When docked, the earphone jack on an iPhone touch is not accessible. I really would have liked to see an earphone jack on the back of the dock to let me listen to music on my headphones, or use this as a dock for my stereo system while docked.
• Without a case on your iPod, the small adapter guides the iPod easily onto the connector. But with a case on the touch, it was difficult to dock, as the adapter needs to be removed when using any kind of a case.
• While the dock worked as an active sync connection, connecting the battery to the iPod and then the USB cable to the computer did not pass through the docking signals, it only charged. Not sure why.
• The connector on the battery needs to be more secure when attaching to the phone or iPod. It too easily falls off. And it is almost impossible to leave connected if you have a case on your device.
• When attached, the battery covers the iPod Touch's earphone jack as well. So there is no listening to music or watching videos with headphones while the battery is connected to the device.
• The LEDs on the battery light during charging, but there is no way to know the remaining capacity of the battery without connecting it to a device, which then lights one of the three blue LEDs. A small button on the battery would have been welcome here to check the charge.
Most of these problems are minor, and in regular use, they did not really matter, as I simply used the battery for charging while idle.
Compatibility:
iPhone 3G, iPhone, iPod touch, iPod nano (1st, 2nd, 3rd, 4th gen), iPod classic, iPod mini, and iPod (1st, 2nd, 4th, 5th gen) devices.
Pros:
Simple, convenient, easy to use
Versatile; many different ways to charge and use power
Charges device and battery at the same time
Dock allows syncing while charging
World ready power supply
Cons:
Dock blocks the earphone jack on iPod touch
Battery blocks the earphone jack on iPod touch when attached
Not easy to doc or use battery with a case installed on phone or iPod
Battery connector does not attach well to device
Note: All hardware products reviewed by me are on loan for the review period only. In the event I am allowed to keep a product, such a decision is made by the company only after the review has been published, and thus has no baring on the review outcome. Most software products and books reviewed are not returned as per policies of these companies on returns. Under no circumstances am I paid by anyone to positively review any product, nor do I receive any other in-kind compensation.
email – MyMac Magazine – Twitter – Advertise – Reviews Archive – Podcast