RTX-100-Q TrayFree SATA Drive External Bay
Company: WiebeTech
Price: $230.00 US (without included SATA drive)
http://wiebetech.com/products/RTX100.php
If you are a gearhead who has loose SATA drives scattered throughout your work area; or a media creator who can never get enough external storage; or one of the smartest, most efficient computer professionals on the planet, then WiebeTech has a new class of external drive that will immediately compel you to scream, "Why didn't I come with such a great idea myself?" If your swappable multi-drive backups are giving you heartburn, then your heart and tummy will sing the praises of RTX-100-Q.
Here's how it works — brilliantly:
STEP ONE = INSERT BARE, EXPOSED, 3.5″ SATA DRIVE INTO RTX-100 AND START WORKING.
(There is NO Step Two!)
You can attach RTX-100-Q to your computer via one of the four included cables: FireWire 800, FW800-to-400, USB-2, or eSATA. (Learn more about eSATA here.) Two FW800 ports are on the rear, when you want to daisy chain multiple external FW devices. The unit accepts SATA drives up to 1TB capacity (that's a LOT). WiebeTech sells RTX either empty or along with the quantity and capacity of SATA drives of your choice, including a current special bundle-of-four.
RTX-100-Q is lightweight, sturdy, sleek, stackable, and stylish. I would prefer beveled edges on its black top cover plate, but that's being a little fussy. Power is supplied via a smallish two-piece AC adapter that connects to the rear of the bay at a standard-issue six-pin DIN port. A built-in keyed lock secures your precious bay+drive.
Data transfer speeds are lickety-split (that's FAST) using every configuration. The most popular ports/cables for Macintoshers are FW800, although supergeeks will use eSATA for its slightly speedier potential of up to 65MB/sec. I'll give some real world results further down the page. Here is the official spec sheet for the model being reviewed.
Many of us breathed a collective sigh of relief when floppies went the way of the madras shorts, but they're back (the floppies, not the shorts). Except now we have SUPERduperMEGAfloppies, disguised as affordable, high-capacity SATA drives. Warning — exposed circuitry makes all bare drives vulnerable, so please be careful every time you are holding or inserting/removing one. WiebeTech will offer cradles and cases for naked drives, but you MUST treat them with physical respect when they are outside of RTX-100-Q's shock absorbing bay. What disrespectful data you park on your multitude of drives is your own business. Units are said to withstand tens of thousands of insert/remove operations. I'll have to get back to you on that one, in the year 4,692.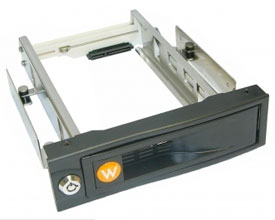 Let's take our evaluation unit on a test drive. Please follow along from the passenger seat:
• With power cable inserted, plug the North American generic two-prong (hooray!) plug into wall jack or robust power supply — preferably the latter, just to be smart and safe, but it's not required.
• Switch on power at back of unit, hear gentle hum of fan, and observe green power light.
• Connect unit to computer using included or other FW800 cable.
• [There is no drive bay light or activity LED. WiebeTech is working on this one.]
• Unmount (eject) SATA-250 drive from Mac's Desktop.
• Pull cute little orange and white "W" tab, and observe one inch of bare SATA drive emerge.
• Gently remove the drive.
• Reverse the process, and go about ordinary business with drive bay ready to rocknroll.
Internal versions of RTX-100 are available. Ditto for multi-drive bays, and the lineup is expanding. WiebeTech's prices for SATA drives may not be rock bottom whizbang cheapest, but when you obtain your drives from them you are eligible for tech support on the entire soup-to-nuts process. I've used the company's phone and email tech assistance, and it's first rate. Keep that in mind both during the initial ordering of RTX components and afterward.
Here are real world comparisons, in minutes, between transferring 15.49 GB of my entire G4 PowerBook's files using RTX's variety of interfaces, to and from two different computers:
RTX-100-Q
FireWire 800 [G5]= 32:29
FireWire 800-to-400 [G5] = 36:33
USB-2 [G5] = 70:06
eSATA [PowerBook] = 40:45
FireWire 800 [PowerBook] = 44:53
Bill Head, Product/Support Manager for WiebeTech, explains the FW800 discrepancy: "One comment on your test results: you might see higher numbers if you test it with a desktop Mac. Your numbers might have been diminished slightly by the slower data speed of your PowerBook's internal 2.5" drive. They're usually slower than 3.5" drives, even with the same RPMs. Any transfer between two drives will only operate as fast as the slower drive."
These transfer times are consistent with past results, and with common sense. Most of the time, FW800 is the optimal interface. When eSATA is available, speeds are a bit faster, but the greatest advantage is having a full set of FireWire ports handy in addition to the eSATA.
RTX-100-Q remained cool in my hot office every day during the testing period. Its fan is more cool than silent in a quiet room, but that is of little concern to most users.
MyMac.com strongly recommends WiebeTech's new RTX family of swappable SATA drive bays. Our rating will be elevated once they add activity/read-write LEDs and provide cradles/cases for exposed drives. The company's claim that:
"WiebeTech's TrayFree bays are a breeze to add a drive to. It really is as easy as opening the door, sliding the drive in, and closing the door. No screws, no trays, it just works."
is an accurate description.