Ambeo Smart Headset for listening and recording — with active noise cancelling and iOS Lightning tip
$300 U.S. Available in white or black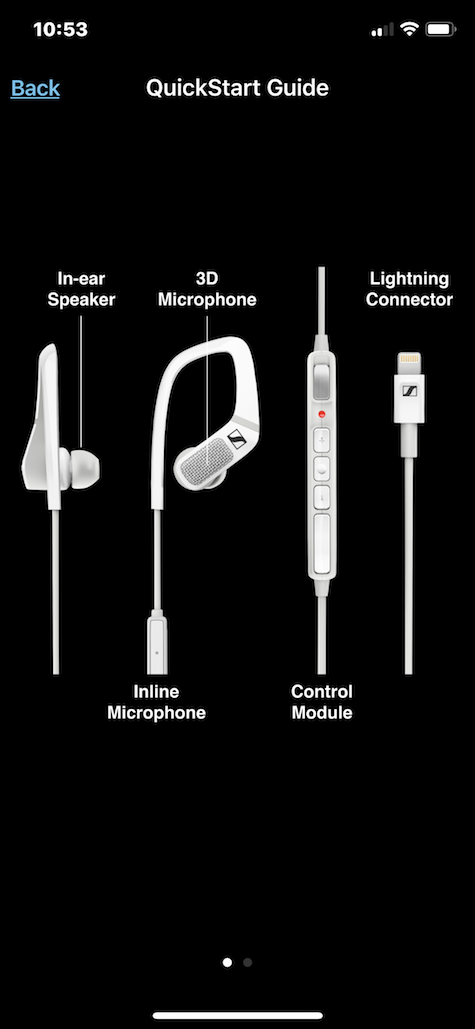 Ambeo Smart Headset is the most extraordinary in ear monitor (IEM) or earbud headphone in the world. It performs well for listening, it records ambient 3D sound beautifully, it works reasonably well for noise cancellation, and it has a unique transparent hearing feature to listen to the outside world. The latter is sort of reverse noise cancelling, because external sounds are brought into the headphones with a sweet and gentle amplification unlike anything I've experienced. This is a 4-in-1 Lightning iOS headset that must be used in person to appreciate its versatility.

iPhone and FaceTime/Skype voice operation work as expected. It's activated and adjusted with the right-ear cable segment inline remote control unit that is used for all the other functions mentioned above. Ambient recording is via microphones in the earpieces that also sense the sound for cancellation and bring in the outside world in transparent hearing mode. Recordings you make with Ambeo can be enjoyed and appreciated on any set of headphones or stereo speakers.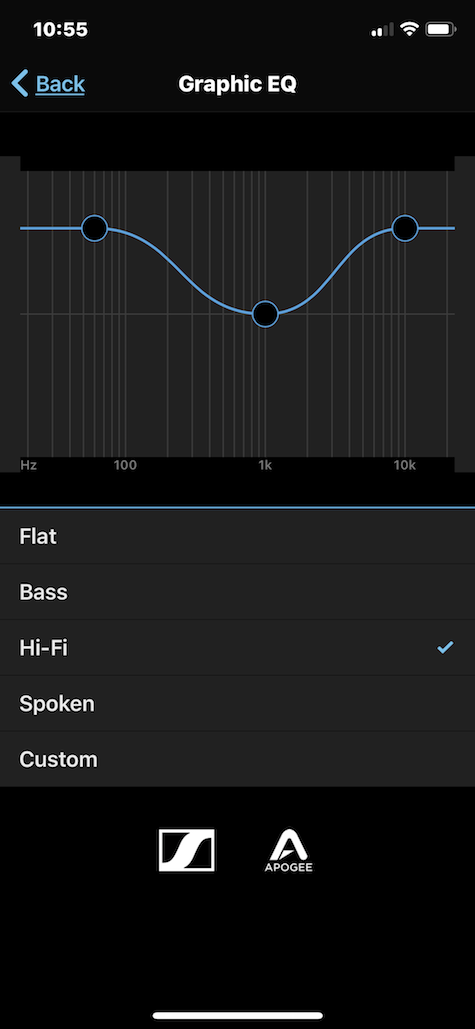 Sennheiser developed Ambeo for video recording, and this product has many other potential uses. Do you want to monitor the sounds around you without anyone knowing you are listening carefully or casually? How about recording some music or other audio content, both incognito and otherwise? Are you annoyed by that long-winded person sitting next to you at the coffee shop?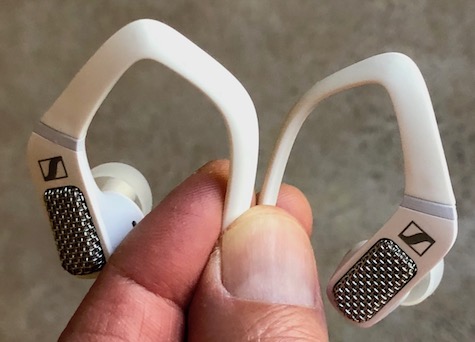 These headphones look weird with their odd microphone segments; you won't think they will be comfortable, and you're wrong. The design and styling are advanced and adventurous — Ambeo earpieces fit your ears and they are almost weightless once in place.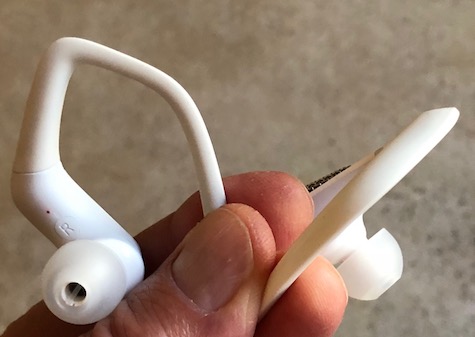 Spend a few minutes listening and watching the video examples on the product's web site to hear the results of how Ambeo captures immersive 3D sound. No third party apps are required to make these recordings. Your iPhone and iPad's Photos app does a fine job with videos, and the iPhone's Voice Memos app is always ready for your live audio recordings. Intermediate and advanced video and audio recording app creations will benefit from using Ambeo beyond what I can describe here.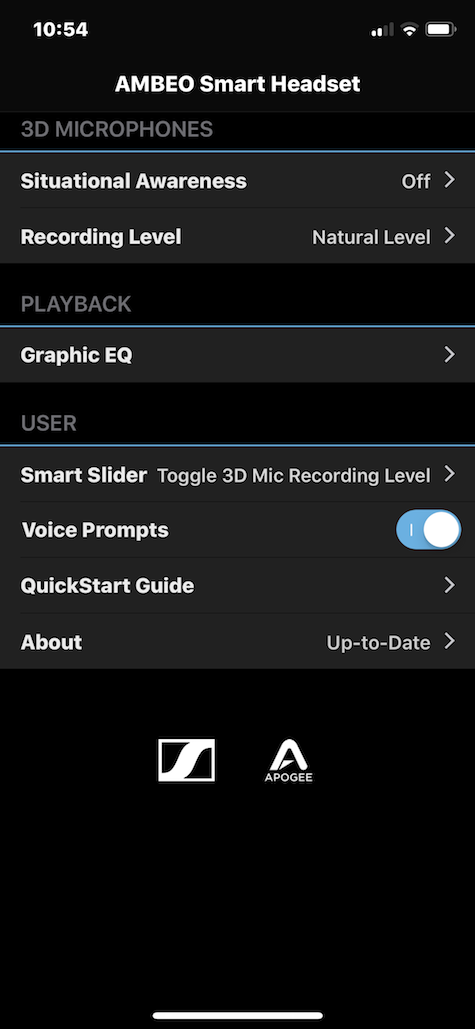 A dedicated free Ambeo app is available from the iOS App Store that assists with Recording Level, Graphic EQ (equalization), and a nifty set of Smart Slider customization options. The web site for this intriguing IEM has a useful FAQ near the bottom that will answer most of your questions. You can download the Quick Guide in 27 different languages. It takes a few minutes of study to understand what it all means, and it's worth your effort.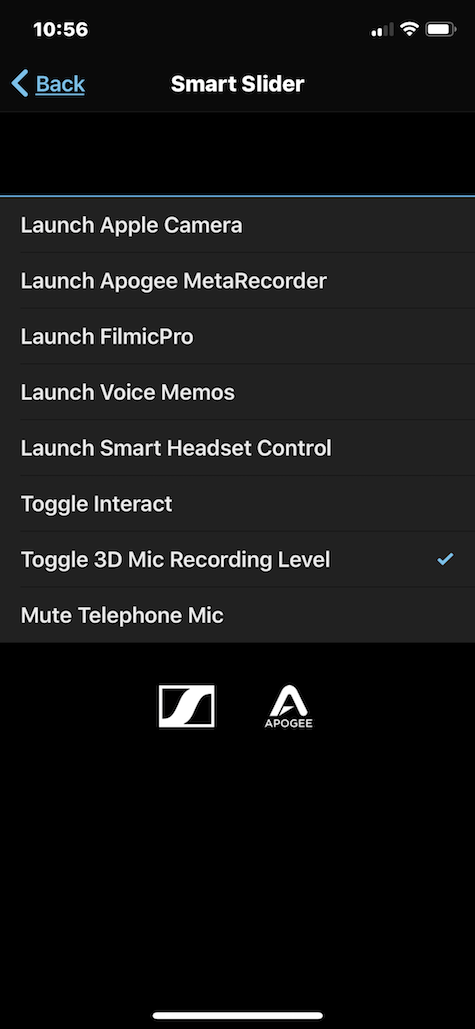 Let's make a 90 second demo audio recording. You won't be able to hear the 3D stereo on our web player, so I'll describe the effect.
My spoken voice is exceptionally clear during my introductory comments. Full binaural stereo left-center-right presence is evident. The piano and singing voice are recording studio quality. Wow. Impressive. Can't wait to use this to capture live performance audio and video soon.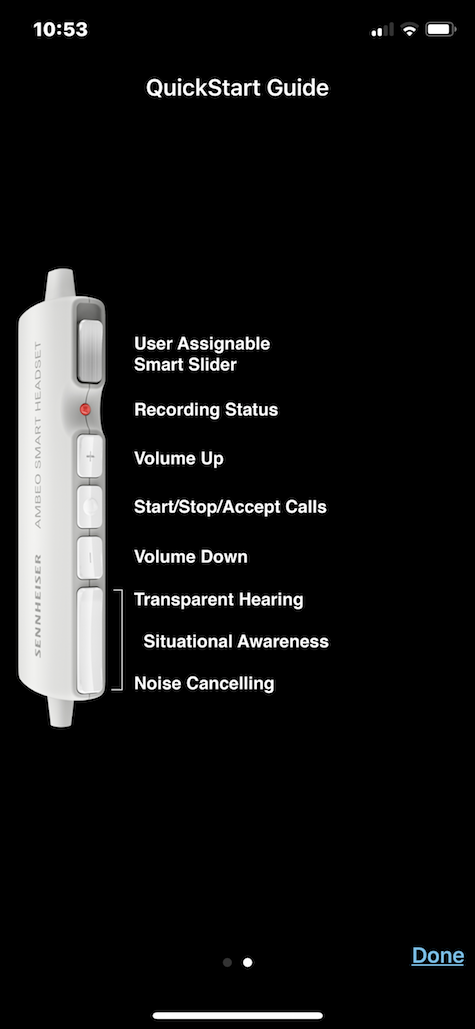 $300 is a very affordable price for the extensive range of functions that are built into Ambeo Smart Headset. I have high praise for the innovation and engineering that went into creating this  incomparable product. My only suggestion is either to make the Lightning cable segment longer, or split it into two segments so users can listen either with a short or long cable length. Aside from that suggestion I have high praise for Sennheiser's latest and greatest.
Our MyMac Review Rating is a strong 9 out of 10. Way to go, Sennheiser!
Reference external rave review links. Click on the numbers below, 1 through 5, for the articles: