Q-HUB Type-C PD HUB
Power Trend
USA Amazon buying link
$63 U.S.
Guest Review by Laurel D.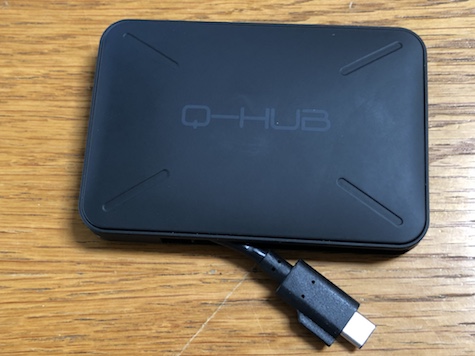 This MacBook and MacBook Pro hub is a reasonably priced necessity for users upgrading to the new MacBook Pro. I just purchased a new 13 inch 2017 model. The newest MacBook Pros have USB-C ports, but no version 2 or 3 USB, or HDMI, or SD card reader slots. The Q-HUB allows the use of older peripherals without purchase of compatible cables.
The Q-HUB delivers stable power supply while allowing data transfer and HDMI video output. The unit has two Type-C ports, two USB 3 Type A ports and one HDMI port. Up to three devices may be used at once. A light indicates power overload above 65W, so it can't be used to charge a 15 inch MacBook Pro.
The Q-Hub offers solutions to the issues arising from an upgrade. This hub may be used for the following:
iPad/iPhone connection to iTunes for back-up and update installation.
Direct connection of printer to install software needed for wireless printing and scanning features.
Wireless mouse adapter or dongle.
Transfer of digital photos from an SD card.
Camera direct photo transfer.
Peripherals without a Type-C connection.
One caveat: While it would appear that an item such as this does not require directions for use, it is important to read the enclosed, minuscule leaflet with tiny, tiny print and diagram. Only one of the Type-C ports will deliver power from the MacBook charger to the computer. The unit is still usable without the power source, but then the peripherals are using power from the computer rather than the power source (good for charging a phone without access to power). The diagram shows the correct set-up. Get out your magnifying glass.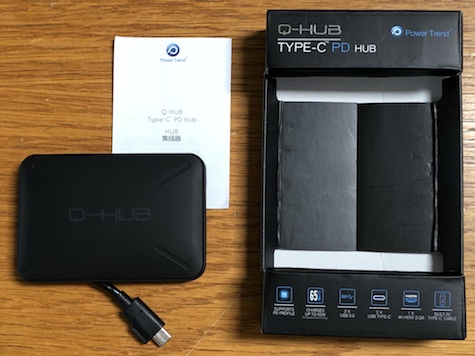 This hub is an excellent choice for users wanting to move seamlessly from older computers to upgraded models without similar port configurations. Study the product's company web site for full details, photos, video, and technical information.
Our MyMac Review rating is 8 out of 10. Definitely worth considering.