Royole MOON 3D Virtual Mobile Theatre
Manufacturer:Â Royole
MSRP: $799.00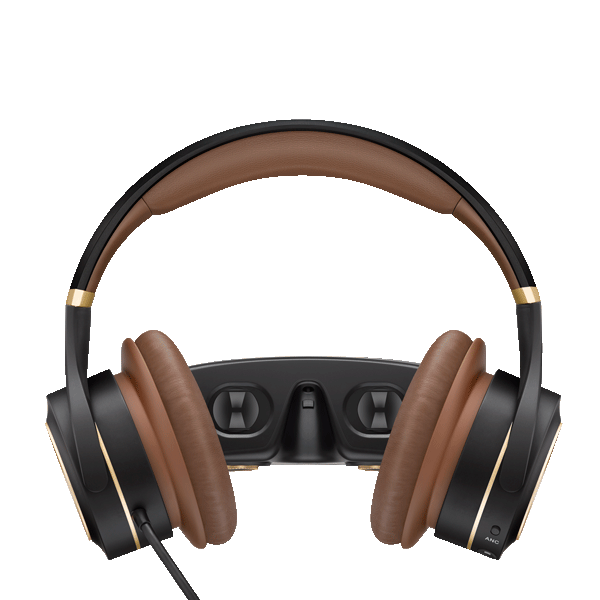 I love looking at new technology that tries to do something even better than before. And finding ways to enjoy a big screen theatre experience without disturbing the entire household seems like a real cool idea.  As does blocking out the entire airplane experience when flying. So when I was offered a chance to try out the new Royole MOON 3D Virtual Mobile Theatre, I jumped at the chance.
Full disclosure, I have a rather large (100+ inches) 3D HD projection home theatre with a full THX 7.1 surround audio system, so I am going to be tough to convince. But when I turn it on, it often bothers others in the house. And I can't take it with me either.
I have seen this type of product before:Â  headphones attached to a head mounted display you strap to your head and voila: A personal home theatre. Well, sort of. Most of these systems have not lived up to their hype. What about Royole?
Royole claims that with this unit, they can, and I quote "deliver a truly immersive, 3D movie watching or gaming experience that could be enjoyed anytime and anywhere. The idea was to create a brand new 3D virtual mobile theater from the ground up, with ultra-high-resolution displays, top-quality noise-cancelling headphones, a world's first foldable design, and our own operating system to connect you to unlimited movies and music."
Did they do it?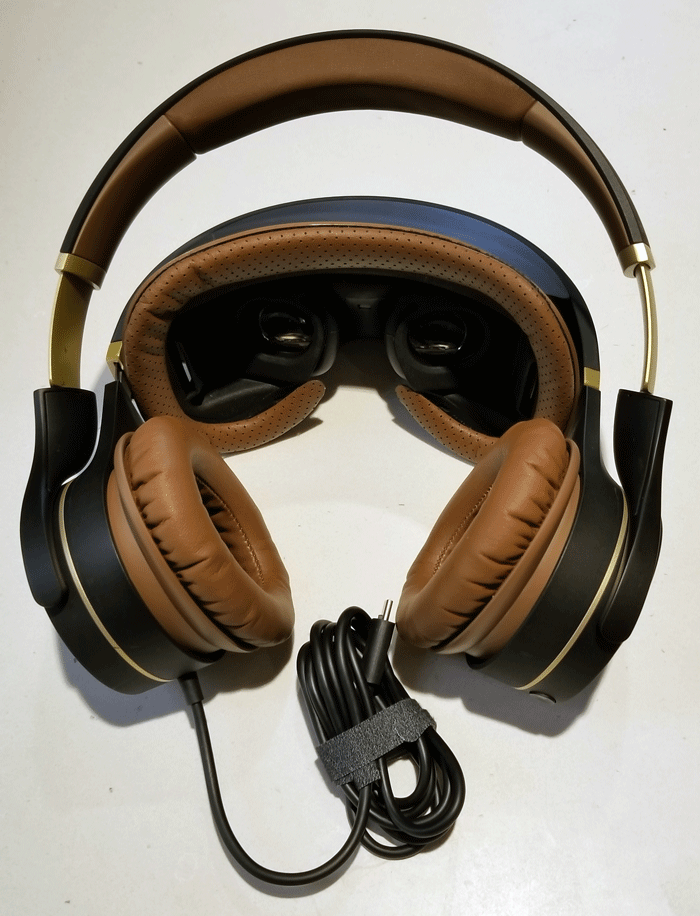 The Unit
Out of the box, this looks like a rather large VR headset. But what you have here are TWO 1080p resolution AMOLED displays that deliver a true 2D and 3D video experience. For audio, they attached this display to two over the ear high quality noise canceling headphones. Once positioned on the head, the unit fits snugly over both your ears and eyes. You almost feeling like you're in a deprivation tank, as this shuts out outside noise and light. Turn it on, and the isolation is even more extreme.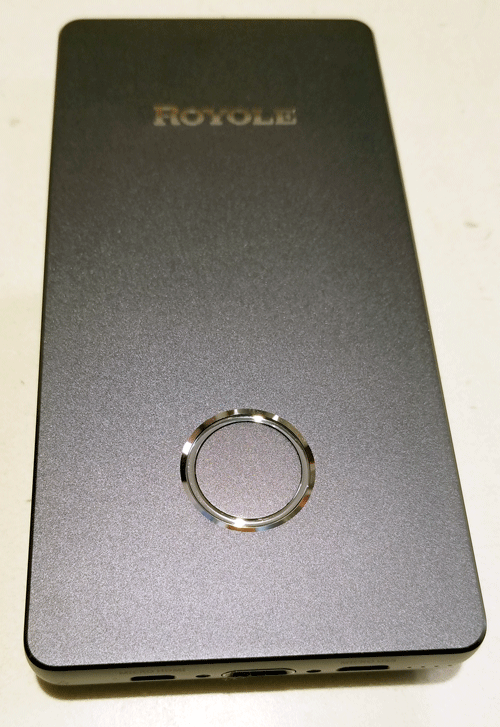 The headphones attach to a small control box a via a USB-C cable permanently attached to the headset. The box runs an Android based OS system with Royole's own Moon UI. The unit has WiFi (2.4 GHz only) for connecting to popular video systems such as (according to Royole) Netflix, Hulu, and Amazon Instant Video to name a few.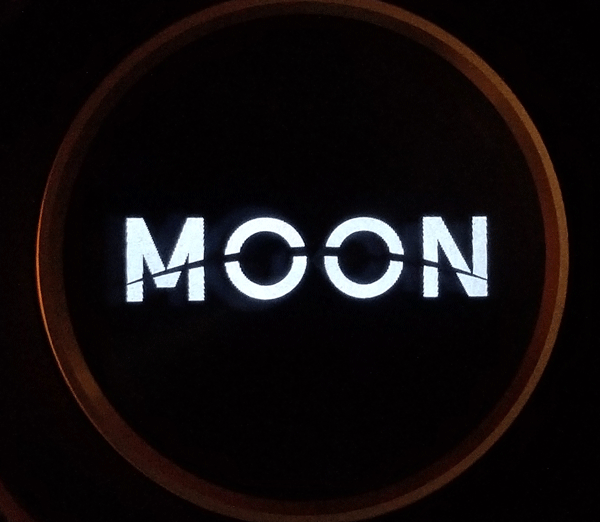 The overall design is slick, with clean colors and nice lines. The earpieces have a glowing MOON logo on each ear when on. And the power button on the control box gives off a soft glow when turned on. The device comes in several colors, black, gold and white. And the ability to fold flat makes it much easier to fit in your carryon bag.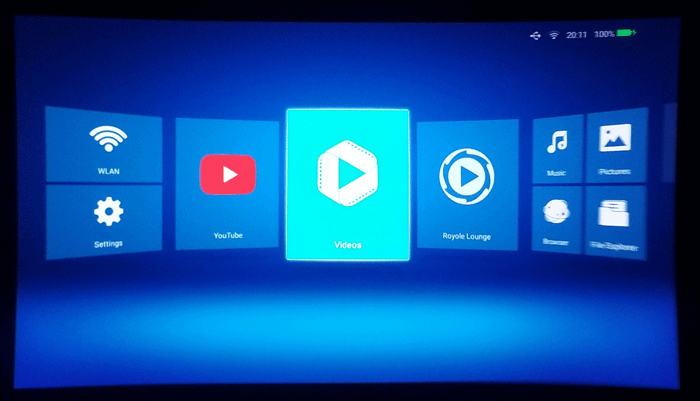 Controls
Touch sensitive controls on the right earpieces let you control the boxy UI interface by sliding your finger up, down, left and right, and single and double taps. Here, you can select the content you want to see, such as videos, photos, music videos, and web browsing. You can also pinch in and out to charge the screen size, but I had difficulty making that work. The interface is mostly blocks, but works fairly well with the finger control.  With a little practice, I could navigate the UI quickly and the sensors have excellent touch response. Volume is also touch controlled by sliding your finger along the rounded top edge of the earpiece.
The box has rechargeable batteries to drive the whole system, so you can carry this on a plane, for example, and completely tune out the horrible experience of flying these days. The built in 6000 mA batteries have a claimed 5 hour playing time.
So does it live up to its own hype?
Let's take the claims one at a time:
Compelling 3D experience: The unit will display both 2D and 3D source material, changed with the push of a button on the unit's bottom edge. It is beautiful in 2D, and actually delivers a good 3D experience as well. Check!
Dual 1080p displays: Yep, Moon uses 2 advanced AMOLED (think low power) displays to deliver full HD 1080p resolution. And because AMOLED has no backlight source, you get an excellent contrast ratio of 10000:1. The advanced displays deliver 3000 PPI (pixels per inch) and an amazingly fast image response rate of 0.01ms, which means no streaking of the image or lag in display. The image looks great.
The look of a giant 800" curved display: I hear the claim of "giant screen" a lot with head mounted displays. Strap on a headset and you feel like you're in a theatre sitting in front of a giant movie screen.  For me, while still quite enjoyable, I do not get that giant screen movie theatre feeling at all. Your experience may vary, but I am just not seeing that 800″ curved screen myself.
Active noise canceling: The claim is that they reduce outside noise by 92% or 22dB. I could not actually measure that. And while I did not try this on a plane, noise canceling was immediately obvious when they switch on. Background noise drops considerably. I walked near the street and next to some fans to see how they did. Like most noise canceling headphones, the active elements excel at canceling lower frequency sounds better than higher. The big ear cushions tend to block the higher frequency sounds. Â As such, while fan and traffic noise dropped considerably, I could still hear people talking near me. (I guess this really was a movie theatre experience!) And higher frequency sounds only reduced a bit. Still, not bad.
Their own operating system: Well, not exactly. This is Android inside, which is not a bad thing, because they did not have to reinvent an OS. They have put their own UI on top, which does make it unique. That said, do not expect a full Android experience.
In Use: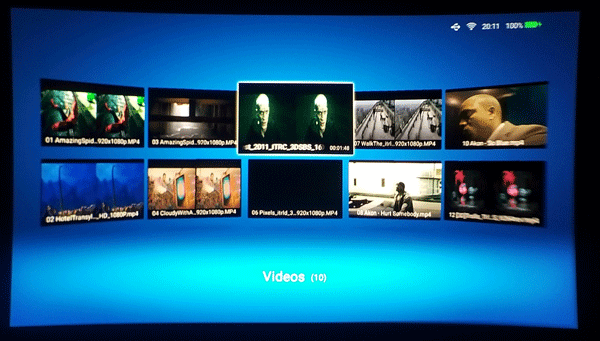 Viewing stored content on the device was very easy using the UI. Some movie trailers in 3D were already included on the device, and they did look great. Playback of internal content started quickly as well. There is about 25 GB of user internal storage available for local content, so you can put a several HD movies and many TV shows on here for offline use.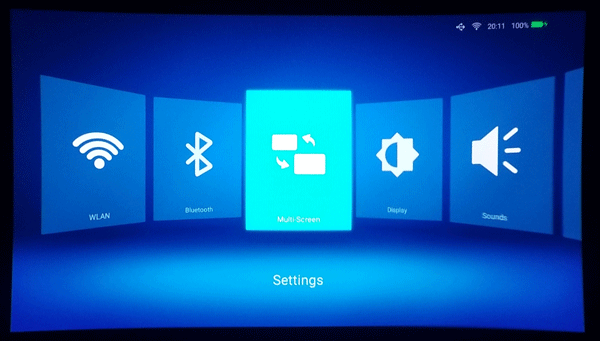 The box has built-in WiFi, so you can go to different websites and view content there as well. Keep in mind however, that not all websites deliver content in HD quality, so their videos may not look so good. Viewing videos on YouTube was acceptable, but the lower quality web videos really stand out as poor quality when you have this "big" screen right in your face.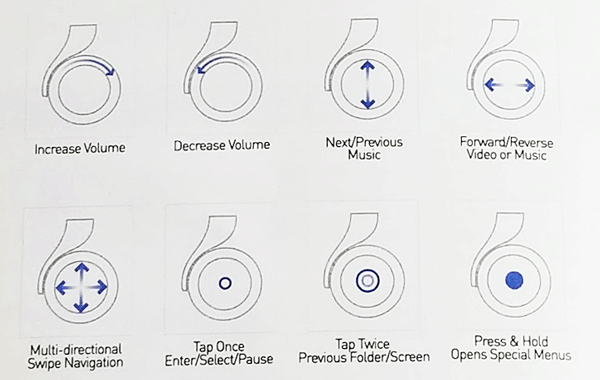 As I said above, the user interface took a little bit to learn, but was incredibly responsive to touch. A quick look at their website shows that they are experts in flexible touch controls, so it's a no brainer that this part of the system works so well.
Connecting to your own equipment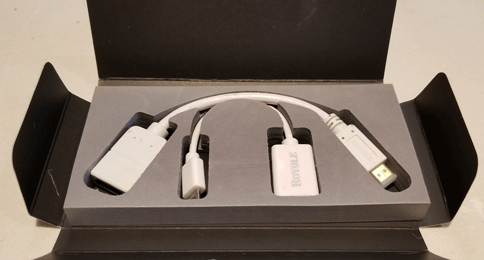 Several cables and adapters are included in the box. There is a mini-USB to USB cable used to transfer your own content, such as videos, pictures, and music to the headset. It also is used to charge the unit. I charged it by leaving it connected to my Mac, but a small 'wall wart" USB charger is also included.
A micro-HDMI to HDMI adapter is included to allow you to play content from other devices on the headset, such as a Set Top Box or Blu-Ray player.  I decided to try this connected to my home theatre system. I disconnected my HDMI cable from the back of my Samsung TV, and connected it via the adapter to the headset. That cable runs back to my A/V processor. The results were not good.

In my setup, I am using a video processor that can control and convert the type of signal sent to the TV. It was currently set to 1080i-60Hz, which works fine on my Samsung TV and both a Sony and Panasonic projector. This headset, however, threw a total fit with this signal, refusing to display it at all, and issuing the most horrific noise from the headphones.
Which brings up a very annoying option. When this noise occurred, I tried to turned down the volume, which I did, but it is not quick. And every time I tried to disconnect and reconnect the signal, or the signal changed, the headset immediately turned the volume back up to a default high once again emitting that horrible. I ended up pulling them off my head several times.  Seems like a bug I hope they will fix.
Switching to 1080p-60Hz gave me an image but no audio. However, no matter what I tried, I could not get my Dish Network Hopper 3 to play video to the headset with proper audio.
Switching the input to my Roku box, and everything was fine at first. I watched a few TV programs in 2D with no problems.  But, when I tried to play a streaming movie, the audio cut out and the loud audio static returned. Note that all these sources play just fine through my Denon THX surround sound A/V unit and the video processor without issue to all my displays. I even tried a few computer displays to check the connection, and they all worked fine too.
Streaming your content
I also have some 3D movies saved on my video server, encoded with standard side by side video, which my 3D projector recognizes and displays properly. These will play on the headset, but you may need to manually switch to 3D mode. However, 3D encodes with the video split top/bottom, another common encoding for 3D movies is not supported. The unit supports side by side and Red/Blue encoding.
Sadly, I did not have a chance to connect this to a game box directly, so I cannot comment on playing games. But I suspect being immersed like this into the game would be an excellent experience.
Connecting to my Mac and the world
I couldn't transfer content from my MacBook Pro to the device when first connected. Typical, Apple and Android not playing well together. But I did have the Android File Transfer app for Mac on my machine because I use an Android phone now, and once fired up, I could easily move content onto the device and play it. (I did not try this from a PC.)
I was also not able to figure out how to actually connect to Netflix or Hulu. An app was required for each, but going to the Google Play Store with the web browser, I was not able to download or install the apps. However, if you navigate to either the Hulu or Netflix website, the unit recognizes those websites, and gives you the option to download the apps there. Once installed, they worked well.
Problems
As stated above, the volume not saving the previous setting was a real annoyance. Content would start and the default volume is quite loud, especially since you have noise cancelling headphones on. Too many times I had to pull the headset off my head.
Changing volume is the one touch control that does not work as well as the others. It takes several swipes to get the volume down to a reasonable level, and when blasting in your ears, makes you just want to take off the headset. Not good. And when the volume display is present, the other  touch controls are disabled. And it takes too long for this display to disappear. Consider me impatient. It is very easy to hit the volume ring by accident going for the touch controls, and this behavior was annoying.
Obviously there are some HDMI compatibility issues here. My system outputs HDMI signals that work not only with my fairly new TV and projectors, but also several computer monitors as well. Why that same signal does not work with this headset is problematic at best. A user should never have to worry about things like this.
The micro-HDMI, micro-USB, and the headset connectors on the small control box are all VERY similar looking, and the labels are written in an incredibly small font. It will be very easy to push the wrong cable into the wrong port, possibly damaging both cable and box. So extra care is needed when inserting connectors, which means removing the headset again.
Bigger Problems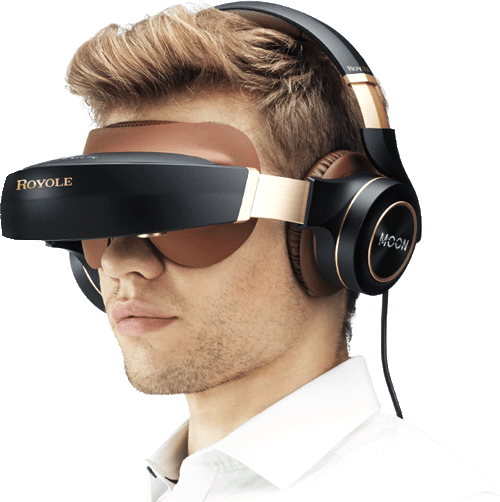 The bigger problem for me was the physical headset itself. The unit weighs in at about 1.5 pounds (680 g) which is not exactly light. And a good portion of this weight is far forward in the display, so it pulls you forward a bit. (Good thing the control box is a separate device and not incorporated into the headset, as it adds almost another half pound with cable.) Sadly, this makes the device difficult to wear for any length of time. And this unit will add almost 2 pounds to your carryon luggage, which is not great either.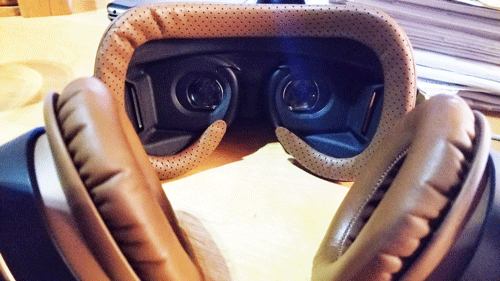 I also had some issues with the physical construction. The earphones are nicely padded and comfortable, as is the eyepiece unit in general. Except around the nose that is! On my unit, much of the forward weight rested right on the bridge of my nose. And, of course, this part is plastic and doesn't fit anyone's nose shape, so it was uncomfortable quickly. This was really unbearable after about 15 minutes. There was no way I could make it through a whole movie, much less a half hour TV show without constant adjusting.
I did talk to the Royole team, and they suggested I play around with different positions for the screen and headband, which I did. Sorry guys, but I could just not make this comfortable.
Correcting for your eyes
The eyepiece has some serious lenses to keep the video in focus given the closeness of the displays. But this means that if you are not looking directly through the middle of the lens in all directions, you will get image distortion and ghosting. Separate displays for each eye require that you get both eyes exactly right, and both focused correctly. This takes a some work at first.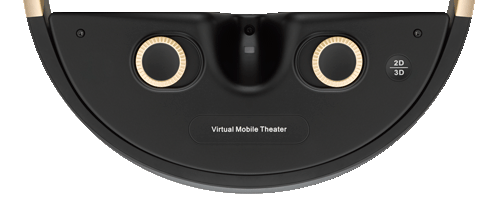 Incorporated in the bottom of the headset's display section are adjustments that control both focus (turing changes diopter) and horizontal eye separation (sliding changes interpupillary distance).
Royole claims that you won't have to wear your glasses to use this. They can accommodate adjustments from -7.0 diopter (nearsightedness) to +2.0 diopter (farsightedness) for each eye. And that much is true. Small control wheels adjust focus for each eye. Just close one eye, focus, and repeat for the other eye. That works great actually and I did not need my glasses.
But the second adjustment for eye separation was not so great.  You adjust this for your eye separation by sliding the same controls left and right for each eye. For my typically spaced eyes, I needed to push the controls completely together to get a good alignment. And I still wished more adjustment was possible.
But I still got some lens distortion. That, however, was from vertical positioning of the lens it turns out, and there is no control for that. Because of the nose piece, the headset did not sit well on my head. The lenses were aligned a bit too high actually (my big nose I guess) and there is no adjustment for this. Correction required sliding the unit down my nose some until the lenses correctly aligned vertically to my eyes. While that eliminated the lens distortion, it then allowed light to leak in. And sadly, it also made for an even more uncomfortable fit on my nose. I must have spent an hour trying to rectify this with no joy.
Specs – for those that love this stuff
Model:Â  Â  Â  Â  Â  Â  Â  Â  Â  Â  Â  Â  Â  Â  Â  Â  Â  Â  Â  Â  Â  Â  Â  Â RY0102
Exterior
Color:Â  Â  Â  Â  Â  Â  Â  Â  Â  Â  Â  Â  Â  Â  Â  Â  Â  Â  Â  Â  Â  Â  Â  Â  Â  Black, Gold, White
Headset Dimensions:Â  Â  Â  Â  Â  Â  Â  Â  Â  Â  Â  Extended 215 x 220 x 223 mm
Headset Dimensions:Â  Â  Â  Â  Â  Â  Â  Â  Â  Â  Â  Folded 98 x 220 x 223 mm
Display
Screen Size:Â  Â  Â  Â  Â  Â  Â  Â  Â  Â  Â  Â  Â  Â  Â  Â  Â  Â  Â  Â  Â 800-inch curved screen at 20 meters (adjustable screen size)
Resolution:                                          1920×1080(x2 displays)
Interpupillary Distance:Â  Â  Â  Â  Â  Â  Â  Â  Â  Â  58 to 70mm
Diopter adjustment:Â  Â  Â  Â  Â  Â  Â  Â  Â  Â  Â  Â  Â  -7.0 to +2.0 (No need for contact lenses)
Contrast:Â  Â  Â  Â  Â  Â  Â  Â  Â  Â  Â  Â  Â  Â  Â  Â  Â  Â  Â  Â  Â  Â  Â  >10000:1
Color Mode:Â  Â  Â  Â  Â  Â  Â  Â  Â  Â  Â  Â  Â  Â  Â  Â  Â  Â  Â  Â  24bit RGB
Refresh Rate:Â  Â  Â  Â  Â  Â  Â  Â  Â  Â  Â  Â  Â  Â  Â  Â  Â  Â  Â  60Hz
Sound
Cancelling Mode                                Active noise cancelling
Reduction Percentage                      >92%
Reduction Rating                               >22dB
Total Harmonic Distortion              <1%@94dB,1kHz
Sensitivity                                           105±3dB/mW@1kHz
Response Frequency                         8Hz to 20kHz
Impedance                                          300Ω±10%
Storage
RAM:Â  Â  Â  Â  Â  Â  Â  Â  Â  Â  Â  Â  Â  Â  Â  Â  Â  Â  Â  Â  Â  Â  Â  Â  Â  Â  Â 2G
Internal Storage:Â  Â  Â  Â  Â  Â  Â  Â  Â  Â  Â  Â  Â  Â  Â  Â  32GB
Battery
Capacity:Â  Â  Â  Â  Â  Â  Â  Â  Â  Â  Â  Â  Â  Â  Â  Â  Â  Â  Â  Â  Â  Â  Â 6000mAh
Life (run time):Â  Â  Â  Â  Â  Â  Â  Â  Â  Â  Â  Â  Â  Â  Â  Â  Â  5 hours of video playback
Charging time:Â  Â  Â  Â  Â  Â  Â  Â  Â  Â  Â  Â  Â  Â  Â  Â  Â  Â 2 hours
Connectivity
WLAN:Â  Â  Â  Â  Â  Â  Â  Â  Â  Â  Â  Â  Â  Â  Â  Â  Â  Â  Â  Â  Â  Â  Â  Â  Â IEEE 802.11b/g/n @2.4GHz
Bluetooth:Â  Â  Â  Â  Â  Â  Â  Â  Â  Â  Â  Â  Â  Â  Â  Â  Â  Â  Â  Â  Â  Â BT2.1+EDR / BT3.0
Cable Interfaces
USB:Â  Â  Â  Â  Â  Â  Â  Â  Â  Â  Â  Â  Â  Â  Â  Â  Â  Â  Â  Â  Â  Â  Â  Â  Â  Â  Â Micro-USB(connect to Flash Memory)
HDMI:Â  Â  Â  Â  Â  Â  Â  Â  Â  Â  Â  Â  Â  Â  Â  Â  Â  Â  Â  Â  Â  Â  Â  Â  Â  Micro HDMI (connect to game consoles, PC, and smartphones)
Operating System
System:Â  Â  Â  Â  Â  Â  Â  Â  Â  Â  Â  Â  Â  Â  Â  Â  Â  Â  Â  Â  Â  Â  Â  Â  Moon OS
Languages:Â  Â  Â  Â  Â  Â  Â  Â  Â  Â  Â  Â  Â  Â  Â  Â  Â  Â  Â  Â  Â  Simplified Chinese, English, French, German,
Languages (cont):Â  Â  Â  Â  Â  Â  Â  Â  Â  Â  Â  Â  Â  Â  Â  Â Spanish, Italian, Danish
Video
3D Formats:Â  Â  Â  Â  Â  Â  Â  Â  Â  Â  Â  Â  Â  Â  Â  Â  Â  Â  Â  Â Side by side, Anaglyph
2D Formats:Â  Â  Â  Â  Â  Â  Â  Â  Â  Â  Â  Â  Â  Â  Â  Â  Â  Â  Â  Â MP4, MKV, MOV, AVI, 3GP, FLV, M2TS, M2V, M4V,
2D Formats (cont):Â  Â  Â  Â  Â  Â  Â  Â  Â  Â  Â  Â  Â  Â  MPEG, MPG, TS, VOB, WEBM, ASF and other
Subtitle Formats:Â  Â  Â  Â  Â  Â  Â  Â  Â  Â  Â  Â  Â  Â  Â  SRT, ASS, SSA, etc.
Audio
Supported Formats:Â  Â  Â  Â  Â  Â  Â  Â  Â  Â  Â  Â  MP3, WMA, AAC, APE, M4A, MID, MP2, OGG and others
Lyrics Format:Â  Â  Â  Â  Â  Â  Â  Â  Â  Â  Â  Â  Â  Â  Â  Â  Â  Â Local LRC files
Picture
Supported Formats:Â  Â  Â  Â  Â  Â  Â  Â  Â  Â  Â  Â  Â JPG, PNG, BMP, GIF and others
Environment
Working Temperature:                    0 to 45°C
Storage Temperature:                      -20 to 60°C
Working Humidity:                           ≤90%RH
Storage Humidity:                             ≤90%RH
Conclusion
Overall, I must say I enjoyed playing with this product. Looking at videos and movies in 3D and in total isolation was cool.  But between HDMI connection issues, sound problems, uncomfortable fit, and a focus problems, I have some reservations recommending this. If you are in the market, do try and find a place where you can try one out first and see how it fits your head and eyes. You may have a better fit than I did, in which case, you will have a much better experience than I did.
All that said, I also find the weight a bit of a setback. I really would have liked to take this on a plane to test that environment. But I am not sure I would really carry this extra weight and volume. My carry on bag is already too full and too heavy, and 2 pounds is a big addition.
MyMac Reviews rating is 6 out of 10. This has a lot of promise, but needs some changes, updates, and fixes IMO.