PHOTO PRINTER MINI PM 210
Kodak
$100 U.S. Available at Amazon, eBay, Curry's (London, GB)
See pricing information for supplies in article below
Available in three colors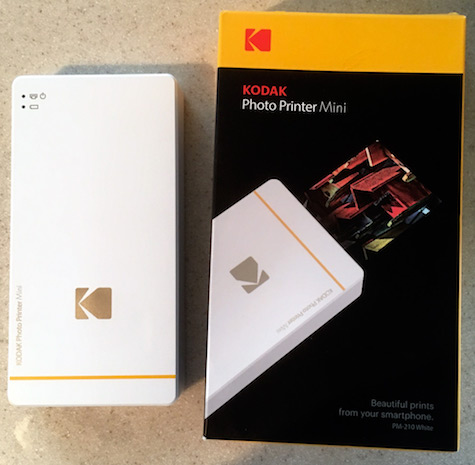 No matter how many photos you have on your device people still love the hard copy. They appreciate a printed picture that can be passed around, hung on the wall, or snail mailed to your friends and family. Printing these days can be a chore. A home printer is fine but to use it you have to be home. Even if you use one of the myriad of printing services available you still have to wait to get them in the mail or pick them up at your local pharmacy or big box store.
Enter Kodak's new Photo Printer Mini, a practical alternative, albeit not cheap in terms of price or quality per photo: about $.70 to $.85 (70 to 85 U.S. cents) per photo depending on the capacity of the cartridge you buy. The cartridges come loaded with ink and paper, 20, 30, and 50 sheets per, U.S. $16.99; $22.99; and $34.99 inclusively. The cartridges are easy to extract and load. The printer itself is available on Amazon for $98.97 in the U.S.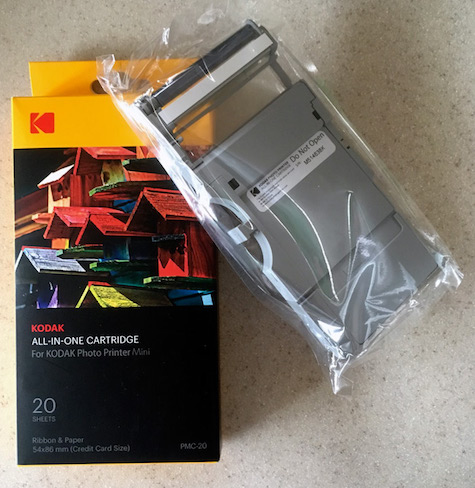 Kodak's Mini, as I like to call it, turns out quality 2.1" X 3.4" prints that are fairly true to the original and are water and smudge resistant. To be more specific, the photos I printed without using Kodak's surprisingly powerful editing software were slightly darker than the original but otherwise accurate. Convenience of all conveniences, you can carry it with you wherever you go. It features a built in battery with USB charging cord and measures 6" X 3" X 1", weighing in at about 9.5 oz. Yep, it's small. Kodak uses its own Dye Sublimation printing process to create sharp, even printing of colors and edges.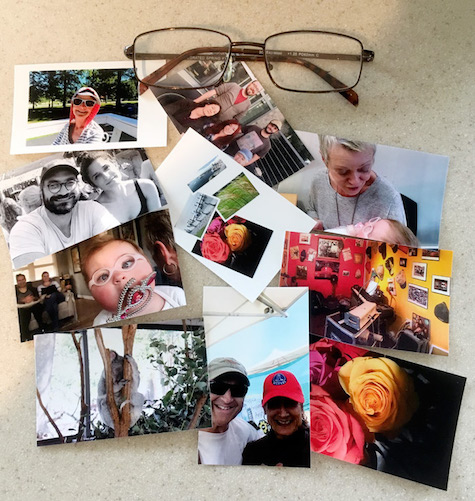 Access to all your photos and videos is available through the free app and its easy-to-navigate menu/interface. The app connects to the printer seamlessly through NFC or WiFi, Android or iPhone. Your photos or videos show up on the app's interface; you choose which ones you want printed by "touch." If you have several to print you can "multi-touch" the ones you want and the printer will print them, one after the other. Above your chosen photo are the directives to print, edit, and how many copies you want printed. After your adjustments, if there are any, just hit "print" and the Mini does the rest.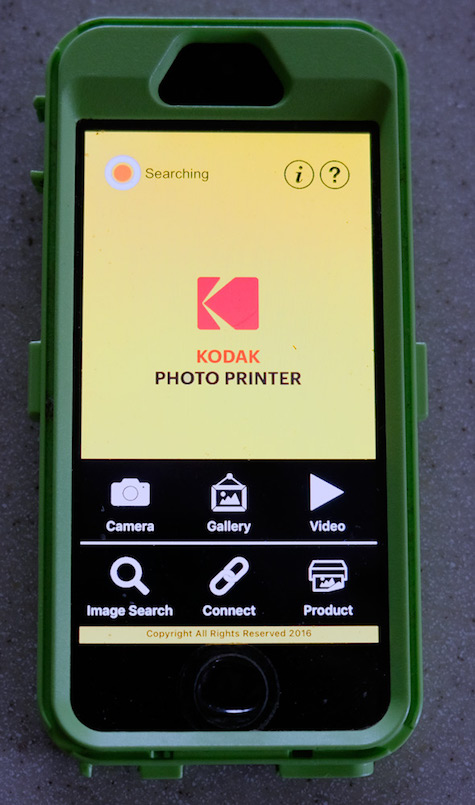 Printing is an interesting three-step process: first the printer prints in yellows, the print comes out of the slot yellow and goes back inside the printer for the magenta, comes out again and then goes back in for the cyan, out again looking finished, but then, in again for the clear and final coating, and abracadabra, out with your finished photo. I ran one of my photos under my water faucet mere seconds after the printer finished to see how water-resistant it was. I used hot water quite by accident but the photo never lost any ink/color, good as new. That last in-out for the clear coat did it. Amazing.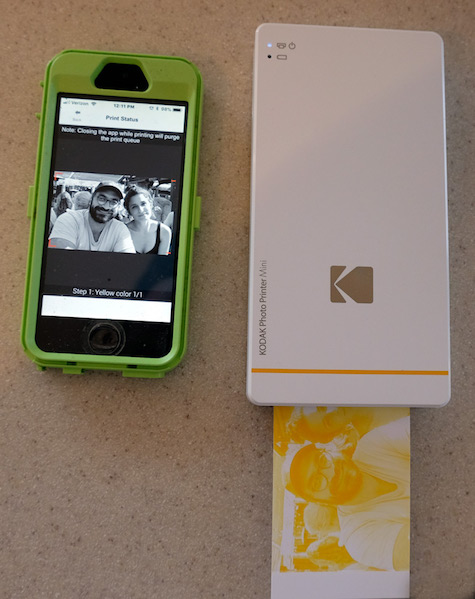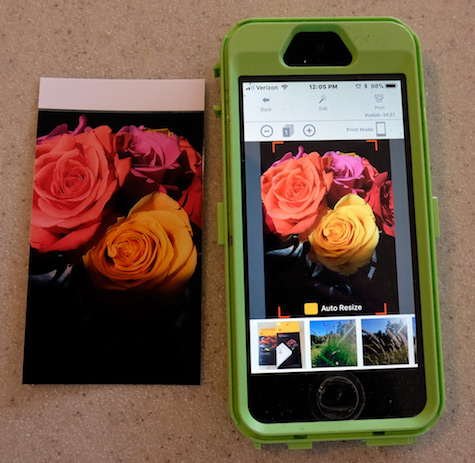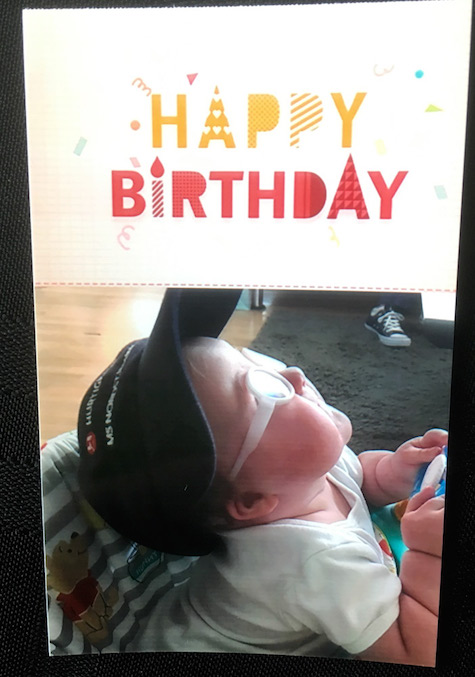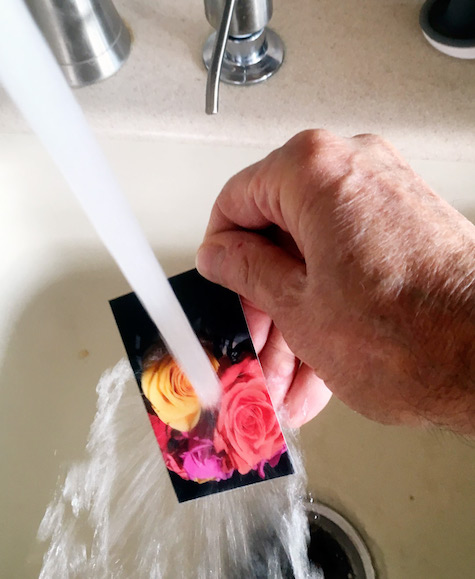 You can print straight-off-the-phone prints or, while your photo is up on the interface, go into the printer's directives and select image editing, creative filters, or templates. Or select the Camera icon, take a pic with your phone and then print it. There is more than meets the eye here. The filters offer a lot of latitude and can make a mediocre picture look a lot better while creating effects and adjustments at your whim. It truly amazes me how much power this little printer's software has in adjusting colors, lighting, shading, sharpening, and more.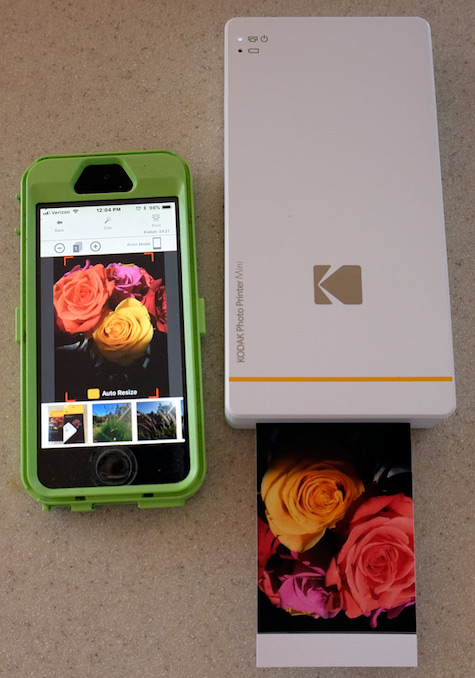 Not only can you adjust the images but you can also print a collage of several photos on one print. Or, you can make yourself a business card right there on the spot. Placing text on the photos is also available with a good selection of fonts. For even more fun there is a "paint" feature with different sized brushes so your fingers can satisfy their creative urges. Kodak also offers cartridges with sticky-back paper, and just like that, your photos become stickers. Another useful feature is the Freeze Frame in which you can select a frame from any video and then print it. How much fun is that?
A personal note: I would like to see Kodak continue this stream of Mini Printers into a slightly larger one, still portable, still affordable, but able to produce  4 X  6 photos, large enough for small details to be more discernible. In no way is this personal note meant to demean the Kodak Mini as it is. It's just a thought from your humble reviewer, taking what Kodak has already done very well, to another level.
There's no manual. There's a Quick Start Guide, that's it. The total time the process takes, from pressing Print to finished print is about minute, give or take a few seconds. I think it depends on how much information is on the picture but the differences are minuscule.
The Kodak Mini is straightforward to use and is easily carried around in a purse, pack, or coat pocket. It may be diminutive in size but it is a serious printer. There are several other mini-printers on the market but none of them have the features or quality that Kodak has put into this little gem, which comes in three colors: Black, Gold, and White. We highly recommend it for what it is: a fun, convenient portable printer that can be a real partner with your Android or iDevice.
MyMac Review Rating is 9 out of 10.