Jelly Pro
Company: Unihertz
Price: $124.99 (US)
Before there was the iPhone, there was the flip phone or what is called today the "dumb" phone. At its peak, manufacturers were trying to make these phones as small as possible. Remember the Motorola StarTAC? That was the phone I always wanted. Then the iPhone came, and today it is not who has the smallest phone, but who has the biggest phone.
I remember when there were rumors about an iPhone Nano. People wanted a smaller iPhone. I would have, and still would like, an iPhone Nano. Maybe that is why I carry an iPhone SE. Well, there is no iPhone Nano, but there is the Jelly Pro.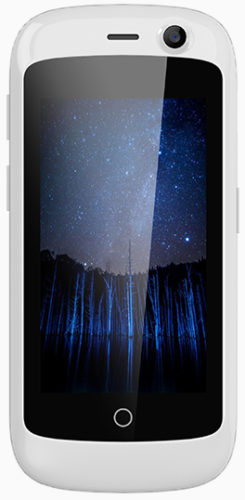 The Jelly Pro is an Android powered smartphone that unihertz, the manufacturer of the phone, calls the smallest 4G smartphone. They will get no argument from me on that statement. It is so small that it fits in the coin pocket of jeans (you know that tiny pocket in the front right pocket). In fact, if there was an iPhone Nano, I would imagine it to be the size of the Jelly Pro.
The Jelly Pro started as a Kickstarter campaign that was successfully funded. After that campaign the Jelly Pro was created with higher specs, and now it is the only model they sell. Specs include a quad core 1.1GHZ processor, 2GB of RAM, and 16GB of built in storage.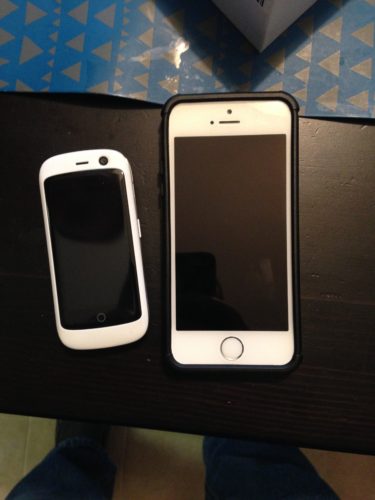 As small as it is it, the Jelly Pro is still a full featured smartphone running Android Nougat 7.0 on a tiny 2.45" display. The OS is full Android with the Google Play Store, Maps (with GPS functionality), and everything else you would expect. One nice aspect is that it appears to be pure Android and no extra "junk" apps installed. It is unlocked and not tied to any carrier, so there are no carrier preinstalled apps either. I was also told the phone will receive OS updates and they are hoping to have Android 8.0 available in the future.
Speaking of carriers, the phone works with most GSM compatible carriers. I tested it with T-Mobile and it worked great. The calls were super clear and crisp and data worked as expected. The phone also has dual SIM slots, so you can easily use it on two carriers or with two numbers. A nice feature for such a tiny device.
As I mentioned earlier, the phone comes with the Google Play Store installed. You can download apps like any other phone. You can download games or Netflix, and they all work on a tiny scale. I watched a video on Netflix and had no issues and the picture looked great. Remember, people used to watch videos on iPod nanos all of the time. This is about that size. I did notice some apps having issues fitting on a screen and some text squashing together, but overall the apps I tried worked overall.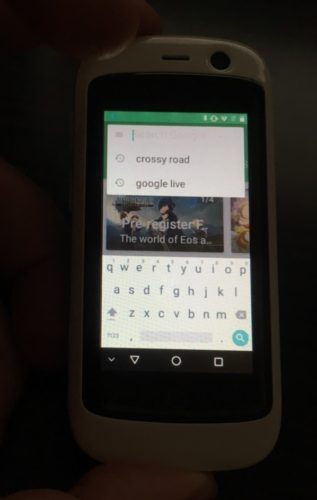 The phone has a gyroscope, so you can rotate the phone into landscape mode or portrait mode. I found it easier to type in landscape mode, although I could still type in portrait mode with fewer typos than you would think, and I am over 6' tall.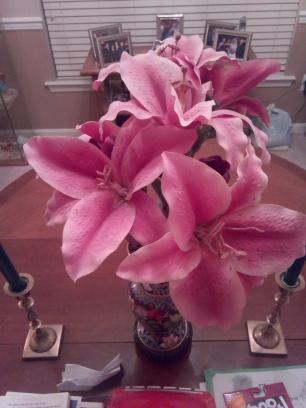 As for a camera the Jelly Pro has an 8MP rear facing camera and a 2MP front facing camera. The picture quality of the phone is not the best (especially when compared to an iPhone), but for a phone of this size and price I think it isn't what I would call disappointing. It also works fine for video calls. I did notice the camera app was very slow. Being a person who does not use an android phone I cannot comment on wether this is the phone or the OS, but I imagine it is a combination of both. Let's just say I wouldn't use this for action shots of the kids or sports.
Other features you would expect in any smartphone are here: WiFi connectivity, Bluetooth 4.1, GPS, compass, hotspot capability, headphone jack, and it has a MicroSD card slot to expand the storage from the built in 16GB. You can store and play video and music on it as with any other phone.
This phone also has a pedometer app and an FM radio app. The radio app does require headphones to be plugged in. The headphones act as an antenna for the radio. In addition to all of that the phone has a decent external speaker too! I used it when watching video and it was plenty loud without even turning up the volume all of the way.
Battery life of the Jelly Pro is dependent on usage, as with any phone. I let the phone sit without being used to see what standby time was like and it lasted about 2 1/2 days. Video playback gave me about 2-3 hours of continuous video. Other usage varied depending on Internet, games, etc. I was able to get my standard day's use out of the Jelly.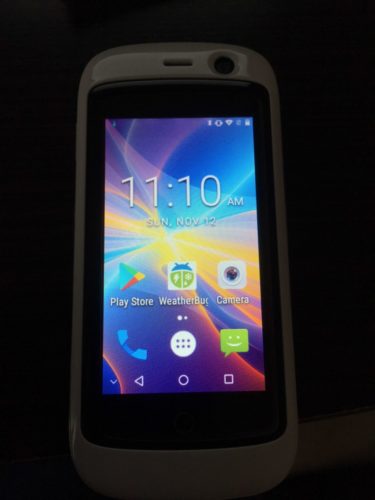 As for the screen, it is tiny, but it looks great. Colors are bright and graphics are crisp. As tiny as it is, I was able to play games and interact in apps even with my big fingers. I did notice that some touch points would not always work immediately. As before, I don't know if that was the app, the OS, or the phone. It also might have been my big fingers trying to hit the right tiny arrow.
My biggest issue with this product was set up. The battery comes wrapped in the phone itself. This is fine, but opening the phone for unwrapping and installing the battery and installing a SIM card was very difficult. I had to look on the unihertz forums for a solution and used the technique of a LEGO tool to open the phone. Others suggested a credit card. This seemed to be an issue with more than just me, based on the forum. The instructions for opening the phone, and inserting the SIM are almost nonexistent with the phone itself. I would like to see better instructions for both of these and possible a tool for opening the phone.
Overall, the Jelly Pro is a great little phone. I really like it and enjoyed using it. Everyone I showed it to could not believe the size and the reaction was always "COOL!" It will not replace my iPhone anytime soon, but I can see it as an emergency phone, a phone for the pool or beach, or a phone to take running or to the gym (it is light as a feather). For those that like to run with an iPod nano, this could be an iPod nano replacement without the need to carry a separate phone.
It is also a great phone for kids. Their hands are the perfect size and it is not a $500 iPhone you have to worry about losing or breaking. Unihertz even says this is not meant to be an everyday phone replacement, but a secondary phone. With many wirelesss providers providing the ability to have your number on a second phone (T-Mobile calls this Digits) this could easily be done with the Jelly Pro without the need of giving out a second phone number. I also see it as an emergency phone with an inexpensive prepaid account on it.
For $124.99 you receive the phone (available in pearl white, sky blue, or space black), a charger and a USB cable. The Jelly Pro also comes with a screen protector (nice touch). Accessories like a case and an armband are available from the unihertz website.
If you prefer a smaller phone and don't mind the Android OS this might be the phone for you. Besides the unihertz website, you can also order at Amazon and Amazon UK with other countries coming soon.
MyMac.com Review Rating is 8 out of 10