1MORE Triple-Driver Lightning In-Ear Headphone
1MORE TRIPLE DRIVER LIGHTNING IN-EAR
$150 U.S.
Roll over, Beats. Ditto for Apple. 1MORE USA's  Triple-Driver Lightning In-Ear Headphones have arrived. They are good! The sound is impressive. Fit, comfort, design, and construction are outstanding. A unique five-way micro-joystick, positioned where the ear cables join the main cable, handles music and phone controls with ingenuity and efficiency.
The black cable is soft tangle-free nylon over Kevlar. A standard 1MORE solid, giant, rectangular, leatherette case is included, as are a zillion sizes of silicone and foam ear tips. Passive sound isolation is just right for airplane or living room listening. You can wear them for hours and forget you have them in your head. An inline microphone is on the right ear cable, for phone/Skype/FaceTime use.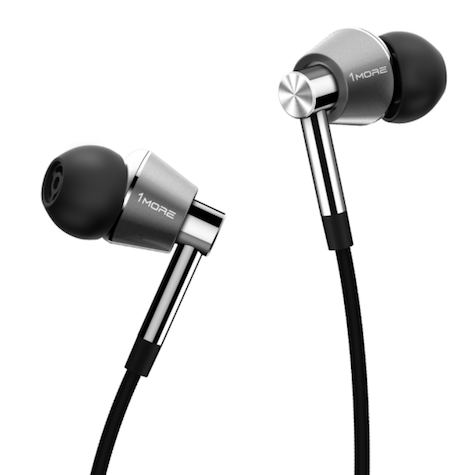 Bass is full and rich without bottoming out or dropping into a hollow low-end abscess. Midrange is neutral, which I prefer. Treble has a bit of falloff at the very top which is a concern only if you need skull-piercing highs, and this can be tweaked with a bit of equalization. The overall sonic experience matches the attention to detail and style on these premium in-ear monitors.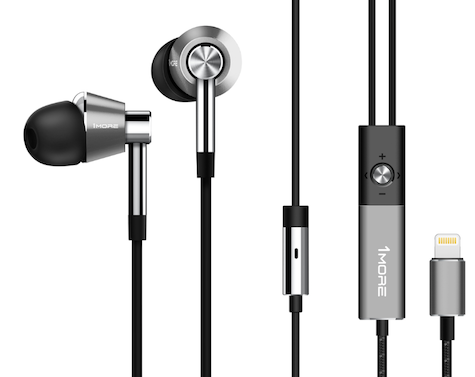 A native DAC (digital to analog converter) transmits Apple's iPhone, iPad, or iPod touch audio signal, thanks to using the Lightning port for the connection. When you first connect these headphones to your iPhone, for example, you are prompted to download a free custom 1MORE app from the iOS App Store. The company representative explains that the "main functionality in the app right now is version updates, a music player and equalizer, and a smart burn in feature for the headphones, with more functionality to come."
With these inaugural Triple Driver Lightning In-Ear Headphones, MyMac congratulates 1MORE for continuing their leadership in performance and pricing for top quality consumer headphones. Their 5-in-1 controller is a gem, and it helps award these versatile dongle-and-adapter-free earbuds a strong recommendation.
MyMac Review Rating is 9 out of 10.