Bluetooth Lantern Speaker
Model: iBT91
Manufacturer: iHome
List price: $99.95
iHome's new crop of audio products for summer fun is here and they're worth a listen. The new iBT91 Bluetooth Lantern Speaker provides good sound in a rugged enclosure for parties at the beach, by the pool, or on the patio. Its lantern-like shape lights up the night for fun and for safety.
Connection is made by easily-paired Bluetooth or through a 3.5mm audio-in port. Once connected, you can control your music from your phone. Download the voice-powered Melody app and you can request songs and playlists from Spotify, iHeartRadio, and other services.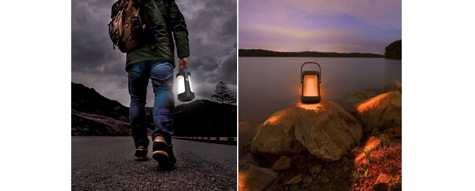 The iBT91 is a good size, 9.26 x 4.85 inches (12.3 x 23.6 CM) and it weighs 2.97 lbs (1.35kg). Because of this size, it produces a good hefty sound. Many portable Bluetooth speakers sound a bit tinny and thin but the iBT91 sounds good. Highs and midrange notes are crystal clear and the bass is punchy for a portable device.
The unit contains a battery with enough capacity to provide up to 13 hours of playback. Inside a rubber cover on the back is a 1 amp USB socket from which you can charge your phone or other device. The internal battery can be charged using the included charger and cable. If your wallet can afford it and you want true stereo sound, you can add a second iBT91. The two can then be paired up for left/right separation.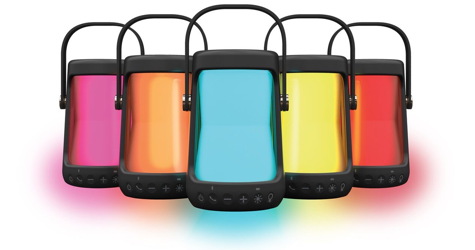 In addition to its audio features, the iBT91 is also a lantern. An unusual combination? Not if you enjoy spending time outdoors on summer evenings. Having a light source at hand can be fun and reassuring. There are several lighting modes: two brightness levels of white light for maneuvering safely in the dark, a soft amber light for sitting outside with friends, and a red blinking light for emergencies (such as a roadside flat tire.)
A range of multi-color light combinations seems to have been included because it was possible, not necessarily because they are useful. One setting slowly dissolves colors from one to another throughout the spectrum; another setting does the same but by blinking faster. You can even set the colors to pulse in time with the music.
Across the rubberized base of the lantern are six control buttons. The markings are not printed; they are only embossed making them difficult to read. However, once you learn which ones are which, you won't need to read them at all. A voice prompt tells you when Bluetooth is connected and green lantern lights and voice prompts indicate the battery levels. On the top are three LEDs indicating power, pairing, and charging status.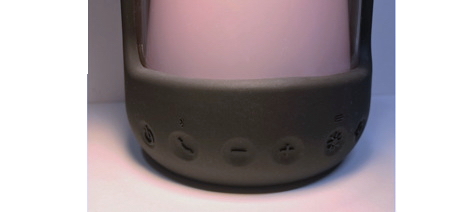 There are volume up/down buttons and a power button. A multi-use button is included that is used for answering and ending phone calls. It is the play/pause control and it also puts the unit into Bluetooth pairing mode the first time you set up the iBT91. The two buttons on the right side control the lighting. One turns on the lights and cycles through the solid color choices: two levels of white light, amber, and emergency red blinking light. The other button controls the six color modes: Slow dissolve through the full color spectrum, Fast change through the spectrum, Select a favorite color, Preset Pulsing, and Pulse to music. Personally, I can do without the colorful lights, but I'm sure there are those who will love the effects.
The iBT91 is splashproof (iP65 rated), sweat proof and rainproof. Its rubberized exterior is built to withstand the knocks and drops of outdoor use. Bring along a party atmosphere with you with this fun speaker/lantern combo.
MyMac Rating is 9 out of 10.