UAG Composite Case for iPhone 6
Company: UAG
Price: $34.95 USD MSRP
Apple's iPhone 6 is still in demand for folks looking to either upgrade from their previous phone or to switch over from another brand. Yes, I am still using my iPhone 6. One thing that has not changed is the need for a good case to protect one's investment in an iPhone. For those doing so, it's time to look over the cases available from Urban Armor Gear.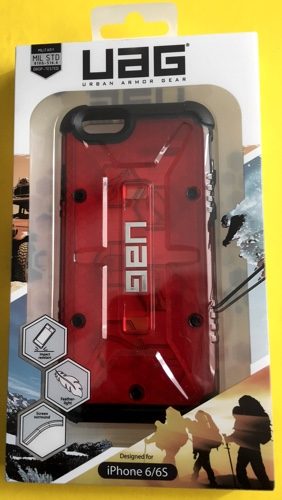 Very light weight but made of composite materials, the UAG Composite case provides a very high level of protection for the iPhone 6/6s model. Designed to meet military drop-test standards (MIL STD 810G 516.6), the case cushions your iPhone from drops of up to four (4) feet. In your hand, the case does not have the feel of rubber but more of a plastic type feel but it does not slip out of your hand easily.
The first thing that you will notice when placing your iPhone into the case is that it is extremely form fitting; there is no wiggle room at all in the case. You have to exert a bit of force to get the iPhone into the case but look at it this way- what goes in will not pop out.  At the end of the second week of my using the case, I had my iPhone in the pocket of my swim trunks at the beach and while picking something out of my vehicle, the phone popped out of my pocket and dropped onto the parking lot. That was a drop of a bit over three feet from the pocket to the ground. Picking up my iPhone the first thing I thought of was that I hoped the military drop-tests included accidental drops like mine. Not a ding/dent or scratch on the iPhone! I'm not normally a klutz like that but I was glad to have my iPhone in that case.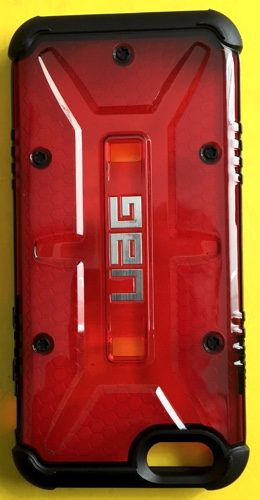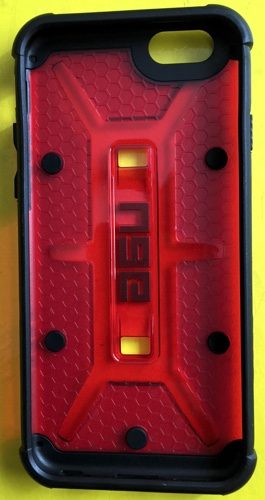 There is open access to the ports on the bottom of the iPhone but there are tactile button covers over the volume buttons and the power on/off button.  The phone feels comfortable in your hand and as far as I can see, is relatively non-slip in that respect. The lips of the case are made of a rubber type material that stops your iPhone from sliding around and also provides a bit of distance between your iPhone glass front and the ground/desktop below. The honeycombed TPU core interior of the case helps to minimize the impact of your phone hitting a hard surface yet it provides the lightweight capability. I will tell you that once you have your iPhone in the case it will not be a breeze to remove it, it was designed to be form fitting and I can attest to that.
I highly recommend the UAG Composite case for your consideration. UAG also provides cases for the iPhone 7, other phone brands and for other Apple products including MacBooks and iPads.
Specifications:
Weight: 28 grams
Width: 2.8 inches
Length: 5.6 inches
Depth: .47 inches
Certified to MIL-STD 810G-516.6 Standards
Comes in clear and a variety of colors.
All in all, I give the Urban Armor Gear Composite case for the iPhone 6/6s a My Mac rating of 9 out of a possible 10.