Noir in-ear headphones
Degauss Labs
$129 U.S. or 99 Euros
These headphones are alive! Your music jumps straight from your playback source into your ears and skull with Degauss Labs' Noir in ear monitor (IEM) precision earbuds. Our evaluation headphones are universal, with a standard 3.5mm audio plug. Lightning tip units are in development for release in 2017. Get the ones that are best for you, then rock your socks off.
The company representative tells MyMac:
Noir is brought to give the sound a raw live act like feeling. Like being in the audience looking at the band. The Noir are very popular by Rock enthusiasts and also the Electronic Scene in Berlin and Italy. Its users like a direct, very powerful feel.
I agree with his description. Listening to dozens of test tracks that I am very familiar with, music from Noir has a punch and directness that you don't get from 100 dollar/euro headphones, and rarely from more expensive competitors.
He continues:
We focused the know-how from making earphones for other companies and focused on making high level earphones, that would not be too expensive. Listening to balanced armature had a high (very high) cost at the time and we brought more affordable earphones to a wider market. 
Regarding the build quality:
Designing the Noir took us 3 years, because we wanted to make a great pair of Earphones, not only by sound but also a pair that could outlast others. To do so the Noir development was divided into sections, connector, cable, ear housing and so on. Each phase of the development had its challenges, many things that actually hadn't been done before especially when putting them all together. Some highlights into the Noir design are that it uses an aluminum connector an ultralight weight aluminum earphone housing and a special twisted and coated cable structure. This should make your Noir last longer simply because they are designed to do so.
And Noir's unusual cable:
The Noir cables are intelligently twisted. This creates a stronger cable much like how you would make a rope. Then they are reinforced with an extra outer layer of coating, this makes the cables less fragile from accidental handling, like if you close the zipper on your jacket with the cable in between and also gives them moisture resistant features. Since cables are one of the usual weak points, cable strength plays an important role. The Noir cables are made to hold.
---
You don't need to be a hipster electronica metrosexual millennial to appreciate Noir. I'm a geezer, and my mixture of premium tracks plays well across genres.
Degauss Labs is forward-thinking, open-minded, and realistic. Shipping to North America is swift from Sweden. A no-questions 14-day return policy is offered; I expect most people are delighted to keep their Noir IEM. Instructions "with gratitude" are given to condition, or burn-in, Noir's potent speakers.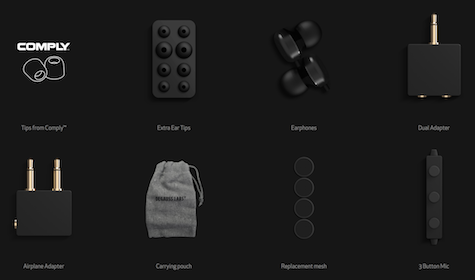 A full suite of accessories is provided, including a two-for-one audio splitter, and airplane adapter, a variety of ear tips, and a cloth storage bag. I'm not a fan of cloth drawstring bags for headphones. How about a hearty, squishy, durable leather or similar snap shut case instead? Plus a reasonably-priced 3.5 mm cable extension for users with a full body iPhone or iPad case with a thick surround on their iDevice? And where are the L and R indicators for left and right ears? The cable inline controls work as advertised.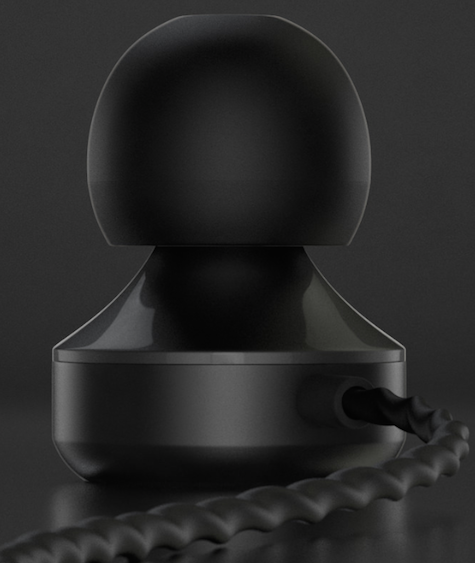 Be patient if the silicone rubber ear tips are a bit slippery in your ear cavity, especially in cold weather. Soon the comfy tips will warm up and stay in place without you needing to cram them into your head. Speaking of comfort, IEM need to fit well, feel good, and sound exciting. Noir passes the test. Bonus: they are surprisingly forgiving of less than stellar audio quality and minimal equalization (EQ), although tracks that have superior production hit the sound out of the park.
---
Examples of a few of my Audio Gear Playlist tracks that demonstrate Noir's excellence are:
LANGTAR TILL SOMMARN by Riltons Vanner (also from Sweden) — Rich vocals that challenge all audio equipment, especially the majestic bass singer
LONESOME NIGHT by The Haden Triplets — Fresh and sparkling folk harmonies and instrumental accompaniment feel like you are in the same room with this unique family ensemble
DIE YOUNG by Kesha — Bright, percussive singing and electronic backing is as close to full-spectrum sound as you will find in contemporary pop
SLOW DRIVING MAN by M. Ward — A cavelike echo and tremolo with loads of space to convey, again in a full-spectrum environment
KURU/SPEAK LIKE A CHILD by Jaco Pastorious — Most of the action is forcefully tossed into the midrange, making it difficult for headphones to articulate the instrumental separation
EARTH CIRCLE by Troll Bends Fir — Intense Russian beer rock masterpiece (I'm serious) that could give the Dalai Lama a headache
CRYING by Don McLean — Beautiful 1970s track with oodles of background mush that challenges the attention of a serious listener.
---
Let's get back to listening. Thanks to Degauss Labs for providing Noir for our review. Our MyMac rating is 9 out of 10 when you want a live sound and don't mind the cloth sack.