Sound Blaster X7
Creative Labs
$400 U.S.
Sound Blaster X7 from Creative Labs is a versatile, powerful, great-sounding audio interface micro-tower with an extensive range of features and connection possibilities. When premium sound is top priority, consider using X7 to amplify and enhance your music so it sounds better than you knew was possible.
I expected the physical product to be larger than a Toyota Land Cruiser after reading its description and studying the dedicated website content. I was stunned by X7's compact size and its ability to be placed discreetly in a home, studio, office, and anywhere indoors without calling attention to itself as a geeky gizmo.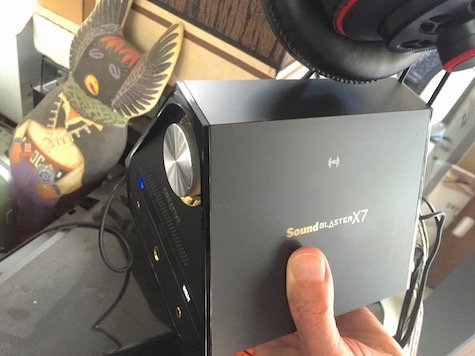 Setup is easy, but it requires thought, planning, and audio gear. Decide where you think you want your speakers to reside, then obtain the necessary cables for near or far away listening. Always have more cable length on hand than you anticipate needing.
I'm using a straightforward four-speaker front facing combination of passive and powered speakers. More complex multi-speaker and Dolby surround configurations are supported, as are digital audio cables and speakers. All speaker ports and terminals are on the rear of the unit.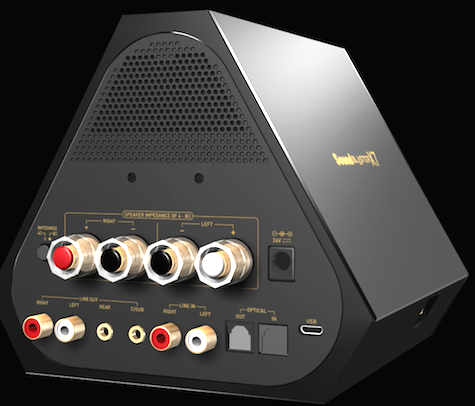 The front panel is where power, Bluetooth, Dolby, SBX, volume, microphone input, and two sizes of headphone ports are located. A large instruction poster is included, which is thorough but is slightly confusing; study each diagram a few times and you'll understand how everything works. Custom electrical cables for every area of the world are in the package, which is very impressive. A thoughtful accessory is a handy headphone stand that works well.
In my office, Q Acoustics 3050 passive speakers are connected to X7's upper right and left screw terminals via consumer speaker wire. Audioengine A2+ powered speakers are connected using the right and left line out with a y-adapter cable included in the X7 package. This hybrid arrangement plays to the sweet spot of both types and models of speakers being used.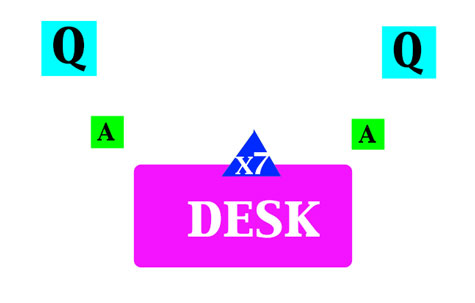 Approximate placement of X7 and speakers, not to scale, in my office studio
I turn the A2+ volume control most of the way to top volume for a vibrant sonic experience with the 3050 speakers placed behind them, as in the diagram. The Audioengine sound signature is particularly potent in the midrange. Q's 3050 are best all the way from bottom to top, with a rich low end and a smooth treble. As long as A2+ is not overpowering the midrange melodic zone, the entire blend fills everywhere in my 400 square foot office-studio-workshop space with stellar music.
Q Acoustics advised me to use the 4 ohm setting on Creative's X7 for the best compatibility with Q's 6 ohm 3050 speakers. I was told to listen for distortion at high levels. I adjust the overall sound, from loud to quiet, with the round silver volume knob on the front of X7. I have not yet taken it to maximum volume, and it's plenty loud as I pass the halfway point.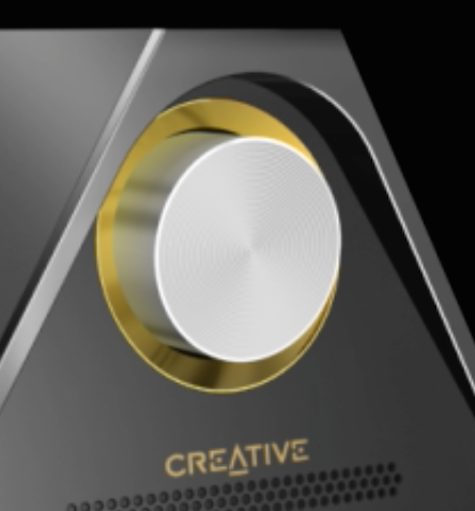 But there is no point. Why not? Creative's designers made the X7's volume control seamless, without any indicators on either the knob or the case. With a single, very careful user, this is fine, but it will be very easy to accidentally start up speakers or headphones and blast the ears and brains of an unsuspecting person.
My audio source is HQ playback from Deezer or Spotify streaming music services, primarily with pre-selected demo tracks I use for consistent evaluation and enjoyment. The Bluetooth signal from an iPhone or iPad to X7 has premium strength and clarity. I'm disappointed that Bluetooth pairing is not automatic from an iPhone or iPad to X7; I need to choose it in Bluetooth settings each time after previously disconnecting.
---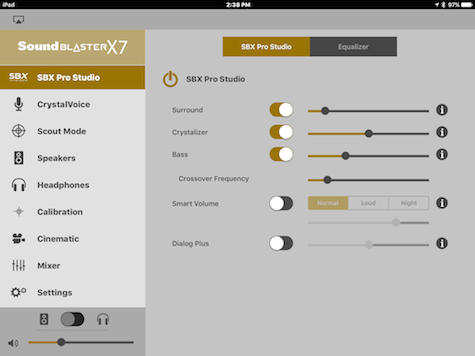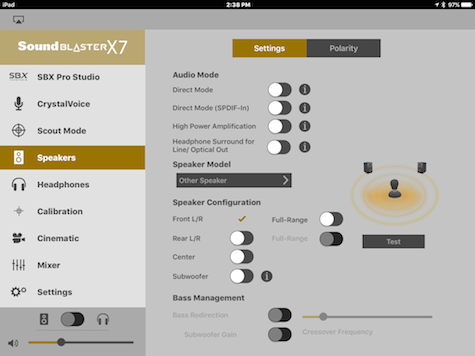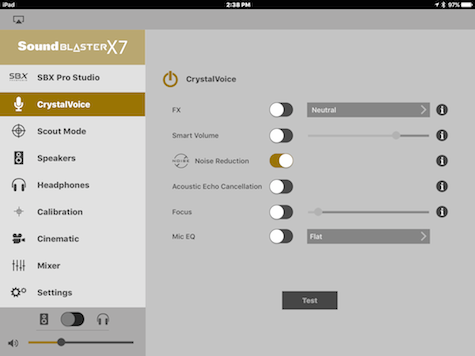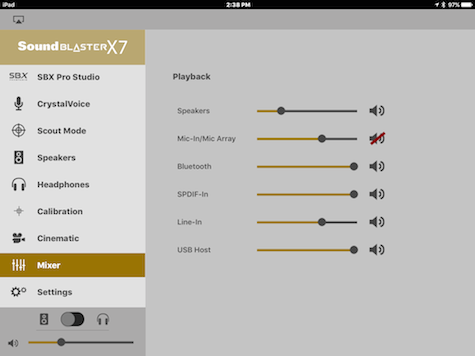 Creative Labs has a free, dedicated iOS Sound Blaster X7 app to assist with fine-tuning the sonic and gaming experiences. I am getting great sound without using this app, especially with Deezer's fine-tuning equalizer that can easily be altered with each track.
I have tried many speaker and amplifier combinations during the 21 years I've had this office-studio-workshop in a separate building from my house. During the 19 years I've been reviewing audio gear for MyMac, I have tested countless speaker systems, ranging from very good to dreadful. This new hybrid four speaker array sounds the best of all of them, by a long measure, thanks to the digital signal processing and audio performance of the mighty X7.
My comments while evaluating X7 include: extremely accurate, smooth, crisp, clear, balanced, spacious, being there, immediate, noticeably brighter than with old receiver; makes okay headphones sound way better, and good speakers sound great. You get the idea.
---
You will develop your own equipment resources for music and gaming once you have this diminutive X7 wonder in your sound system. $400 is a fair price for what X7 delivers, as are the affordable $620 cost for Q's 3050 speakers and the competitive $249 for Audioengine's A2+. If you had told me 20 years ago I could have a musical experience this good for under $1300, I would have said here's my credit card.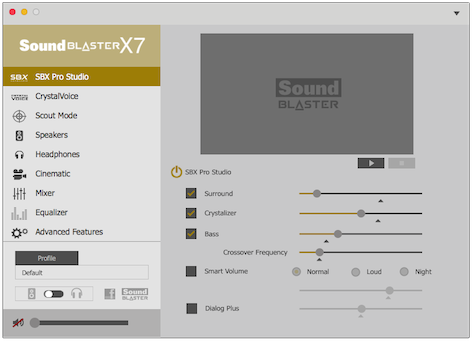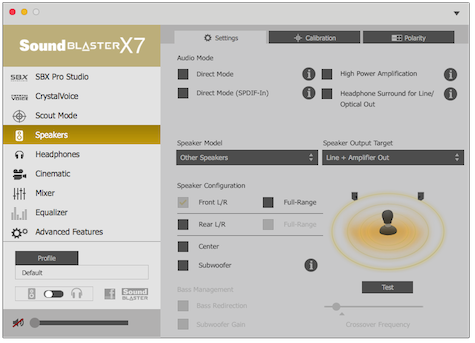 Creative Labs offers a free custom Mac OS application for running audio to X7 from a Mac with an included USB cable. You download it from a special company web site. A firmware update is also available that allows X7 to communicate with its iOS app via Bluetooth.
A song that you may have heard countless times is Can't Help Falling in Love by Elvis Presley from his "Blue Hawaii" album, remastered. I feel as if I'm listening to this and other classic tracks for the first time with X7 and my four speakers. Each favorite tune from the past has new blood in its veins with this equipment. Contemporary digital songs, when recorded to a high standard, can rock my socks off or soothe the savage beast, depending upon their genre.
I have spent a lot of time in recording studios and professional sound booths. The concept of reference audio is a nominal standard that does not apply with the musical experience X7 generates. Instead, it's a customized listening environment with many choices of output devices and interfaces. Well done, Creative Labs.
MyMac Review Rating is 8 out of 10, with a Nemo personal recommendation.