3050 Floor Standing Speaker Pair — American Walnut
Q Acoustics
$620 with U.S. free same day shipping
Graphite and American Walnut finishes cost $620; Gloss Black and Gloss White cost $800
Q Acoustics from England has new model 3050 Floor Standing Speakers for a home stereo setup with a powered receiver or amplifier, plus speaker cables. These speakers look good, sound great, and are exceptionally affordable. Just when you thought you were finished buying or using traditional passive speakers, you have a reason to donate your dusty old JBL or other legacy towers and set aside some cash to greatly improve your listening experience.
The 3050 towers are sleek, substantial, and not overly heavy to lift. A single person can unpack them and set them up, but a second person on hand will make the process much easier. Tools and written instructions are included, but the written material contradicts company advice regarding floor surfaces and bottom prong rubber covers. If possible, place these speakers on a carpeted floor using the included steel spikes for stability and acoustic anchoring, or on a solid floor with the prongs resting on coins or small metal disks.
The company representative explains:
I recommend using the floor spikes on every surface, carefully adjusted so the speaker is rigid on the floor and doesn't wobble. The spikes should then be locked with the locking nut. Of course, floor spikes can leave a physical impression on the floor. This is not normally an issue on concrete or carpeted floors, but if consumers wish to protect 'cherished' floors; for example, polished wooden or tiled floors, I would recommend they place a small metal disc below each spike. There are proprietary discs available for this purpose, but using small coins are a perfect low cost solution.
Please take some time to correctly fit, adjust and tighten/lock the outrigger stand and floor spikes – it will make a big difference to the dynamics, fine detail and stereo soundstage. Please never use the spike's rubber floor protectors. 
The spikes have two important purposes. Firstly they hold the speaker rigidly, which enables the speaker to deliver its best detail and dynamic range. Secondly, they help to isolate the speaker from the floor, which reduces/prevents 'bass boom'.
While you are listening to your first few hours of high quality playback on Q's 3050 speakers, adjust their positions relative to walls and corners for optimum sound. Experiment with the included bass port foam inserts at varying depths in the rear cabinet hole. Within a day or two you will be hearing your music like never before.
More from the company rep: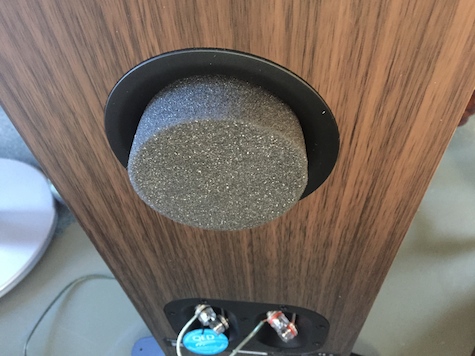 The ideal position is to place these speakers in an equilateral triangle with listening position. Please try to keep them away from the corners of the room – and certainly not symmetrical with the corner. By which I mean two feet from a rear wall and four feet from the side wall will be infinitely better than three feet from each wall. If the speakers have to be placed close to a rear wall, you will probably find they sound better with the foam rubber 'Port Bungs' fitted.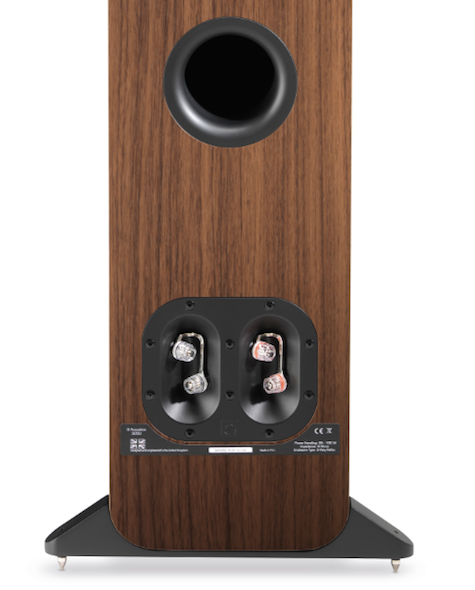 You don't need a fancy or expensive receiver or amplifier to experience the 3050 speakers in a premium way, because they are very forgiving. They sound superb using consumer equipment both with uncompressed and lightly-compressed digital audio tracks. The same applies to speaker cables. You don't have to mortgage your house and buy audiophile cables, because these speakers work well with decent consumer cables. A short length of premium cables is included.
On a personal note, I was never happy with the performance of my $1,000 Cambridge Soundworks Tower II speakers. They were big, heavy, and out of scale with my small dining room. My wife hated the look and mass of them. Loud playback was powerful, but quiet listening was a disappointment. Their sound was flat-minus, meaning the neutrality didn't give music an opportunity to burst forth with any vivacity, regardless of the equalization.
One day my wife had had enough of them. "Get those giant, ugly speakers out of the house this minute, John!" I took them into my 400 square foot office and they still were not up to my sonic standard. By coincidence, the next day Q Acoustics 3050 speakers arrived. What a difference!
These 3050 have less mass, better looks, and far superior sound, all for way less $$. I knew speaker technology has improved in the last ten or fifteen years since I acquired the Cambridge Towers, but I didn't know how much.
The company rep is accurate when he says:
I would expect the 3050 (correctly set-up) will deliver a tighter, more detailed and better controlled bass response, more open, more natural mid-range, better three dimensional soundstage and a smoother treble.
Q's 3050 are bright, crisp, accurate, full-spectrum, room-filling masterworks that make listeners pay attention, consciously or otherwise, at every volume level and in every musical genre. I have a large playlist I use to test all audio equipment, and I am hearing aspects within the selections that I never knew were there. I added some new tracks in my extensive testing, and some of them are now my evaluation favorites, because of how I experience them with the 3050 speakers.
The is a remarkable jazz song titled Childhood by Ferenc Snetberger Trio on a CD titled "Nomad." Playback through the 3050 speakers brings out the smooth, powerful bass, especially when the port-bungs are adjusted to the listener's satisfaction. Midrange is articulate; treble is crisp and honest. Instrument isolation is accurate. Percussion is a driving force, yet the cymbals are gentle.
This is one of many examples of songs I'm using to test these user-friendly speakers. Tiny tweaks of equalization may be needed, and 3050 often sound darn good using neutral settings. Bass presentation is massive so that an amazing foundation is delivered underneath a "being there" sensation as if you are on stage or in the studio with instrumentalists and singers across multiple genres.
Every chance I can, I go to my office, shut the doors and windows, and let these new speakers sing out loud and proud. The company recommends up to 72 hours to condition the speaker drivers for optimum audio quality. It will take you about 70 hours less than that to welcome them into your home or studio as permanent guests. During this break-in period you will gradually sense they are sounding better, and better, and better, after the sweet and tasty initial hours.
Final words from the company rep:
For a number of years, enthusiasts who spend large amounts of money on their hi-fi, have been able to sit in front of their systems, close their eyes and enjoy a 'believable', 'reach out and touch the performers/instruments' experience. Q Acoustics products are designed to allow consumers to enjoy a similar experience, but at a much more affordable cost.
These are the best thousand dollar speakers you can buy, for $620 U.S.
Our MyMac Review Rating is 9 out of 10. 
Reference reviews:
| | | | |
| --- | --- | --- | --- |
| Enclosure type: | 2-way reflex | Bass Unit: | 2 x 165mm |
| Treble Unit: | 25mm | Frequency Response: | 44Hz – 22kHz |
| Nominal Impedance: | 6ohm | Sensitivity: | 92dB |
| Recommended Power: | 25 – 100w | Crossover Frequency: | 2.6kHz |
| Dimensions H/D/W mm: | 1000 x 298 x 200 | Weight: | 17.8kg |
| Sold in: | Pairs | Warranty: | 5 Years |