RadSleevz Sleeve Case for iPad Pro
RadTech MRSP: $25.95 U.S. (as reviewed)
RadSleevz Sleeve Case
The RadSleevz Sleeve Case for iPad Pro is a form fitting protective sleeve to keep you iPad from getting tarnished with marks and scratches. Made From Radtech's own Optex80 material, the case stretches to fit the iPad perfectly. An optional extra Pencil slot can be added to provide secure storage for your pencil when the iPad is in transit.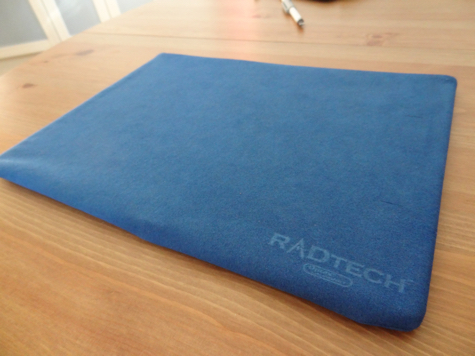 The Sleeve comes in a functional, but rather large plastic container, but is easily removed from the packaging and can be deployed immediately. I reviewed the Indigo 12.9" iPad Pro sleeve, but sleeves are available for all iPad sizes, with a nice choice of colors to compliment whichever iPad you own.Most importantly, the sleeve fits the iPad snugly – the material is smaller than the 12" x 8.7" dimensions but stretches without fuss. There is a nice elasticity to the material and it hugs the iPad without creases for a smooth finish. Although the fit is tight removing the sleeve to use the iPad is still easy.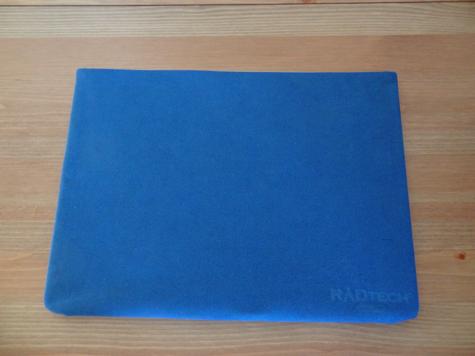 The Optex80 material is light, weighing in at a barely noticeable 24 grams, but strong and provides good grip. I tried strenuously to rip the material and mis-shape it but came away only convinced of its durability; even when over stretched it returns to its original form. I even found the the sleeve to be perfectly unchanged when washed like a standard laundry item (handy for removing any stains/grease picked up).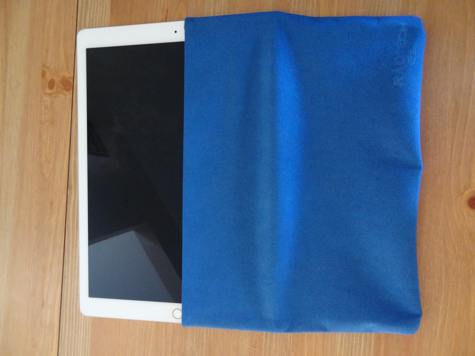 Another great feature of the case is that it can be used to clean the screen or exterior of any detritus or finger marks that can obscure the crisp iPad display. The sleeve can be scrunched up or manipulated as any cloth would. I find the outside is great for general cleaning and then wash it occasionally to remove the built up dirt.
Any iPad case need to provide sufficient grip to prevent accidental drops of your precious technology. The material has sufficient tack to make gripping easy without the risk of it sliding out from your grasp. It is worth noting that this is not a case that will protect your iPad from dropages or collisions with other solid objects, this isn't its objective. However, its tiny footprint means that it can be easily used with an other bags or cases for this purpose. I find mine easily fits in the TomBihn Cache I use as part of my travelling setup.
Mine came with an optional slot on the reverse (a $1.00 add on) for stowing the pencil. This is simply two vertical slits in the material through which the pencil can be threaded. So unobtrusive are these that I found them difficult to locate at first! The pencil is perfectly secure in this stowage form (with little chance of lateral movement) and I have even used this without problem whilst travelling. I was a little concerned that these slots may prove weak points, or promote rips in the sleeve, but I have not noticed any tearing or fraying.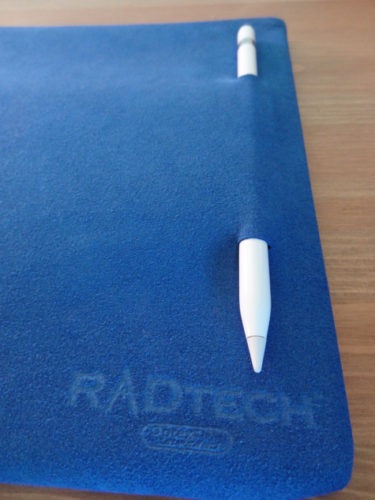 In conclusion, the RadSleevz Sleeve Case for iPad Pro is a worthwhile accessory for your expensive iPad that will help maintain its exterior appearance and the user experience. The retail price reflects the high quality of the material and the fit and finish. I haven't found anything to dislike in my time with it and it has joined my standard set up as an essential accessory.
My Mac rating 8 out of 10