Tenda Powerline Adapters
Company:Â Tenda
U.S. $29.99 – $58.95 (Amazon prices)

I live in an older home and WiFi just does not seem to get from one side of the house to the other. I have tried many products in the past, including HPNA (HomePlug network adapters) and 802.11 wireless extenders. Most wireless extenders I tried were useless. In fact, they usually make the WiFi signal worse. As for AC adapters, until this product, they have not worked very well at all. Either they are incredibly slow, or they fail to pair across the home reliably. So I was thrilled when these units arrived, as I was yet again swearing at my lousy home network and was desperate to try something new.
Set Up
Set up was incredibly simple. In the box were two identical units. I plugged one into an AC outlet next to my router, and used one of the two included Ethernet cables to plug the device directly into my main WiFi router. If you are short on AC plugs, not a problem, as you can buy a version of these that has an AC pass-through, giving you back the plug this unit needs. If you are out of Ethernet ports on your router, the P1002 version has two 10/100/1000Mbps Ethernet ports built in, so you can simply unplug an existing wire from the router, plug this device into that spot, and move the previous wire to this device's extra port without losing any speed. All this took a minute or so at most to set up. Very simple and straightforward.
I took the other unit and plugged it in on the opposite side of the house. From that unit, I connected one of its Ethernet ports to a Linksys WRT320N wireless router, (already set up for my home network to work in bridging mode, which simply adds WiFi access to an already existing network – the main router manages all IP addresses and routing.) Note that you can also just plug an Ethernet cable directly into a computer, smart TV, or other device that needs Internet access if you do not need more wireless coverage, but I did.
Lastly, on the side of each device is a Reset/Pair button. Press one for a few seconds, and then go press the button on the other device to pair them. After a few seconds, the devices paired together, and I was done.
Three LEDs on the front of each device let you know the power status, the pairing status, and Internet link and data transmission. Once my units paired, the pair light, which was blinking, went solid, and the data LED started blinking, indicating that data was being received. Total time now, about 4 minutes.
Testing With WiFi 
OK, quite easy to install and set up, but how does it work? I grabbed my iPad and connected it to the newly added WiFi router connected to this device. My device connected quickly and I was able to immediately connect to the Internet. Impressive. But is this really fast enough to replace running an actual cable under my house? It was time to run a speed test.
I first connected my MacBook Pro to the WiFi built into my main router and ran an outside speed test to a local test point. Here are the results:

I flushed data cashes, and then connected that same computer immediately to the WiFi router connected to the Tenda device. I ran the same test again. Here are those results:

Repeating this test 5 or 6 times ended up with the similar results. Granted, the limit of my current Internet speed is only 15 Mbps or so, but the fact that this device easily passed its entire speed across my AC power to the other side of the house, with almost no additional latency was good enough for me. These things really work!
Testing Top Speed
Top speed is listed at 1 Gigabit (or 1000 Mbps = 125 MBps) so I needed a way to test that as well, and that will require removing the newly installed WiFi router and testing with the computer directly connected to the device. (I also downloaded a LAN speed test utility from Totusoft to test the speed. Contact me if you want details on how I did this.) But first, a few disclaimers: I do not expect ANY piece of hardware to give me the fully rated speed, as that is theoretical. I also do not expect full speed because I have switches and routers in my network, and they will each add their own slowdown. So this test will test the Tenda AC "wire" connection against a physical wire of about the same distance connecting to the same router. And I am discounting write speeds here, as they are more limited by the actual hardware doing the writing and add serious delays. Here are the results of the network across the Tenda unit: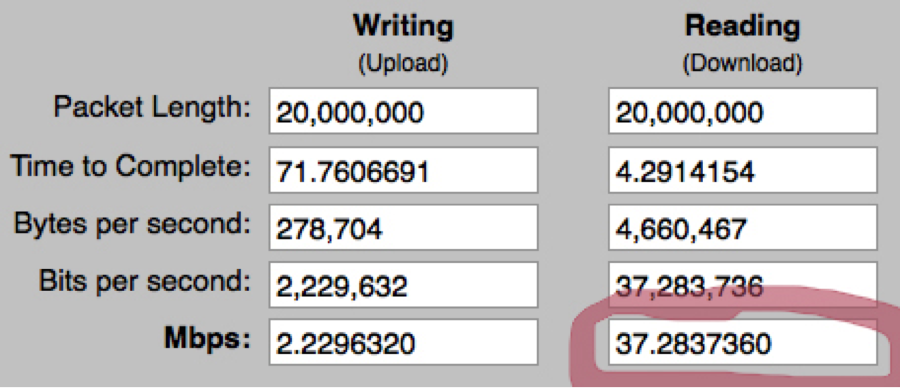 Next, I connected the same Mac to a physical Ethernet cable about 150 feet long, the distance between the two Tenda devices. Here are those results: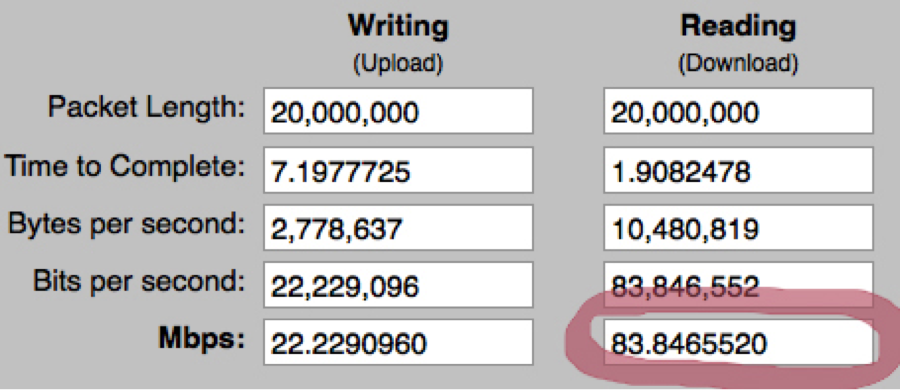 OK, the wire was much faster. See my conclusions below.
Configurations
Tenda makes several models of this device (I tested the P1002P) with different speeds and features. If you don't need the high speed, or the extra Ethernet port, or the AC pass-through, there are plenty of choices here. Here are the available units from the side of the box:

Specs
Feel free to skip this part if you don't care, but here are the detail specs of the device I tested (P1002P) which might answer a few leftover questions:
Transmission rates to 1000 Mbps and up to 300 meters (about 985 feet)
Provides a noise filtered power socket that can handle up to 3600 Watts
Compliant with HomePlug AV2 and IEEE 1901
Download compliant with HomePlug AV standard
Power rate is less than 0.5 Watt in stand-by (no Ethernet link for 300 seconds)
Runs on 110V to 240V, 50/60 Hz
Frequency band: 2 – 86 MHz
Modulation technology: ODFM, CSMA/CA
Plug and Play – no software to configure
Two Gigabit Ethernet ports
128-bit AES encryption ensures network security
Supports QoS and IGMP managed multicast IP transmissions to optimize IPTV streaming.
Dimensions: 130x60x42 mm
Conclusion
So what does this all mean? The Tenda device gave me about 37% of its rated speed, compared to a wire, which returned 84% of its rated speed. Repeated tests to different sources gave similar results. Sadly, in my limited tests, the Tenda unit was not as good as a wire, but I am not surprised. A lot of this may have to do with other devices adding noise to the AC line, or just the long distance between the units.
However, on all my tests, it tested much better than my existing WiFi across the house, which often does not work at all. So a connection that gives me 30 to 40 Mbps without the need to run any wires under my home is good enough for me. And since I am connecting this to a WiFi router, and the tests there were almost identical and at full Internet speed anyway, this works perfectly for me. I'll be buying a few of these for my house really soon.
Pros: It is very fast compared to other units I have tried. I don't have to run wires under my house and through the walls. It sets up super easy.
Cons: It is not as fast as a wire, but I really do not care.
So I give it a 9 out of 10 MyMac.com review rating. I suspect Tenda units will get even better over time given how well this works now.