Xounts Up Premium Speaker and Ambient Light Tower -Â Nemo Memo Pre-order Preview
$269 U. S. and up (pre-order pricing) plus modest shipping cost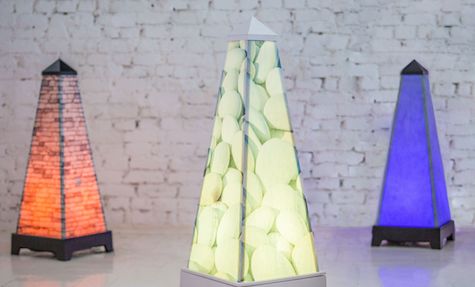 Xounts Up is an audio and visual wonder for music lovers on a generous budget. The tower's sound is excellent and its light show is infinitely variable. Add-on modules can be purchased for wireless Bluetooth audio, battery power operation, and multi-speaker surround sound for up to eight of them.
Some assembly is required. Written instructions are included, and a helpful YouTube video demonstration is available. The tower will become a dominant visual feature of every room where it is placed. Black and white base units are available. Choose a fabric cover that matches your personal style, or order a custom artwork soft cover.
At top volume, Xounts Up is extremely loud, with no distortion until you reach 90 percent of maximum volume. Wired AUX audio delivers superior sound without exception, and Bluetooth wireless audio technology gets better every year without the hassle of needing a cable. Power, volume, and bass level controls are recessed in the base component.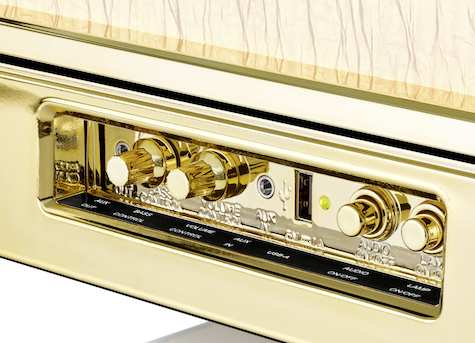 Control knobs on prototype premium gold Xounts Up
This is a sound and light system unlike anything you have heard or seen, so watch the demonstration videos from the company and its fans. Whether or not you enjoy the light show features, the audio presence is unforgettable, and it will make you want to use it more and more day after day. Bass is gigantic underneath a smooth full-spectrum midrange and treble soundstage.
Proper placement of the tower is critical for optimum musical enjoyment. The assembled Xounts Up is not heavy, but its vertical shape and substantial base unit require some care when toting it from room to room and corner to corner.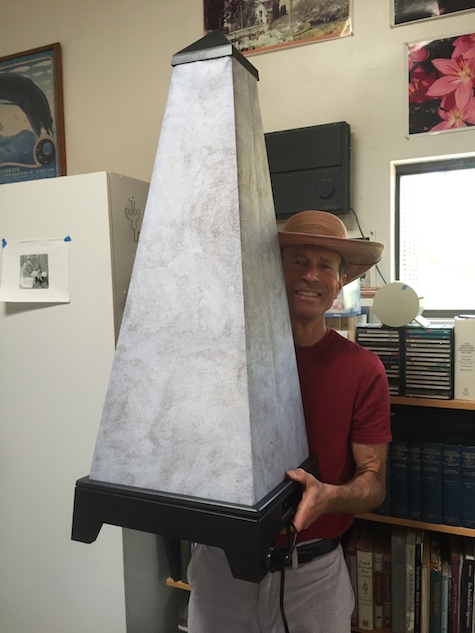 Photo by Sharon Pairman
Full 360 degree sound is a joy to experience from this tower. The base component has a massive sub-woofer, and the plastic sides of the tower are flat membrane speakers. The fabric cover serves to improve the overall sound. The company's CEO tells MyMac: The soft outer cover is important for the sound quality. It smoothens the high frequencies as the system was designed in such a way to compensate the loss of high frequencies with the soft cover. If you remove the soft cover, then the high frequencies will sound harder and less balanced with the mid range frequencies. We recommend to use the cover for cosmetic and sound experience reasons.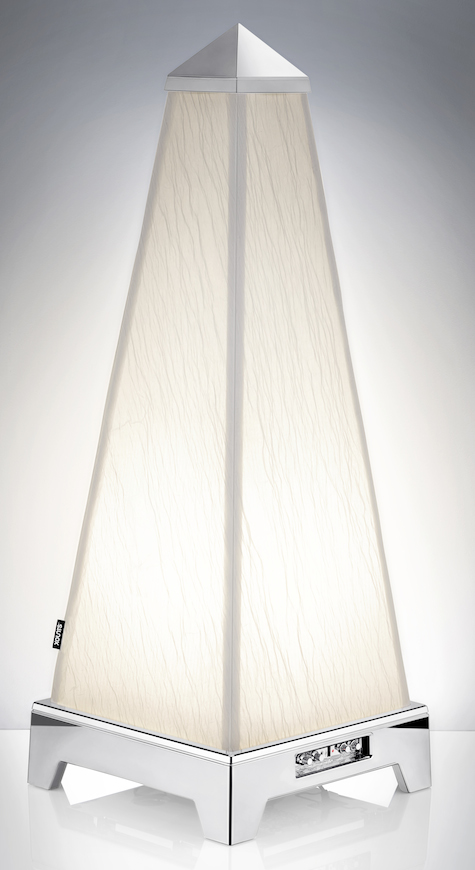 Prototype of premium silver Xounts Up
This is a new class of product from a classy new company. Early bird purchasers can pre-order from the active Kickstarter campaign that has already surpassed its goal. Once full production is underway the pricing goes up. Pre-order your Xounts Up today. You will be delighted with its sound and light show.
Video installation link (essential)
Independent unboxing and setup link (hilarious)
Thorough FAQ at bottom of this page