iRig Mic Studio
IK Multimedia
$180 U.S.
Available in black or silver
Full manual PDF is here ikdownloads.com/irigmicstudio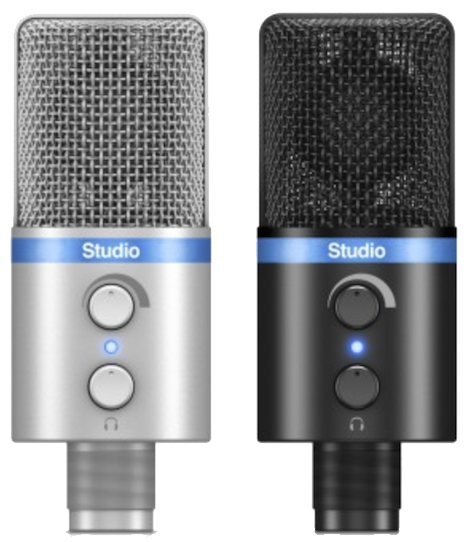 iRig Mic Studio is the best portable studio quality microphone we've used at MyMac. If the price tag is a bit steep for you today, save up and buy it tomorrow. This go-everywhere microphone works perfectly with a Macintosh via an included USB input cable. Even better — it works beautifully with your iPad and iPhone via an included Lightning cable and the audio input app of your choice.
Twisted Wave is a personal favorite, and IK Multimedia offers several other audio input apps. They provided the full version of VocaLive that I will be learning to use soon for a follow-up article. It's a pro-level interface and processor for iOS.
I completed several test recordings for podcast segments. Links are provided at the end of this review. Voice and instrument quality are superb, with surprisingly little quiet-to-loud dynamic difference or noticeable compression. Input volume is adjusted with a small turn knob on the front that is above an even smaller knob for headphone monitoring. Colored LED indicators provide immediate response as the input varies from soft to overpowering, and almost everything sounds excellent within an extensive range.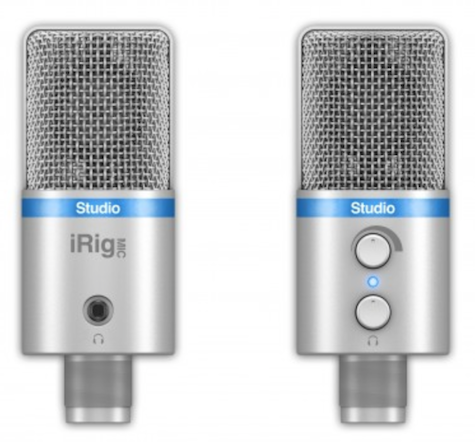 All necessary cables are included, as is a versatile tripod stand and a dust cover sheath. There is no pop filter or screen, but you won't need one for most situations unless you speak or sing super close to the front of the mic. Written instructions are generic diagrams that are easy to understand. The full manual is clearly written and fully informative.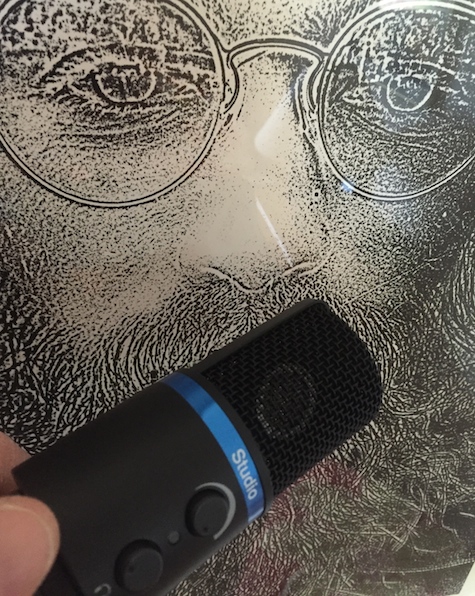 See my thumb? This mic is small, but is versatile and excellent.
Without using a pop filter, optimum distance from mouth to mic is just under 12 inches. Do a couple of test recordings to determine your personal volume and presence, and stay in front of the microphone, because it is directional. Don't worry too much about ambient noise, because most of it will not be a problem.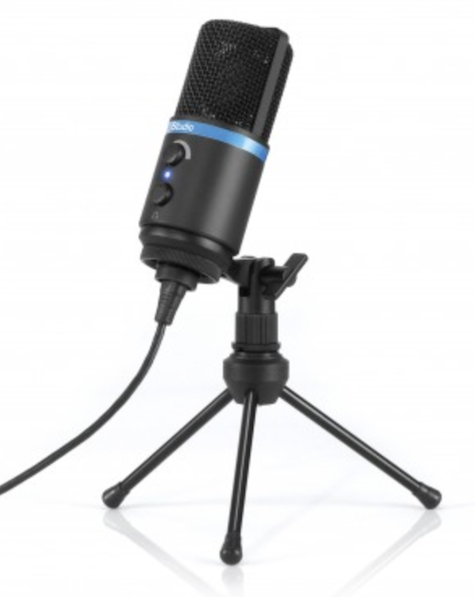 Being a professional microphone means you will take good care of your iRig Mic Studio and protect it with a case or cover that is thicker and more sturdy than the sheath provided by the company. For this price they should have included a padded tote sack or similar.
Do a web search for iric mic studio review and you will read and view the praise by other reviewers.
MyMac Review Rating is 9 out of 10.
First sample Nemo audio track, made using a MacPro tower and Audio Hijack Pro
Second sample Nemo audio track, made using a MacBook Pro and Audio Hijack Pro
Third sample Nemo audio track, using an iPad and Twisted Wave
Fourth sample Nemo audio track, using an iPad and Twisted Wave