Manufacturer: 1MORE USA
Price: $99.99 US dollars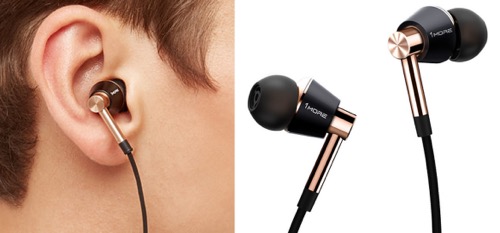 Have you watched in horror as the average price of high-end headphones has spiraled upwards? Prepare to be astounded! A new name, in the USA at least, 1MORE has come to the rescue. They do say they have sold 20 million units in three years in China. They now offer in the USA a pair of three-driver high quality in-ear headphone buds at an outstanding price that will not require you to take out a second mortgage on your home. "Aha", we hear you murmur, "I can see the price tag, but will I be able to hear the value for money?" We share your skepticism: read on to find out what we discovered after using the 1MORE Triple Driver In-Ear Headphones (referred to as 1MORE Triples hereafter) over several weeks of intensive listening.
Let us start at the beginning. The package arrived as an elegant book-form box with a magnetic latch. The earphones immediately caught our eye with their stylish form and color. Four smaller boxes were included within the package. Without disrespecting those YouTube unboxing videos you may have seen, we do not usually dwell on how the product is presented. This packaging was something remarkable. The four boxes held a minimalist gatefold instruction card, a neat carrying case, an additional connector and clip, and a pack of tips. The whole package is beautifully presented in the same way we have come to expect from our favorite computer manufacturer.


An elegant and comprehensive package for the 1MORE Triples
To our amazement, an additional eight pairs of ear tip in two types and seven sizes is included! Those numbers are not a typos: you can count them for yourself in the top picture. At last, a manufacturer has not only acknowledged that it doesn't matter how technically advanced earbud engineering and performance might be, if the buds don't fit properly then all else is in vain, but has done something to address the issue. If you can't find a fit from this range, you probably need to have a custom-made fitment manufactured by a qualified audiologist.
Some more attention to detail that impressed us was the quality of the cabling and retainers. They say that one never gets a second chance to make a first impression. We were trying to curb our enthusiasm at this point, fearful that our judgement for the all-important listening test might be affected.
The headphones sounded so good right out of the box that we thought we had been bedazzled. Not so. After several weeks of intensive listening we were unable to find anything other than good things to say about the 1MORE Triples. That "we" is not a reviewing conceit. Several users were invited to try the headphones and all agreed that the listening experience was faultless. Anyone with an experience of the price of this level of equipment was astounded that such quality came at such a low price.
If you are a technophile you can go to the 1MORE Triples webpage and check out the construction. Externally, the fit and finish was beyond criticism. The sound they produce is a testament to their advanced design and engineering internally with matching build quality.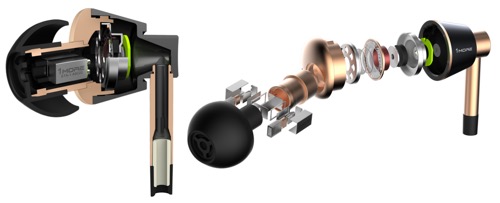 Cross section and exploded views of the 1MORE Triples for techophiles
We invited an audiologist, Dr. Richard Luekenga, Au.D., CCC-A, F-AAA, from Hearing & Balance Doctors (hearingdoctors.net) to try the 1MORE Triples. Audiologists are generally more concerned with what is called the 'speech banana' and hearing loss, but Dr. Luekenga has an enthusiasm for listening to music, too. He also likes to listen while he exercises. Interestingly, he works with clients whose hearing is unimpaired, such as professional musicians who need hearing devices for enhancement and protection.
Dr. Luekenga and his assistant, Michael Reed, a certified Audiology Assistant, were impressed by the sound quality of the 1MORE Triples, comparing them favorably with the specialist items at three times the price that they use with bespoke ear moldings to make devices for stage and concert work. Both testers loved the fit. They especially the comfort level and ambient noise exclusion achieved with the foam buds. They also found them comfortable for extended periods when exercising.
We also conducted blind tests. This is the only way to achieve an objective assessment. Hearing itself is subjective enough, but if factors like brand name recognition, physical appearance, and price awareness in either direction, are allowed to intrude then the user responses become meaningless. The results were unequivocally consistent: the 1MORE Triples were always rated best in any price bracket.
How do these headphones rate when trying to punch above their weight against more expensive headphones? That's when, even in blind testing, the subjective listening experience begins to take effect. The bad news is that if you just paid over $300 for some premium brand headphones then you may wish you had tried the 1MORE Triples before splashing out.
The 1MORE Triples were remarkably neutral across a range of sample tracks. When Debbie Harry sings, "Oh, you know her, 'Miss Groupie Supreme' / Yeah, you know her, 'Vera Vogue' on parade" in the song 'Rip Her to Shreds' on Blondie's 1976 eponymous first album, every word is clear, which many headphones struggle to accomplish. On the track 'Spanish Harlem' by Rebecca Pidgeon from a Chesky audiophile compilation, every noise can be precisely located on the sound stage. In delicate piano pieces from 'Beethoven-Five Piano Concertos' played by Alfred Brendel, the notes drop like pebbles into a pellucid pool. That's as far as we are prepared to go with the purple prose. The handling of a full-on symphony orchestra, checked with several versions of the 'Brandenburg Concertos', was equally satisfactory. Nothing seemed to be outside the capabilities of these earphones.
The 1MORE Triples include an inline controller. It is iPhone compatible for calls in and out. It can also be used to switch tracks and manage volume for playing music on your mobile device. The only feature we can think to nitpick would be to have swappable cabling configurations for different environments, but at the asking price that would be asking too much.
From muscular and robust sounds to slender and delicate sounds, the 1MORE Triples handled a wide range of audio with aplomb. Everybody hears things differently, but we are sure you will not be disappointed. Finally, as previously mentioned, there is that price: $99.99 is astounding and might be expected to shake up the whole market sector.
MyMac Review Rating: rare perfect 10 out of 10
Editor's Note: 1More also makes very good Dual Driver In-Ear Headphones that sell for $69.99 in the USA. We tested them in addition to the 1More Triples that Ian praised above. For a $30 difference, we recommend that budget-wise listeners pay for the superior Triples. They have no equal in this price range.