This review will look at some photography books that were released in 2015. This article presents nine books covering different photography related topics. The first five books are about how to take great pictures for different types of photography. The remaining books are related to post processing using Adobe Photoshop Lightroom and Adobe Photoshop. In this list you'll find some interesting reading to improve your photography skills.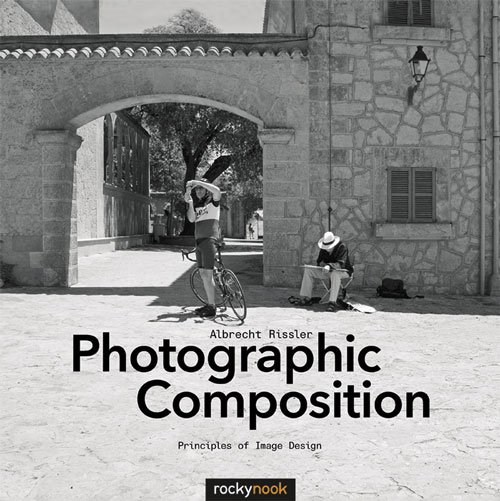 Photographic Composition Principles of Image Design
ISBN: 978-1-937538-56-9, 184 pages
Price: $39.95
Author: Albrecht Rissler
Publisher: Rocky Nook
This book is mostly made of black and white pictures with short descriptive explanations to help the reader create good compositions. It is well known that black and white images help emphasize the image composition by not distracting the eyes with bright colors. The author explains in short paragraphs how a change of perspective can enhance an image composition. He describes a lot of concepts of image composition, such as invisible lines (threes, mountain top, clouds), lights and shadows, cropping, contrast, sharpness and blur, texture, perspective (eyes view, top view, bottom view) and fixing action in time. I really appreciate this kind of book as it is timeless: composition of an image is always going to be an important component in photography and art.
MyMac Review Rating: 9 out of 10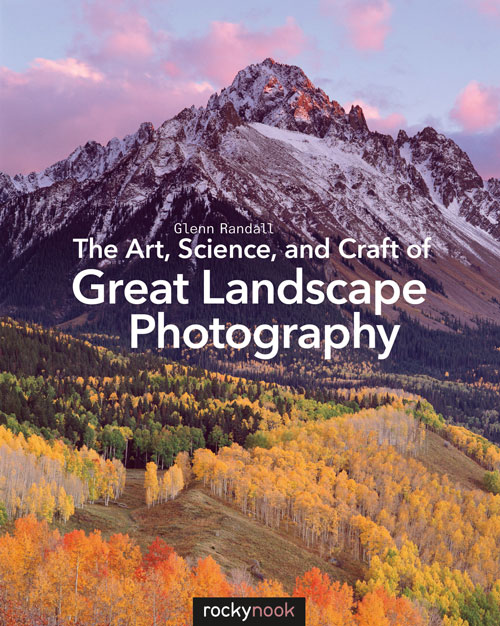 The Art, Science, and Craft of Great Landscape Photography
ISBN: 978-1-937538-47-7, 240 pages
Price: $39.95
Author: Glenn Randall
Publisher: Rocky Nook
My favorite type of photography is landscape and nature. While this may seem easy to do, it is not that easy to translate what our eyes see in real life to an image taken with a digital camera. The author made this fact clear in Chapter 1 of his book by giving seven facts that explain why. The book is worth buying just for that first chapter. The reminder of the book talks about many aspects on capturing images of beautiful landscapes. Going from exposure and light to how techniques like HDR and panoramas can help enhance the final image, the reader will acquire useful information for taking great outdoor pictures.
MyMac Review Rating: 9 out of 10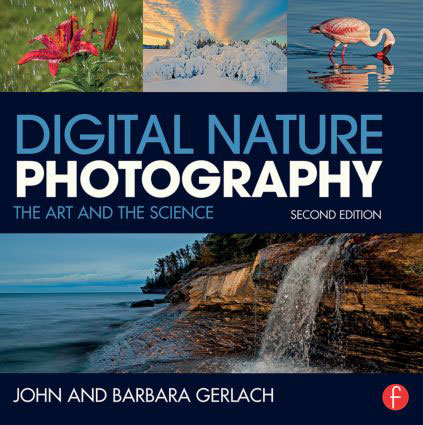 Digital Nature Photography, The Art and the Science, second edition
ISBN: 978-0-415-74242-9, 220 pages
Price: $34.95
Authors: John and Barbara Gerlach
Publisher: Focal Press
This book will guide you more specifically on the techniques required to master digital nature photography. The first few chapters will teach you which camera, accessories, and lenses you should buy and the reasons why. The book then goes into details on what you should know to make good pictures: mastering exposure, using HDR, mastering natural light and flashes, plus macro photography; and a chapter talks about the tilt/shift lenses. One chapter is dedicated to image composition and another on photography of the night sky. In the last chapter, the authors tell us about their business over the last 30 years and the software they use now, without going into details on their post processing tasks. I think this book is a good complement to the previous ones in this review. It is well illustrated and shows some great pictures taken by the authors themselves.
MyMac Review Rating: 8 out of 10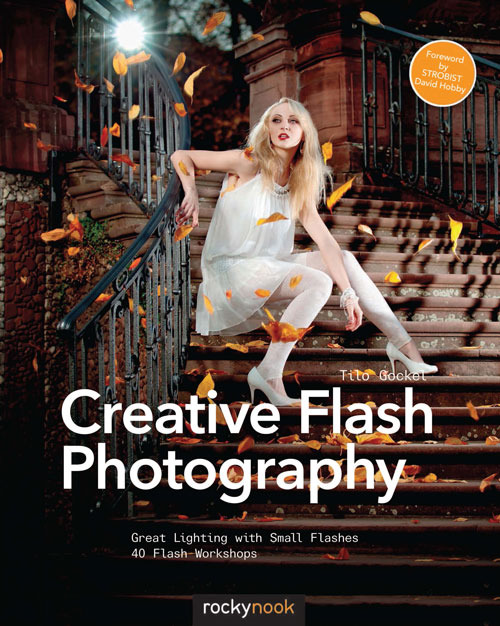 Creative Flash Photography
ISBN: 978-1-937538-46-0, 304 pages
Price: $44.95
Author: Tilo Gockel
Publisher: Rocky Nook
Photography is all about light. All photographers would like to have the best studio lighting equipment to make the best pictures. But how much do you really need to invest in lighting gear to make great pictures? Maybe not so much. That's where the book Creative Flash Photography will help you. The first chapter is all about basic flash theory, and affordable lighting gear you can buy to enhance your pictures. The chapter is relatively harsh, but the good thing is that it is written more as reference material for the remainder of the book. The book continues with 40 chapters on actual lightning workshops divided in five main sections: portrait, macro photography, product shot, food, and high speed flash (capturing movement). All workshops have a lighting diagram helping the reader understand how the shot was made, and some have a Photoshop guide on how to process the image. The author is using Canon gear, and makes reference to Nikon occasionally, but he mentions in the foreword that once you go manual, all techniques will apply to any gear you are using.
MyMac Review Rating: 9 out of 10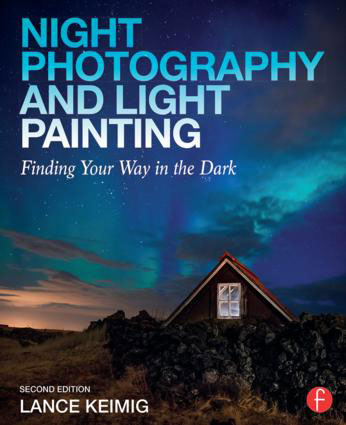 Night Photography and Light Painting, second edition
ISBN: 9780-415-71898-1, 248 pages
Price: $34.95
Author: Lance Keimig
Publisher: Focal Press
Doing photography with limited light is one of the most difficult tasks. The techniques for that type of photography are quite difficult to master. This book is divided in two main sections. It begins with the basic requirements, such as the equipment and concepts you need to understand low light photography. The second section is all about the types of night photography possible, including light painting and a chapter on post processing. The book is very difficult to read, as it is very technical, and I would consider it for intermediate to advanced shooters. I consider myself as intermediate, and still it was a tough read. If you have little experience in photography it may not be the right book to start with. On the other side, if you're serious about low light photography, you'll certainly find enough details, formulas, tables, and techniques to satisfy your appetite. And you'll see some very nice night pictures throughout the book.
MyMac Review Rating: 8 out of 10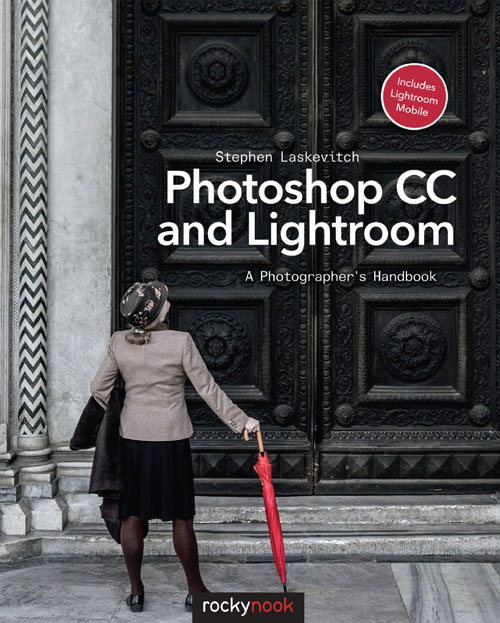 Photoshop CC and Lightroom: A Photographer's Handbook
ISBN: 978-1-937538-58-3, 344 pages
Price: $44.95
Author: Stephen Laskevitch
Publisher: Rocky Nook
If you know someone new at photography that just became a member of the Adobe Photography Creative Cloud program, that person may require a quick start guide to both Photoshop and Lightroom. Photoshop CC and Lightroom: A Photographer's Handbook may be the perfect starter book for anyone who needs to understand both Photoshop and Lightroom quickly. In the first section the book covers the basics of digital photography and initiates the reader to the software's interfaces. In the second section it goes deeper into the general workflow of importing and organizing images, retouching and making adjustments, while the last two chapters cover some creative editing and how to deliver your final images digitally (email, web, slideshow) or in print. For beginners, this book is a great reference to have; while it is less appealing for advanced users, it can be a good general reference book. It could also be used as a beginner class for teaching digital photography. The book is also very well illustrated and easy to read.
MyMac Review Rating: 7 out of 10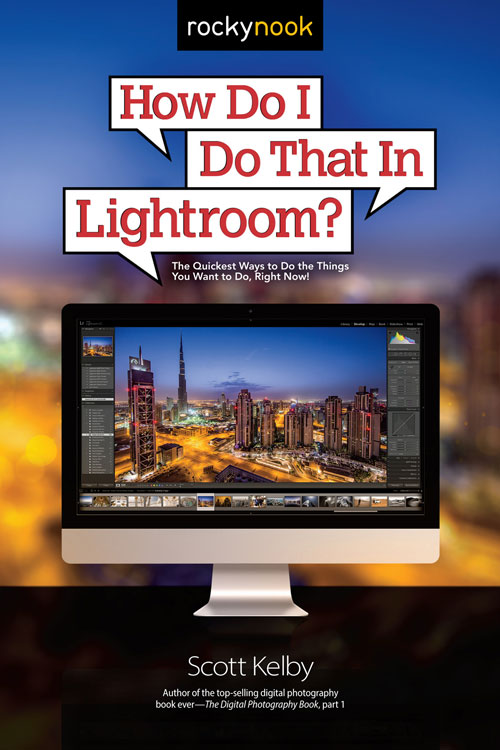 How Do I Do That In Lightroom?
ISBN: 978-1-937538-93-4, 272 pages
Price: $29.95
Author: Scott Kelby
Publisher: Rocky Nook
This book is unique in its genre. It's not the kind of book you'll typically read from cover to cover, but you'll use as a reference as you work with Lightroom. The concept of the book is simple: If you ask yourself how to do something in Lightroom, look at the Table of Contents and search for a question that's close to what you're trying to accomplish and head to that page. The book is classified in chapters in which many questions related to one topic are regrouped. For instance, you have one chapter on importing images into Lightroom, another one on organization, then one on presets, editing, using brushes, printing, creating slideshows, and photo books. It covers pretty much every aspect of Lightroom and is highly recommended if you use the software as your main editing tool. I have reviewed the PDF version of this book, and I think it is the version you should buy as it makes it more efficient to search and carry on your portable computer or tablet.
MyMac Review Rating: 9 out of 10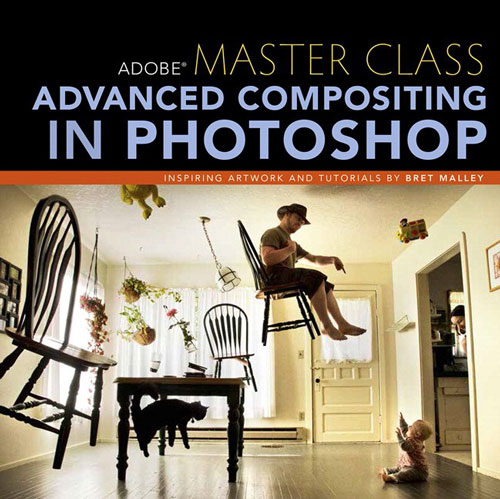 Adobe Master Class: Advanced Compositing in Photoshop
ISBN: 978-0-321-98630-6, 360 pages
Price: $49.99
Author: Bret Malley
Publisher: Peachpit
This book is about Photoshop compositing. The book is divided in three major sections. The BASICS section will teach you the tools you need to do compositing in Photoshop. Then section II, TUTORIALS, goes into some examples on how to prepare your shoot and do compositions in Photoshop. The last section, INSPIRATION, goes deeper into specific tutorials to show you the author's process into compositing. The end of each chapter of the INSPIRATION section concludes with an interview with an artist that inspired the author in his work. All documents and images used in the book are available for download online, so you can follow the instructions as you read the book.
MyMac Review Rating: 9 out of 10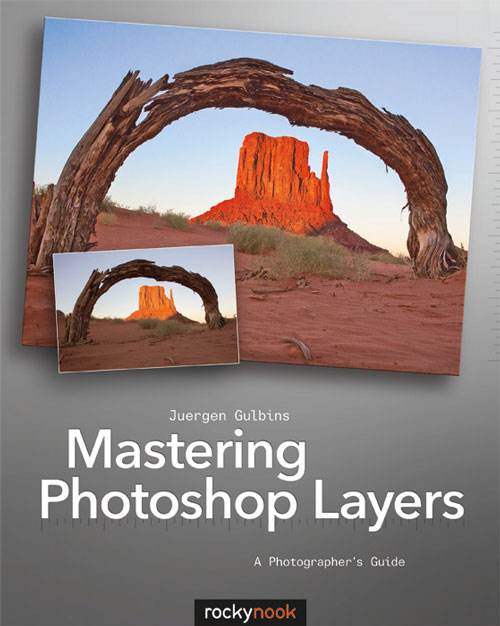 Mastering Photoshop Layers: A Photographer's Guide (PDF version)
ISBN: 978-1-937538-27-9, 300 pages
Price: $44.95
Author: Juergen Gulbins
Publisher: Rocky Nook
In Photoshop, the layers are the most important tool a user must know. But mastering all you can do with layers may be difficult. This book covers every aspect of Photoshop layers, such as adjustment layers, layer mask, blending modes, smart object and smart filters, layer styles, and how to organize your layers. It is a very complete book and is well illustrated to make the reader understand the power you can harvest from the tools. The book is aimed mainly to photographers who want to enhance their pictures, but is also a good reference book for those who are looking at doing compositing of images.
MyMac Review Rating: 9 out of 10