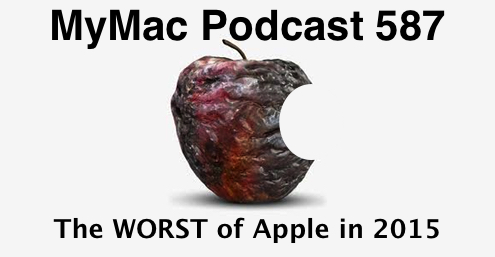 Don't you just get tired of those "Best of" shows? Well the GMen decide to turn that around and instead talk about the worst from Apple in 2015. Boy, talk about the pot calling the kettle black!
Download the show here
RSS Feed for your podcast app
Subscribe in iTunes
Links:
Guy's App Pick: Templates for Pages by Nobody $4.99
Gaz's App Pick: Piano Tiles 2 (Don't Tap The White Tile 2) Free some in App purchases but so far we haven't needed them.
People's Pick: Erick Diaz Not so much a pick, but a tip for those who have the iPhone 6S or 6S Plus. Inside any app, including the phone app while in a call, if you Force Touch the left side of the phone, and slide to the right, it invokes the app switcher. If Apple can, as I've seen in some patents, integrate the Touch ID sensor to the screen, the home button might be a thing of the past. Cool feature that I found today. Keep up the…whatever it is you call this thing you do.
Contact / Follow Us:
Guy@mymac.com
MacParrot on Twitter
Gaz@mymac.com
GazMaz on Twitter
GuyandGaz on Twitter
Feedback@mymac.com
Skype +1 Area code  703-436-9501