FlexiShield Gel Case for iPad Pro
Manufacturer: Olixar
Price: $15.49 plus $2.99 shipping
More info here

The new iPad Pro is big, thin, and slippery. I've owned mine for a month so far and have had several heart-stopping Oops! moments while nearly dropping it. Since discovering the FlexiShield iPad Pro Gel Case by Olixar, I'm breathing easier.
The material is a clear and gel-like plastic, not brittle acrylic. Putting it on the iPad Pro requires a bit of stretch but once it's in place it nearly disappears. The soft grippiness makes it a comfort to hold and lessens my worries about damage from the Pro slipping out of my hands. As with many iPhone and iPad cases, the bezel on the front extends just enough so that the screen doesn't touch the table if it's placed face-down.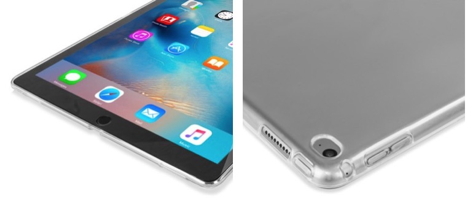 There are cutouts for all ports, buttons, and the camera lens. Because the case is thin, it  adds no appreciable weight to the Pro. The price is surprisingly modest. There are equivalent iPhone cases that are at least twice this price.
If you are uncomfortable about the bulk of a full coverage, wrap-around case for your iPad Pro but want sufficient protection, this cover is a great choice.
MyMac Review rating is 10 out of 10
(For our UK readers, this case is available here: MobileFun UK )