Beep Dial Wi-Fi Streaming Music Player – User Report Review
$100Â 
Amazon U.S. link (limited availability as of publication)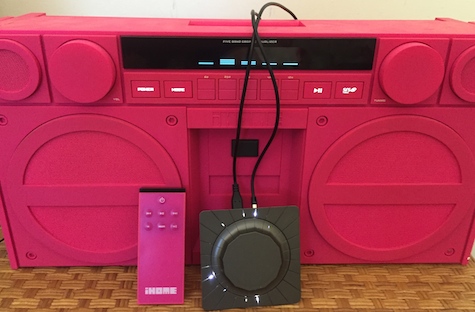 Beep Dial is shown lower center
Beep is a small Wi-Fi music player that connects to any speaker system and lets you cast music from your phone. That is the official description, humble and understated. In actual use, Beep Dial, a new company's initial product, is the most innovative wireless audio iOS streaming invention in 2015, with the best dancing demo video. Beep Dials are assembled in San Francisco.
Your playback speaker can be battery or AC plug powered, but Beep Dial needs to be plugged into AC power. Beep Dial sets up its own Wi-Fi network, and receives your iPhone/iPad/iPod touch audio signal using a custom free Beep iOS app than can be configured several different ways.
Written instructions are skimpy, but there is an efficient Beep Setup Wizard that walks users through the process of preparing new playback units. Once installed, the Beep Dial can work with any speaker in any room, playing music with a huge wireless range.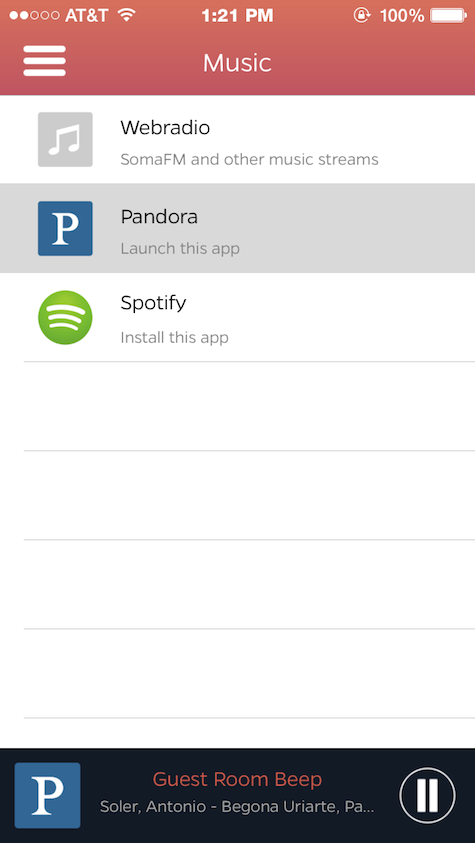 Pandora and Spotify are the two major streaming services that are included now within the Beep app. This limited offering capability is a new trend within the custom audio industry; companies want to nurture these close relationships for optimum control of content and quality.
Your Pandora tracks never sounded this good before. A 24-bit Wolfson DAC (Digital-to-Analog Converter) is part of the Beep Dial experience. I have been playing classical music all afternoon, and my little house sounds like a concert hall. I have paid good money to hear live music that didn't sound as good as does Pandora + Beep Dial + iHome Audio iP4.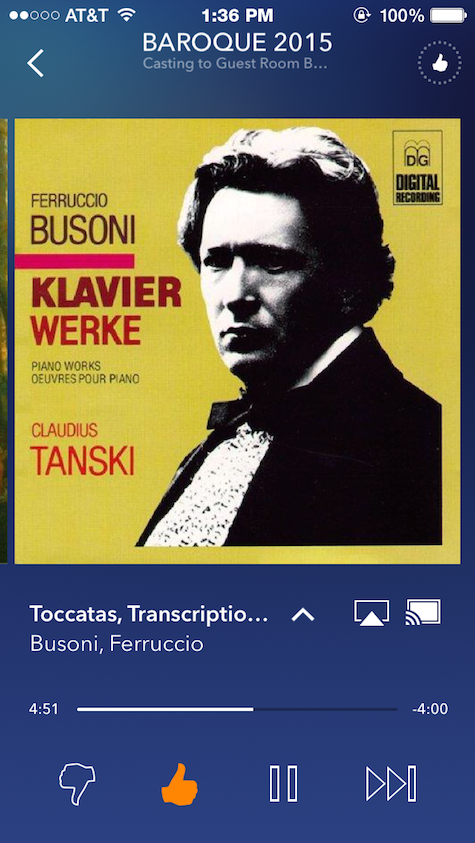 Beep Dial is available in either copper or silver-gray. The attractive dial sparkles and flashes when in use and when being dialed for up or down volume, plus when creating a network connection.
Online support is available, including a helpful FAQ. There are not many Internet articles yet from users or reviewers with Beep Dial experience, because this product is so new.
Three audio interface ports are included on the rear of the Beep Dial. Most people will use either standard audio mini-plug or RCA ports, the first of which is included. Audiophiles can choose optical digital audio, which maintains a fully digital sonic experience. In other words, wow! All three types of signal produce excellent results, so you are not to worry if all you have available is a consumer speaker with the mini-plug. It will sound great.
Beep's company representative has been detailed in her explanation of what Beep is and why it is superior, including the following information:
Beep Dial works with any speaker with an AUX or optical input. Use the speaker or audio system you already have. Beep Dial retrofits your existing speakers, connecting them to Wi-Fi for synchronized multi-room playback. You control Beep from directly within the music apps on your phone.
Beep doesn't need to be hooked up to speakers that are plugged in. Beep itself needs to be plugged into a power outlet, but it can be connected to battery powered speakers (this is how I actually use two of the Beeps in my house).
To set up your Beeps go to setup.thisisbeep.com and follow the links to download the Beep app, which will walk you through our simple setup process. Make sure your network meets the following two requirements: 2.4GHz Wi-Fi frequency and WPA or WPA2 encryption protocol (Beep does not currently support WEP). Additionally, if you have any range extenders in your home, all the Beeps will need to be connect to the same SSID in order to synchronize.
Tap our dedicated cast icon in Pandora or Spotify to play your music throughout your home, office, lab, school, patio, or other location within Wi-Fi range of the Beep Dial. You can play, pause, skip tracks, and adjust volume directly from the Beep dial. More on how to use the dial is here.
Compared to Bluetooth streaming, Beep has much greater range in your home, with better battery performance. Beep can stream music to wherever your Wi-Fi reaches. Beep has no "pairing" to deal with. You just connect Beep to your Wi-Fi network once, and you never have to connect it again.
Beep streams music directly from the music services, rather than receiving the music from your device. That means you can use any phone or tablet connected to your Wi-Fi network as a controller, no matter who started the music. It also means a phone call won't interrupt your music. You can keep using your phone as a phone, and your phone battery won't get drained as the music plays.
We play the high quality streams that the streaming services send us. We provide the pure digital stream, and also use a 24-bit DAC. The signal to noise ratio on our audio output is 102dB. We've spent a lot of time on audio quality and we don't think that anyone will be able to perceive a difference between the different interface port options, but still wanted to make it available. In my real world experiences with Beep, I don't notice any difference in sound quality between RCA, AUX, and Optical.
One of the best parts about Beep (especially if comparing it to Sonos), is that we are directly integrated into both Spotify and Pandora's applications. So after setup, you don't need our app to play music. You can just go directly into the streaming service of your choice and connect/cast from there. That also means that any of your friends with these apps who are on your Wi-Fi network can do the same from their phones/apps. Beep works on Android as well as iOS.
---
MyMac Review Rating is 9 out 10, with a personal Nemo music lovers recommendation.