Stilo fine-tip stylus
Manufacturer: Stilo
MSRP: $69.99
Stilopen

I usually feel like I'm all thumbs when drawing on my iPad with a stylus. The tips are either soft and mushy or made of odd materials such as wire, hinged plastic, rubber, or even bristles. None are accurate enough for me. The new Stilo fine-tip stylus addresses these shortcomings.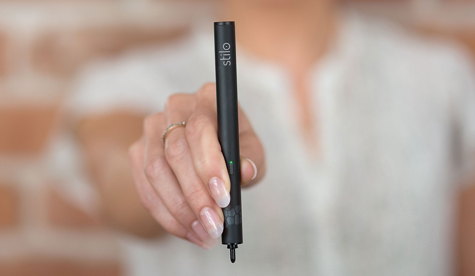 The Stilo is 5-1/2 inches (14cm) long and is 1/2 inch (12.7mm) in diameter. The distinguishing feature of this pen is its firm, remarkably fine, 1.9mm tip. If you've been frustrated with a blunt, rubbery-tipped stylus, you'll be impressed with the Stilo's fine, responsive tip. The drawing below is one-inch wide in the corner of an iPad Mini screen. You can't do that with a big, blunt stylus.

Stilo is powered by a single replaceable AAA battery that provides up to ten hours of continuous use. Insert the battery, turn it on and you're in business. A tiny LED indicates power. No pairing, no Bluetooth, just grab and go. The pen shuts itself off if it is unused for ten minutes. It has a small protective cap for the tip and is available in both a black and a white version.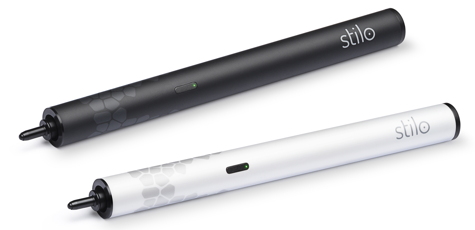 The Stilo pen works with almost all capacitive touch screens and will work with most screen protectors, even glass ones. The tip can be rotated to increase or decrease its sensitivity. Some screen protectors may require extra sensitivity and the pen can be adjusted to accommodate that.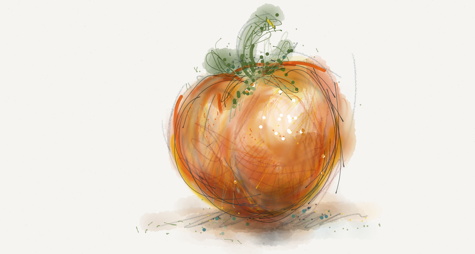 A small whine: Creatives often complain about writing or drawing tools that are cylindrical. These tend to roll around your work surface and can even roll off your desk. If the battery cap on the top of the Stilo was hexagonal, the pen wouldn't roll away. It would also make the cap easier to unscrew when replacing the battery. Many writing instruments have pocket clips on them. They are almost never used for their intended purpose, the clips are there because they keep the pen from rolling.
Stilo also makes a Precision Film for iPads (4th Gen, Air, Air 2, Mini 2 and 3) as well as for Samsung Galaxies and the Nexus 6 or 9.  All sizes are $19.99. The slightly grippy, plastic film surface provides friction that simulates the feel of pen or pencil on paper. Glass is slick and unforgiving, but I prefer it to an overlay of film. When using my fingers for gestures without the stylus, the plasticky surface of the film doesn't feel right to me. This is entirely a personal preference. If you are already accustomed to screen protectors, this may not be a concern.
The Stilo is a well-made stylus whose specialty is accuracy. It is not pressure-sensitive. You'll enjoy taking detailed notes and sketching small diagrams with this stylus' fine tip. Drawing is satisfying fun because of its responsiveness and near-zero latency.
MyMac Review rating for the Stilo pen is 9 out of 10.
Due to my personal preferences, I can only rate the Precision Film 7 out of 10.