olloCase for iPhone 6/6Plus
Manufacturer: olloclip
MSRP: Both sizes are $29.99
olloCase
The new olloclip lenses for the iPhone 6 and 6 Plus are superb. See MyMac's Macro 3-in-1 lens review and the 4-in-1 review. If you use a case on your iPhone, it must be removed before sliding the lenses into place. Good news for olloclip fans—a new olloCase is just being introduced in two colors (gray and black) and two sizes.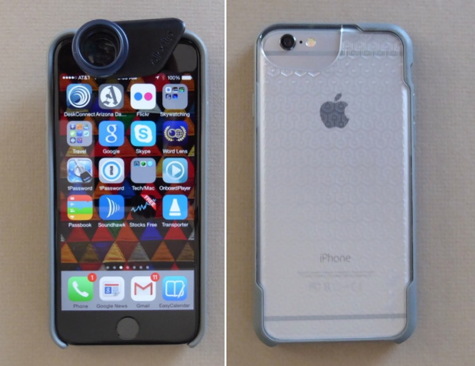 This ingenious case is carefully crafted so that the new olloclip lenses will slide on without having to remove it. You may even consider adopting this as your everyday case. It's that nice. The protective, rubberized bezel extends just enough so that it keeps the screen from touching flat surfaces when the phone is placed facedown. The plastic back is translucent so your iPhone is visible and textured so that scratches won't show.
The grippy, rubberized sides have a cutout for the Mute switch. All of the other buttons are pressed through the flexible sides. I'm usually not a fan of this method but these buttons work reliably. This is a handsome, well priced case.
I'm a little disappointed that older olloclip lenses for the iPhone 5 series do not fit on the new iPhones. This isn't olloclips' fault, Apple changes the shape and configuration of the iPhone with each iteration. When I first learned of the new olloCase I had high hopes that my older lenses would somehow work because of the new design. Unfortunately, such is not the case (pun intended).
The lens housing includes small plastic spacers that are used depending on whether you have an iPhone 6 or 6 Plus. When you use the new olloCase, this fiddly spacer is not needed at all.
olloclip made a similar case for the iPhone 5 series and this new one serves the same purpose for the iPhone 6/6 Plus. It fits securely and is very slim and tidy. If you are a fan of iPhoneography, this one's for you. The olloCase just might become your permanent case. It will be available in early June, 2015.
MyMac Review rating is 9 out of 10.