4-in-1 Lens for iPhone 6 and 6 Plus – Nemo Memo – with macro photography tips
olloclip
Price: $80 U. S.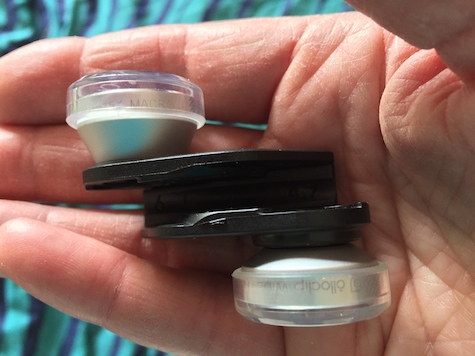 You only see two lenses mounted on the combo frame when you first open your new olloclip package. Where are the other two? Unscrew carefully the outer lens elements and you will observe the two macro lenses exposed from behind the wide angle and fisheye. The company has done a masterful job of designing one unified lens rig that easily switches between its four different focal lengths, with lenses in place simultaneously on front and rear iPhone cameras.
There are four important things you need to know before using your new olloclip 4-in-1 Lens for iPhone 6 and 6 Plus with your iPhone 6 or 6 Plus:
1. If you use a case with your iPhone, remove the case. This combo quad lens needs to fit over the physical corner of your phone for precise fit and alignment with the optics to achieve the best quality images.
2. The same quad lens rig works with both 6 and 6 Plus phones. The olloclip company provides an insert to accommodate the Plus size iPhone. Read the instructions. This product ships ready for using with an iPhone 6, not a Plus.
3. The stock lens setup, with either wide angle or fisheye, is forgiving for most photography. Choose your subject, compose with care, and achieve good results without excessive effort. Take a few photos of each scene and delete all but the best ones. You will use wide angle a hundred times more than you use the fisheye lens, because fisheye is wacky and wide angle is versatile.
4. It is not easy to compose and make good macro images using the 10x or 15x lenses. You will need to hold your phone extremely steady to achieve acceptable range of focus (or depth of field), and your subject must be completely still. An iPhone is small and is not easy to hold steady. Take many photos of each subject and prepare to delete most of them. Your successful macro pictures will be impressive, once you master this technique. Windy conditions? Go fly a kite.
Here are four more in addition to item 4 above:
a. Macro photography places you and your phone so close to your subject that you will learn to avoid the inevitable shadows you create.
b. A macro image creates a full size view of something that is ultra-tiny. Think small, smaller, smallest, and your brain and eyes will begin to appreciate the beauty in this almost-invisible world. ollo's macro lenses, especially 10x, are the gems in this set.
c. Keep careful attention to where you place the clear lens covers and the unscrewed lens elements, especially when the front lens components are removed while making macro photos.
d. If you are not yet familiar with how HDR works on your iPhone, learn pronto, and use it, especially for your ultra-closeups.
It was overcast yesterday afternoon when I made the first examples below of 4-in-1 Lens for iPhone 6 and 6 Plus. Here they are, in order: wide, fisheye, 10x, 15x, all of the same area in our desert garden raised bed. Photos are full frame without any edits or enhancements.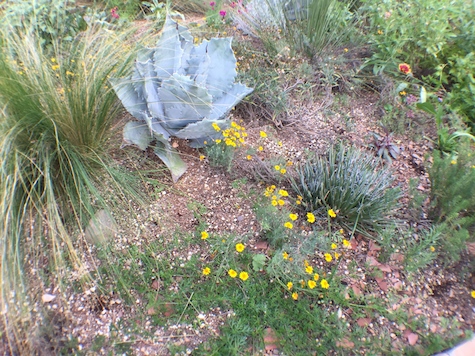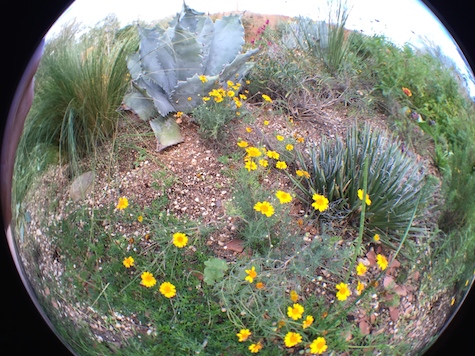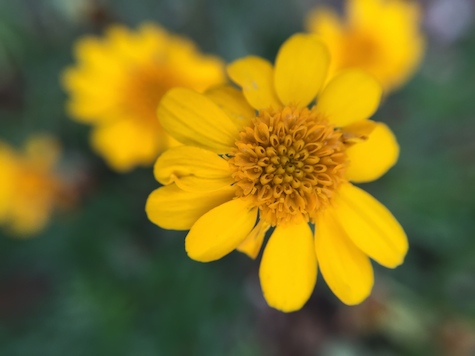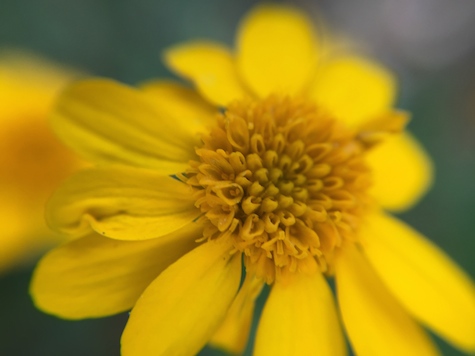 When I asked Mrs. Nemo to comment on the four images above, she said: I like the last two. The first one is not good, and the second one has some weird rounded perspective. Your two closeups are more interesting.
All olloclip photos are as clear and sharp as possible, thanks to precision glass and aluminum. The plastic lens mount rig is rugged and light weight. A soft pouch is provided to help keep your lenses free of scratches.
You can buy bargain iPhone lenses and you can purchase super-premium iPhone lenses from other companies for every recent model of iPhone. MyMac has evaluated olloclip's iPhone and iPad lenses, and we continue to recommend them for their affordability, quality construction, brilliant design, and good photographic results. This iPhone 6 quad combo is their best yet.
---
This afternoon was sunny, as you see in the first three examples below: two 10x and one 15x. Even without any breeze on the flowers, it was almost impossible to get any range of focus at 15x. Perhaps olloclip should dispense with that inconvenient focal length and include either 5x macro or x2 telephoto instead.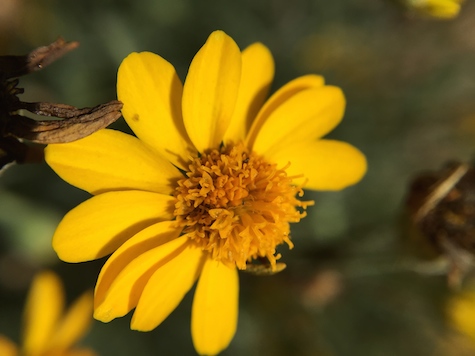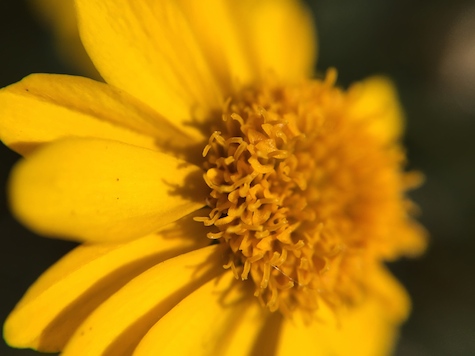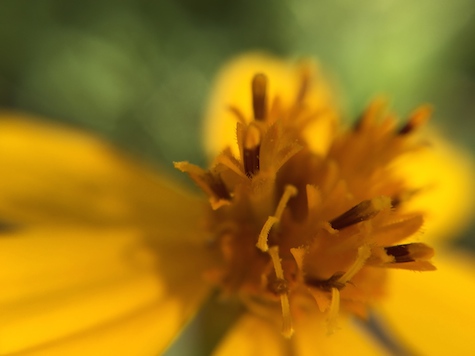 The next three photos are for your reference: one each with standard iPhone 6 lens, 10x macro, and 15x macro.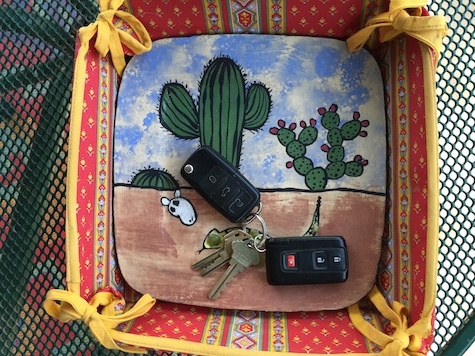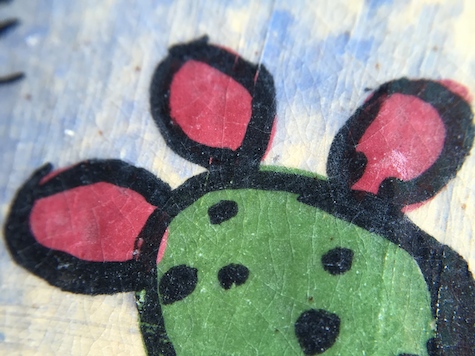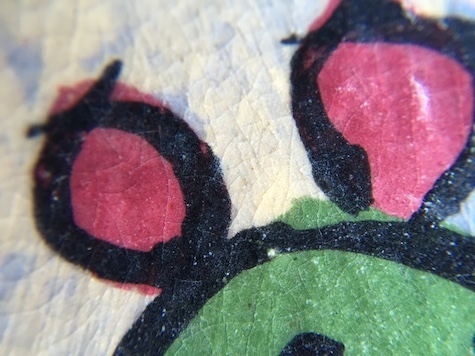 I am a very patient and steady photographer, and I know I'll use olloclip's wide angle and 10x macro often with my iPhone, but their fisheye and 15x macro are too specialized for me and most people. Aside from that, these are quality lenses from a company that is innovative. Given the choice, I prefer to use olloclip lenses with my iPad, with its large screen and overall size. (See link below.)
Enough words! Let's go make more exciting macro images. I have olloclip's 4-in-1 Lens for iPhone 6 and 6 Plus mounted and ready to go in 10x macro mode. Whoops. Where did I put that lens cover, and where did I leave my iPhone's case?
Link to our prior articles on olloclip lenses for iPad and iPhone