Macro 3-IN-1 Lens Kit for iPhone 6/6 Plus
Manufacturer: olloclip
MSRP: $69.99
Macro 3-in-1 Lens Kit
olloclip makes a wide variety of quality lenses for use on mobile phones and tablets. Their latest entry is a Macro Lens kit for the iPhone 6 and 6 Plus. With these lenses, you can magnify subjects 7x, 14x, and an astonishing 21x. Apple's obsession with creating thinner phones with each iteration requires olloclip to develop new lens kits on a regular basis. It's hard on them, but we are the beneficiaries.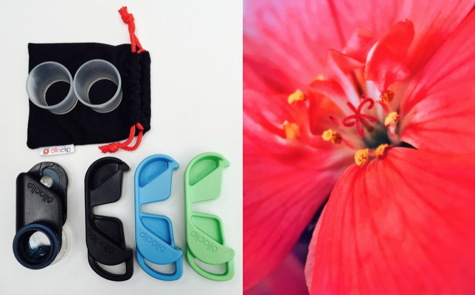 Depth-of-field is very sensitive in macro photography. At high magnifications, the slightest movement of the camera throws the subject out of focus. olloclip has engineered these new lenses to increase the depth-of-field as much as possible. Even so, the maximum is only about an eighth of an inch (3mm) at 21x magnification. I strongly suggest having your Apple earbud cable plugged into your iPhone so that pressing the Volume-up button on the cord fires the shutter without touching it.
The 21x lens is built onto the lens frame. As with other olloclip lenses, the 14x and 7x lenses involve removing one of the lens elements. Leaving both elements in place results in 14x magnification. Unscrewing the topmost element results in 7x magnification. There are clear plastic lens caps supplied. It's easiest to unscrew the 14x element with its lens cap on. This protects the small element while you are using the other lens.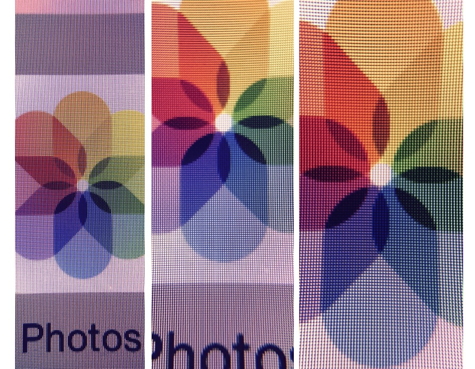 Photos of an iPad Air retina screen at 7x, 14x, and 21x magnification.
The new, thin profile of the iPhone 6 and 6 Plus, means that the lens housing is smaller than previous models. olloclip has developed a protective pendant carrier into which the lens housing snaps. This carrier has a hanging loop so that you can add the pendant to your keyring or even wear it around your neck on the included lanyard. Fashionistas can match the carrier to their wardrobe. In addition to utilitarian black, auxiliary blue and green pendants are included. I find the lens frame snaps into the pendant so tightly that separating the two is sometimes a little awkward.
These macro lenses are not only for taking photographs, they serve an additional purpose as a macroscope. The screens on the iPhones are large and bright. Holding the phone with the macro lens near tiny objects magnifies them filling your screen. You can use these lenses as you would a jeweler's loupe with full color clarity.
The coated glass optics with their turned aluminum barrels are machined with accuracy. olloclip includes two frosted InstaFocus diffuser hoods that fit over the lenses at the precise focal length to photograph flat surfaces. Taking photos with these hoods puts them in perfect focus. There is some minor pincushion distortion at maximum magnification but that is nearly unavoidable. The effect is only obvious when the subject is geometric.
I'm a fan of olloclip products and this Macro Lens Kit doesn't disappoint. The lenses are excellent and the images they produce are bright and pinpoint sharp. Lens kits often involve many small easy-to-lose parts. olloclip designed the lenses and frame so that they clip into its pendant resulting in a tidy one-piece package. As usual, olloclip includes a tiny drawstring bag for the two InstaFocus hoods. They are the only extraneous parts and can be left in your camera bag as they are not needed for most subjects.
MyMac Review rating is 9 out of 10