OWC Mercury Pro External Blu Ray Burner
Manufacturer:Â OWC
MSRP $167.99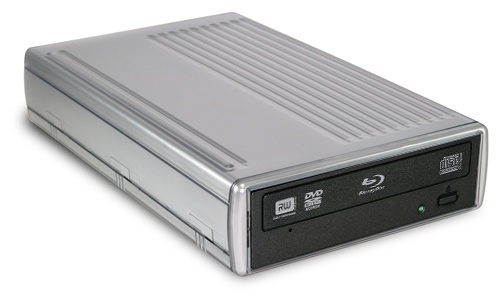 Physical media is dead, right? Well, I think we should just wait a moment here. There are still tons of great uses for physical media today. One of the best I can think of is for backing up. However, with today's large files CDs and DVDs don't hold enough data. It's now time to think about Blu-ray. Blu-ray may conjure up thoughts of the latest Hollywood films, but you can fit quite a few gigabytes on a Blu-ray disc.
These days, thanks to the shrinking size of MacBooks and iMacs Apple has decided to forego optical drives altogether. This is where OWC Mercury Pro external Blu-ray burner comes in. It works perfectly with Macs and PCs alike, and will read and write just about anything you can throw at it.
For this review, I was only able to test on a Mac as I do not personally own a PC. That being said, this drive comes supplied with every cable you ever need for both Mac and PC. Thank you! It is such a huge pet peeve of mine when the company does not include all of the cables you need to hook up your new gadget. Thankfully you need not worry about that here. OWC has you covered, even some free blank Blu-ray media is included!

The first thing you notice out-of-the-box is, this drive is big. It's going to take up a lot of space on your desk. Also, forget about traveling with it as the included power brick totally takes that option away. If you are looking for drive that you could take on the road and watch Blu-ray movies, this is not going to be your device. However, the drive seems be pretty well-built and made a quality. With an LG brand on the outside of the drive itself I feel pretty confident this drive will last for years.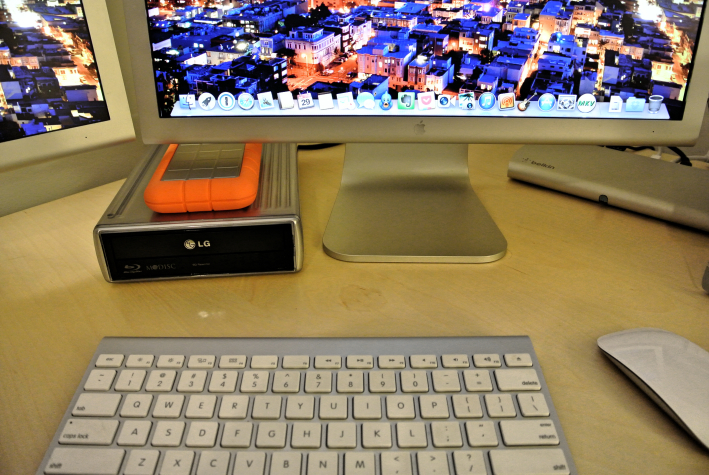 Set up with the device is as easy as you'd expect. You have options here, USB 3.0 and FireWire 800 to be exact. For my set up I found using USB much easier than FireWire. I'm using a MacBook Pro and these days Apple does not include a FireWire port. To hook up via FireWire I'd have to pull out the Thunderbolt adaptor, and who wants to do all of that?  I tried out both FireWire and USB. Let's get into some of the specifics of what I found to be the difference between the two.
Unfortunately, I wasn't able to do any scientific tests with the drive. Watching a Blu-ray is about as easy as you'd imagine. Be aware Apple has no official support for watching Blu-rays on a Mac. For this you'll need paid third party software. I was able to rip a Blu-ray and burn Blu-ray.  Doing a straight rip of a one and a half hour movie with the software MakeMKV took only around 40 minutes. The drive was reading at 15X over USB. The same task with FireWire shaved only a couple of minutes off the read time. As far as burning a Blu-ray, speed was actually quite impressive. It only took me about 13 minutes to burn 13 GB of photos from my iPhoto library using USB. When burning the same file over FireWire it took the same 13 minutes. To me, there is no real huge advantage to using FireWire. That is not a fault of the drive, as much as how good USB 3.0 is.
It seems as though burning to Blu-ray is going to be the reason you pick this device up. Having a great way to have a second backup of your important data is worth any amount of money. Sure you've got TimeMachine already doing your backing up, but you always need a second. I say your data needs to exist in three places for it to be truly safe. The drive is a great way to make a copy of your most important files and store them at a relatives house, or even a safe deposit box.
At the end of the day, the OWC Mercury Pro external Blu-ray burner does its task very well. If you're looking for a drive to read and write all types of physical media, look no further. Priced at $167 it is a tad on the expensive side. I personally tried a few others from Amazon and other places that were much cheaper than this. They all seemed extremely cheap or simply didn't work at all out-of-the-box. The ability to back up my hard drives with blu-rays that can be stored away from my house is something that I hope I will never need, but I now have the peace of mind knowing that my data is safe. That is worth more than anything to me.
MyMac Review rating is 8 out of 10.