Sound Blaster SR20 ROAR Wireless Bluetooth Speaker – Review
Company:Â Creative
Price: $150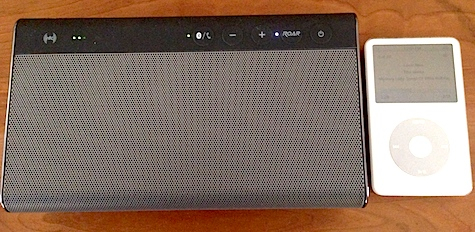 This new and remarkable portable speaker from Creative Technology changes everything. For $150, Creative Sound Blaster SR20 ROAR is the best wireless (or wired) one-piece speaker ever. It is no exaggeration to state that SR20 is comparable to a $350 or $400 speaker, with ROAR's price less than half its value and performance.
What do we really need from a high performance audio product? It must sound very good, it needs to work well, and it has to be affordable. SR20 sounds excellent, has unprecedented features and usability, and is a superb bargain.
Compared to MyMac's favorite portable compact Bluetooth speakers reviewed previously, from Braven and Soundmatters, SR20 is more than twice the size, weight, and audio volume, with far superior sonic delivery, for the same price or less. Sometimes small is beautiful, such as when traveling and miniaturization is required. There are valid reasons for every speaker purchase when they are quality products. Once you experience Creative's SR20, you will go out of your way to make this your everyday listening device.
How loud is this ROAR speaker? Loud enough to invoke a "Turn that #$%& thing down, John" shout from Mrs. Nemo, indoors or outside, whenever I nudge the volume control on my iPhone upward. Even better, there is no distortion when SR20 is playing at full capacity. It will fill an apartment or small house with sound just as it fills my patio in every direction.
Most modern speakers suffer from inconsistent sound levels across the bass-midrange-treble field. SR20 has an especially smooth sonic curve, without any excesses or gaps. Midrange and treble are particularly clear and precise. Bass is part of the total package, without any obnoxious booming that is too typical of contemporary listening equipment.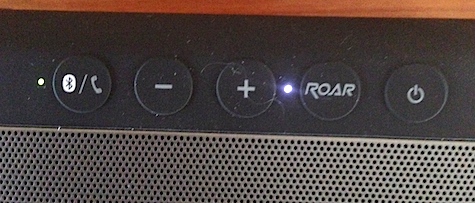 SR20 responds to equalization from the source device, such as iPhone, iPod, or iPad. Play around with different EQ values until you determine the optimum delivery for set-it-and-forget-it music enjoyment. Also try the two custom digital sound enhancement built into SR20: one for a muscular boost, and another for better bass when the music is played quietly. Both work well, and I keep them switched on permanently. Acoustic is my preferred iTunes EQ.
The physical unit has a first-rate build quality, as is necessary from a go everywhere speaker. A handy mesh carry case with strap is included. Power and USB micro charging cables are provided. Creative expects most purchasers to use Bluetooth audio with this speaker, although audio cable performance is outstanding. (USB usage with a computer will be covered in a future article, as will SR20's unique features and expansion ports.)

Spend a few minutes exploring the dedicated web site for SR20 to learn about its concept, design, and feature set. The company worked diligently to make this product a market leader, and they succeeded. Read the reviews on the Internet. I am not alone in singing its praise.
Room placement is crucial to achieving optimal listener experience with this and every speaker. Find the best table tops, walls, and corners to help this powerful unit roar. Because SR20's speakers fire in multiple directions, there is no sense of stereo separation. Thanks to the immersive experience, you won't miss it, especially at 60 to 100 percent maximum volume.
SR20's styling and design are neutrally attractive gray with silver accents. Battery duration and Bluetooth connectivity both work well. I will test speakerphone quality and report on it in a follow-up article.
Creative Sound Blaster SR20 ROAR Wireless Bluetooth Speaker is sold factory-direct with fulfillment through Amazon in the United States.
MyMac Review Rating is a rare perfect 10 out of 10.
Some external links, with additional photos: