Zabius M Mobile Gaming Headset
Manufacturer: Genius
MSRP: $49.99 (Internet price: $35.24)
Zabius M
Zabius M is a great sounding pair of earphones. They are packaged in a black box with shooting flames, acetate windows, and a red scorpion logo. Inside, the earphones have flat black and red cables with chrome accents. They are contained in a black zippered case with a metallic red carabiner. All very racy, but why the style attitude?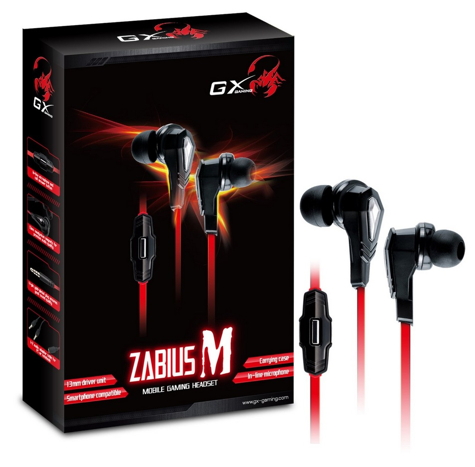 I'm puzzled by the term "Gaming" when used in marketing materials for a tech product. What exactly are Gaming Mice, Gaming Headphones, and Gaming Mousepads? I suspect that it doesn't have as much to do with performance as it does with demographics, edginess, and glitz.
Experiment with the three pairs of silicone ear canal tips until you find a comfortable fit and try out some music. At this point, you'll forget the funk and flash and hear some really good sonics. These aren't audiophile earphones, but the bass response is unexaggerated and solid while the highs are clear. The midrange doesn't have the hollowness that you sometimes hear with inexpensive headphones. Music seems to originate from the center of your head. Very impressive sound for the price.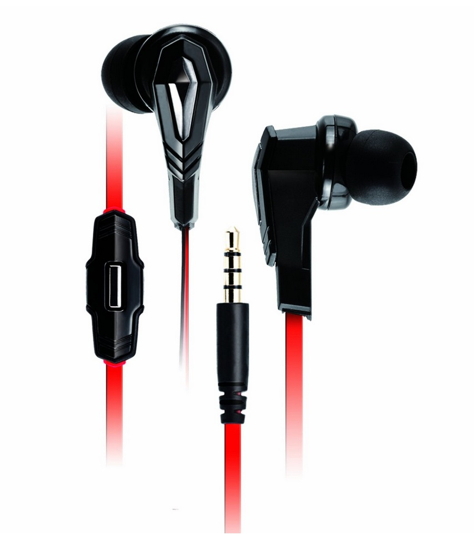 The red and black cables are flat and narrow. This is a conscious effort by some manufacturers to minimize tangling. It does the job well but introduces some scrubbing noise when the cables slide across your shirt. That's okay for most situations but at the gym or while walking, you'll hear it unless you immobilize the cables in some way. I feed them up inside my shirt.
On the right hand cable there is a single chrome button that is used to Play/Pause and also to answer a phone call. Unfortunately, there is no volume Up/Down control. The Zabius M kit includes a very nice zippered case for carrying and protecting your earphones. Inside it, there is a pocket with a Y cable for use with some PC laptops: Separate mic and headphone jacks that merge into a single 3.5mm connector for the headphones.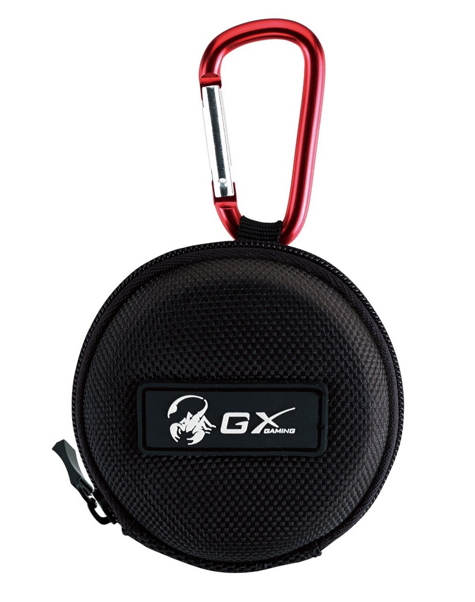 Zabius M earphones produce good sound and are comfortable to wear. The lack of a volume control on the cable is disappointing but is easily overcome. I would prefer a choice of red or black consumer styling instead of red and black gaming styling, but that's a personal preference.
MyMac Review rating is 8 out of 10.