Nakamichi BT Headphones
Model BT304
Company: Nakamichi
Price: $69.99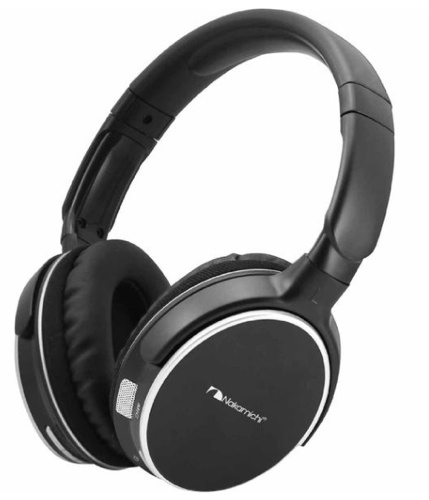 First, if you read my review of the Nakamichi Shockwave Bluetooth Speaker, you will know that Nakamichi is a manufacturer of high-end audio equipment that I loved from the 80's and 90's but had left the U.S. market a decade ago. The trio of products they have recently launched back in the U.S. are all budget priced in a very competitive and busy market. The first product I reviewed was the Bluetooth Speaker and while I liked the build quality and features, the actual audio was sub-par and left me wanting more. I feared that the second product I was to review, these Nakamichi BT Headphones, would suffer a similar fate.
Boy, was I wrong!
Look again at that price above. That's not what these actually sell for. All over the internet, as well as Sears, they usually sell between $48-55. Keep that in mind as you read the rest of this review.
My first thought, after putting my "music review" playlist on and using these headphones was "wait, they cost HOW MUCH?!"
Wow.
I am a snob when it comes to over the ear headphones. Really. My go-to headphones are a pair of AKG headphones that cost over $400, and I love them. I own a number of different headphones, and each has their ups and downs, save for the AKG's. Those are, quite honestly, perfect. But there are times when I want a pair with more punch, or a pair that is lighter and easier to go outside with. So while I love the AKG's, they are not always the best headphones for my needs. Thus, I own four different headphones.
Wait, make it five now.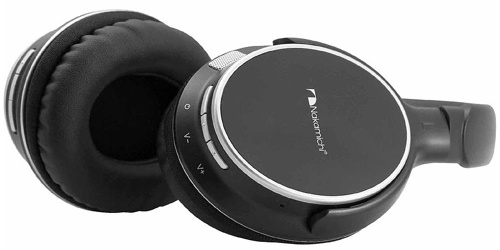 The Nakamichi BT Headphones are simply fantastic. They are over the ear, have built-in volume, forward, back, play/pause controls, as well as act as a Bluetooth headset for your phone. All of that, while great, is pretty standard stuff for most any Bluetooth headphones. Nothing original or inspiring there. Even the design, while nice, is nothing extraordinary. They are very lightweight compared to some Bluetooth (and non-bluetooth) headphones I have used, but not a big selling point. Still and all, they are very, very comfortable, and that is very important.
Really, it's the sound quality that has blown me away. I simply have a hard time believing that these headphones are as inexpensive as they are, and reproduce music as well as they do. I have $250 wired headphones that don't sound this good!
And they can be had for less than $60 online?
Why are you still reading this review. Go buy them. Now.
The audio quality is superb. Did I say that already? Wow, I'm just blown away here.
When I want to test a speaker or a headphones ability to handle a lot of noise, both in responsiveness and clarity, I put on the Foo Fighters "All my Life" and see how they do.
When I want to test separation and staging, well, you can't beat Pink Floyd, specifically "Speak To Me/Breathe", "Wish You Were Here", "Shine On You Crazy Diamond", and "On The Turning Away". (Yes, I know, I have The Wall as well, but I burned out of it years ago. Sorry.)
For Bass, I click on Dr. Dre's "Keep Their Heads Ringin'"
Mid-Range music is a rotating process, but for this review I used ELO's "Strange Magic", The Beatles "Love Me Do" and "Eleanor Rigby".
But sometimes I just want to rock out. My go to lately is "Loner" from Black Sabbath, "Back in Black" by AC/DC, and "Back in the Game" by Airbourne. (I know, you have never heard of that last one. It rocks, check it out if you like that 80's metal sound)
I know what these songs are supposed to sound like under pristine conditions. I can feel when a pair of headphones or speakers are ill equipped to handle this wide variety of music. Few can honestly do a great job with them all. I was happy that, for the most part, the Nakamichi BT Headphones did handle them all well, and did so much to my surprise.
Seriously, how much do these Nakamichi BT Headphones cost?
Wow.
The Bluetooth range is very good. I tested up to fifty feet before the audio dropped out. Pretty good! And the control buttons worked great when paired with my iPhone 5s. Hold the Power Button for a second initiates Siri on the iPhone, and the built-in Mic works well. It does take a few minutes to familiarize yourself with the placement of the buttons, and I wish that the controls were more touch responsive. Volume, for instance, seems to have a strange delay to it, as does powering it on and pairing it. Still, these are minor quibbles for the price and performance of the Nakamichi BT Headphones.
Go buy them today, and you won't feel any regret.
MyMac.com Rating: 10 out of 10