Nakamichi Shockwave Bluetooth Speaker
Model B-2
Company: Nakamichi
Price: $89.99


For those who may have listened to the TechFan Podcast #142, you would know that I have had an affinity for the Nakamichi Company for many years, dating back to the early 1980's. I was particularly fond of the Nakamichi Dragon Cassette tape players that used their UDAR technology that would spin a cassette tape around mechanically, rather than the flawed and flutter-filled auto-reverse technology every other tape player used. To me, this showed that the Nakamichi Company took audio seriously and while I was never able to afford their audio equipment back then, I was always impressed with it.
Little did I know that Nakamichi had left the US market over a decade ago and that this new Shockwave Bluetooth Speaker is one of their first products in an attempt to get back into it. While I feel that too many audio products that are made for the mobile market are cheap and tinny sounding, it is still a crowded market that a relative newcomer in the eyes of buyers faces an uphill battle.
Nakamichi Shockwave Bluetooth Speaker is a great looking speaker system. It is easy to pair with your iPhone, iPad, or really any Bluetooth player. It uses audio clues to let you know that it has established a link and paired with another Bluetooth device.
Range is great. I tested the Nakamichi Shockwave Bluetooth Speaker using an iPhone 5s from thirty feet away with no problem. I also tested it from about fifteen feet away through a drywall and it worked fine. At forty-feet, well, things didn't work out so well. And from ten feet away and on the other side of a brick wall, it also failed. I personally can't imagine walking away with my iPhone while it's playing music, so I don't see this as much of a negative. Your situation may vary, of course, for what it's worth.
The unit itself has some weight to it; a heft that many cheap speakers of this sort do not have.  The grill feels sturdy, not easy to dent or bend. The plastic has an almost-rubber feel to it; comfortable to handle but something that inexpensive plastic always lacks.
Nakamichi Shockwave Bluetooth Speaker also works as a speaker phone via Bluetooth. The audio quality is great for a speaker phone; loud, clear, and it takes no more effort to use than pairing it with your cell phone. (In my case, an iPhone) It has a built-in microphone that, I am told, sounds good on the other end.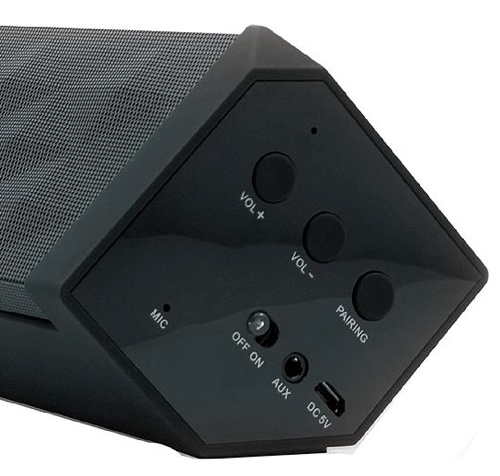 The only controls to speak of on the Speaker itself are the on/off button, the Bluetooth pairing button, and the volume control. There are also two ports; one to charge the internal battery and a line-in port for iPods that don't have Bluetooth. All these ports and controls are on one side of the speaker, which is terrific as you can then set the speaker on its side as a vertical speaker. This is actually the way I have used this most of the time. There are rubber "feet" on the underside of the speaker but I prefer to set up vertical.
Many will compare this speaker with the JAMBOX from Jawbone based on the look of the grill and the size . I have used both, and the JAMBOX has better audio quality. The JAMBOX however, at $299.95, is three times the price, so the clear winner is Nakamichi in price, if not performance.
Audio quality is far and away the most important aspect of any speaker, and while the Nakamichi Shockwave Bluetooth Speaker has decent audio quality, it does not have good or great audio quality. It is unfortunately the biggest drawback, and for some, that's all that matters in speakers. While the speaker phone, wireless, and superb build quality are all great and impressive, the audio quality tells the tale on why such an otherwise great product is priced at $89. Hollow, tinny sound with muddy bass, shrilly highs, and washed-out mid-range that terribly distort at even moderate volumes.
I am very happy to see Nakamichi re-entering the U.S. market, and happy to root for underdogs, (I am a Detroit Lions fan after all) but in a very crowded market with no name recognition, this is not a good speaker. Nakamichi was known for innovation and quality, but this product displays neither of those things. It is just another inexpensive speaker for those who don't care about audio quality, and the market is saturated with those types of speakers already.
This is Model B-2. I would strongly suggest to Nakamichi that if they want to compete, then Model B-3 addresses the terrible audio issues, raise the price to $179, and give it a go. For consumers on a budget who only want some background music or who listen to podcasts with no music, this is a good buy. Consumers who want a great sounding speaker with built-in Bluetooth and a speaker phone capability, look elsewhere.
MyMac.com Rating: 5 out of 10