Eskuche Control V2 Headphones
Eskuche Audio
Price: $59.95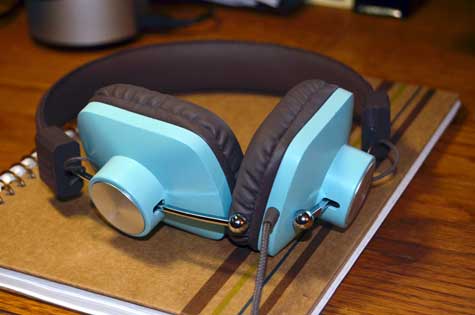 The Eskuche Control V2 Headphones are cushioned on-ear headphones. The headband is a strip of padded aluminum, easy to adjust and, like the headphones, comfortable to wear. The ear cups are rectangular and come in a variety of unconventional colors. The cable is soft woven material that resists tangles, and includes a 3-button microphone for use with in iPhone or iPad. But overall, these headphones are at best an entry level product with mediocre audio.
The company says of the Control V2 Headphones, "Our aesthetics are informed by the classic industrial design of 70s analog audio equipment but engineered and produced with today's tools and original technology, reintroducing a warm, high fidelity music experience to the modern world."
After listening to these headphones for a few days, I would substitute "muddy" or "muffled" for warm. The mushy bass response intrudes at all frequencies, flattening the mid-range fidelity and eradicating any brightness from higher notes.
Search for remarks about this product on the Internet and you'll find many comments that the sound quality is good "for the price." This is nonsense. You can get headphones that deliver clean fidelity for half the price of the Control V2 Headphones. Some consumers also reported that one of the speakers died after three months of use, but I couldn't verify that because I didn't use them for that long. Other consumers thought these headphones were just dandy.
While it is true that you cannot get audiophile quality headphones for $60, we can certainly expect clear sound, better spatial separation, and less distortion than these headphones are capable of delivering.
MyMac Review Rating: 5 out of 10.