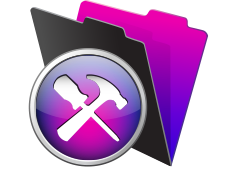 FileMaker Pro 13
Company:Â FileMaker, Inc.
Price: $329
System Requirements: see this page.
The last FileMaker Pro upgrade appeared about a year and a half ago. Version 12 introduced a broader set of changes then than these made available earlier this month in FileMaker Pro 13. But the 50 or so features which 13 does introduce are impressive, welcome, and very well-implemented.
Most significantly, FileMaker Pro 13 further advances your ability seamlessly to present data in full desktop-style data directly on the web. In sophisticated fashion, users can now fully interact with databases in their browsers (forms, effects and gestures etc on mobile devices), make and see updates in real time, manage content and perform automation. Where sharing and publishing data was once limited in scope and ease of use and/or where many FileMaker operations were once limited to the desktop, everything is now also instantly and transparently available on mobile platforms as well as other desktops. FileMaker can now live in your browser too.
Web
There were previously two models for publishing data from FileMaker Pro on the web. Version 13 introduces FileMaker WebDirect. This is a completely new browser-based technology using HTML 5. Data from a database built in (or seamlessly converted to) FileMaker Pro 13 can now be displayed in browsers. So far, Safari and Chrome are certified by FileMaker; but not FireFox. This doesn't mean that the latter won't work – just that not every last aspect of functionality is guaranteed; although the use of 100% HTML 5 and CSS technology means this is not a major drawback.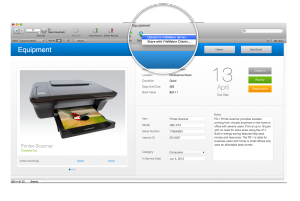 In Filemaker Pro 13 users create a solution intended for the web in the usual way but with browser optimization at the forefront of their minds – probably using this  help document until they become more familiar with the process. They may well also use one or more of the customized starter solutions that come with the product. Once the file is hosted on FileMaker Server 13, it really is as simple as accessing everything that you can work on in the FileMaker client in a browser.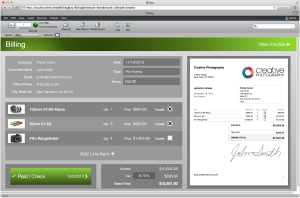 As you perform standard operations in FileMaker Pro 13 – from simply adding and editing database fields, through all the usual scripting, to dragging-and-dropping files into container fields (over 40 attributes for which data type can now be returned in the appropriate function), every change is reflected immediately via Server in browser(s) which access it. FileMaker gives clear and useful guidance on the number of concurrent users this infrastructure supports. Although it's in the hundreds rather than thousands, that's in accord with the FileMaker user-base and intended market.
Design
The development, editing and control of layouts – the basis of FileMaker Pro interactivity – have been streamlined; they were found nicely improved during the current evaluation. A "field picker", for instance, uses the HUD model instead of a conventional popup Inspector. Saved changes can now be undone; this assists in reducing the number of backup/milestone versions of files under development.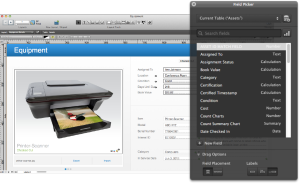 Custom themes and styles can now be shared too; more types of data can be dragged and dropped onto design layouts with FileMaker Pro 13, which ships with 11 new such themes. These are like "skins"; they allow developers without design expertise to create aesthetically pleasing layouts very easily. What's more, buttons, fields – almost any object, in fact – can all have their own styles. Although based on Cascading StyleSheets (CSS), WebDirect does not expose raw CSS to users: the emphasis is on transparent ease of use.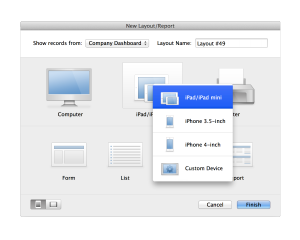 FileMaker has obviously thought long and hard about exactly how to embrace as much of the expansion from conventional client-server models to a device-independent platform as possible. Although a great deal of technological sophistication lies behind the paradigm in FileMaker Pro 13, it really has been implemented in such a way that database designers, developers and specialists even can still focus on the data and not that technology.
Expectations of a visually-appealing experience on iOS are well met in this version, then. FileMaker Pro 13 supports more behaviors of iOS than ever before: slide controls, popovers and record scanning with gestures as well as single-click bar code capture and new/more design attributes in the Inspector (inner/outer shadows, padding, text baselines, layout backgrounds) dramatically speed up your work.
In fact, much attention has been paid to optimizing the software's look and feel in iOS… seven new context-sensitive iOS keyboards have been added; and a number of new – and very visually appealing – Starter Solutions added and/or redesigned.
Developers and Server
Although this release concentrates on WebDirect, FileMaker has introduced several significant new Script steps relevant to its integration with HTML and multiple devices. One of the most welcome allows objects to display conditionally based on logic, not workarounds.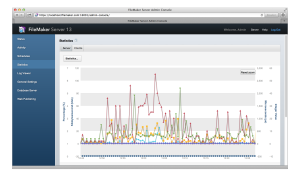 Server administration has been simplified: it too has a new HTML 5-based admin console; this was not tested during this evaluation, but (others') opinion is positive. Along with this penetration outside even the traditional client-server environment comes the need for increased security: FileMaker Pro 13 Advanced supports AES 256-bit encryption for data, making transmission between server as safe as industry standards require. Lastly, FileMaker Pro Server has been rebuilt with 64-bit architecture, making for faster WAN and web performance.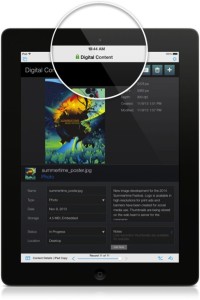 Conclusions
During a testing period of over two weeks, FileMaker Pro 13 performed as one would expect – impeccably. Of all the functionality explored, nothing significant seemed missing, out of place, hard to understand or use. Everything has been implemented to the high standards which we've come to expect of FileMaker.
Options to activate all the new functionality mentioned here give the user still greater control. The intelligent menu hierarchy that has always supported FileMaker Pro use is retained and makes sure that the most needed items are the most accessible but that the others are rarely obscured.
All in all, this version (13) represents a significant step forward in several ways: enhancing the way data is presented and making the process of doing so easier and more flexible than ever before. Greater efficiency and sophistication with Container fields in the web context. And tighter, more fluid, integration with iOS and mobile usage.
If you're a FileMaker Pro user, you'll want to upgrade with hardly a second thought. The product is expensive. But the breadth of its functionality, its robustness as a product (one must now – happily – say, as a platform) are well established.
If you're looking for a state of the art product that will perform 99% of regular data-intensive tasks, this updated and improved version (13) is the reference product of its kind.
Pros: Filemaker Pro 13 continues a stable and feature-rich tradition. Given the need to make more and more forms of more and more data instantly available via the web, this is the right move at the right time. It works. And works well.
Cons: a little expensive; lack of FireFox certification for WebDirect
MyMac Review Rating: 9 out of 10
FileMaker Pro 13Â Advanced: $549
FileMaker Pro 13 Server (1-4 users): $1,044
Upgrades from previous versions: $179, $299, $528 respectively
Monthly subscriptions (billed annually): $9 for FileMaker Pro; $15 for FileMaker Pro Advanced; $29 for FileMaker Server
Server concurrent connections for FileMaker Go or FileMaker WebDirect are priced at US$25 per 5-pack per month
FileMaker Go for iPad and iPhone: free from the iTunes App Store™
Site Licenses and further pricing details here. Version options here.