Apotop SmartSuit Slim SD Card Drive for Apple Macbook Air/Pro, 3 Color Set
Company:Â Apotop
Price: $19.99
Looking for more disk space on your MacBook but you're on a budget? If you have a MacBook Air or Pro with a SD card slot, you can inexpensively expand your disk space up to 64GB.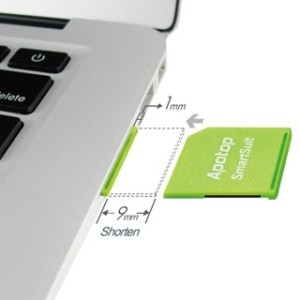 Marketed as an alternative to a more expensive SSD drive upgrade, the SmartSuit microSD adapters are designed for the Macbook Air and Pro to address limited disk space capacity.  They support microSD, microSDHC, and microSDXC cards. A microSD card is not included.
A number of microSD adapters are provided with the microSD card for free. What's so great about SmartSuit? In contrast to standard SD cards that can protrude as much as 1/3 of an inch, SmartSuit is 9mm shorter when plugged into the SD card slot of a Macbook. This allows the card to be permanently installed without the need to remove it when storing your laptop in a computer bag.
The card works on the 13" Macbook Air, non-retina Macbook Pro, and 15" Macbook Pro with built in SD card readers. The SmartSuit set comes in a pack of 3 with colors, sky blue, grass green, and pretty pink. I use the colors to designate different data sets: pink for my personal files, green for work, and blue for archived files. The $19.99 price makes this a stocking stuffer that your tech friends will truly appreciate.
MyMac Review Rating is 9 out of 10.