5200mAh Portable Battery Charger
Company:Â Macally
Price : $89.99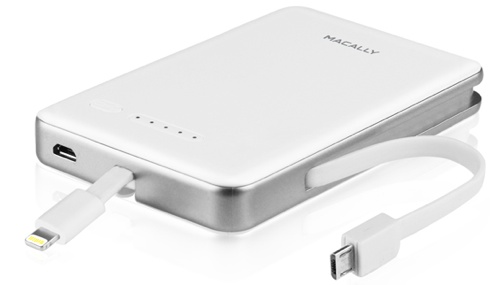 Up for review is the Macally 5200 mAh rechargeable battery. The 5200 mAh rechargeable battery offers two different built in cables to allow a variety of phones to take advantage of the mammoth of a battery. The cables that are offered are the new Apple Lighting connector and also a standard micro USB cord. Both the Lighting connector and micro USB cable offer 2.1V of power, so it allows you to not only charge your phone faster than a regular USB to computer type deal, but you can also charge devices like Android tablets or the Apple iPad.
One of the unique features of this device is that it has both the micro USB and the Apple Lighting connector are built into the battery compartment. This allows for a slim profile and for the unit to be very portable. The downside of this though is that the 5200 mAh rechargeable battery does not allow you to connect additional USB cables to it. So unfortunately if you wanted to charge up your older iPod with the 30 pin dock connector, you will be out of luck.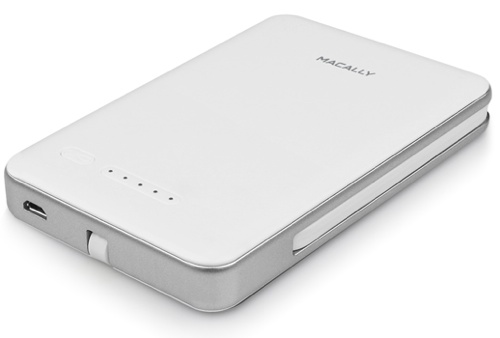 Here are the specifications of the Macally 5200 Mah Rechargeable Battery
Features:
-Built in 5200mAh rechargeable lithium ion battery
-Compact size with integrated Lightning connector and micro USB cable
-Auto shut off to prolong the usage time
-Multifunctional button to turn power on/off and check battery level
-2.1 amp output
Compatibility:
-iPad: 4th generation and iPad mini
-iPhone: 5C, 5S and iPhone 5
-iPod Nano: 7th generation
-iPod Touch: 5th generation
Additional Information:
-Li Battery Energy Content in Watt-Hour: 19.24 Wh
-Weight of the Li in Grams:105gmax
-Li Battery Voltage in Volts: 3.7V
Since the rechargeable battery by Macally is so large, 5200 Mah to be exact, it takes quite awhile to recharge the device. What I have learned while testing this product is that it takes anywhere from five to six hours to recharge, but this really is not that big of deal considering it will recharge a iPhone 5 almost four times on a single charge!
I love using this product; it comes in handy a lot when I am using my phone throughout the day. Everything is great about the device minus not being able to connect 3rd party cables and also the high price tag. Other than those subtle negatives, the Macally 5200 mAh rechargeable battery is a quality product. My MyMac review rating will be a recommendation at 8 out of 10.